With the holiday season upon us, many families will be traveling to see loved ones; our urban mama, Megan, is back today sharing tips on breastfeeding while on-the-go, and in random places – read on to hear her helpful travel tips and learn all of the interesting places she's breastfed! Where is the most interesting place you've breastfed or pumped? 
See Megan's NYC Mom Essentials, and her review of the BabyBjorn Carrier One Air. You can find mama Megan over on her Instagram, @GirlGoneChildinNYC and her blog, Girl Gone Child in NYC.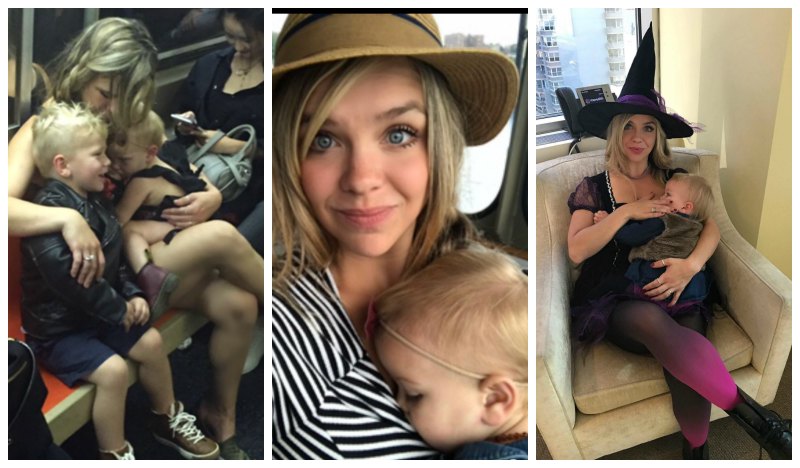 Just last month I nursed my daughter while we were on a tug boat racing down the Hudson River. The water was not smooth that day and trying to get my balance while standing on the bridge of the boat was hilarious. I've nursed on over 50 flights. I nurse riding the NYC subway on the daily, no one cares. When my youngest had colic I once nursed her all the way from NYC to West Virginia with a boob dangling over her car seat for 9 hours. Let's just say when your kid refuses a bottle it forces you to nurse in some strange places.
Nursing is hard it takes a toll on your body, your social life, your sanity sometimes. It can be tough when your baby eats every four hours, but your boobs fill up in three. The timing feedings alone can make any woman insane. All these little things I never even thought about. Oh, sorry I can't go to your wedding and stay 6 hours without considering if my boobs will explode. Once on our first outing six weeks after our first born arrived my husband wanted to go for drinks after dinner and I had to break it to him that unless he wanted to partake in a little Le Leche in the bathroom we had to go. Needless to say, he called it any early night.
To be honest I didn't think much about nursing while I was pregnant. Yes, I planned on doing it.  Yes, I bought all the accessories the internet told me I needed.  I had no idea how hard it could be. In the end, I convinced myself it was part of nature and would come easy.  Just like natural birth…  Well, guess who had an emergency C-section.  It's like some General said, "Even the best laid plans don't survive first contact with the enemy" or in this case my beautiful, hungry baby.  I spent the first few weeks pumping because my son and I couldn't get in sync.  Eventually, after many frustratingly fruitless attempts, a lactation consultant verified what my husband had been cautiously mumbling all along, "Girl you need to chill! That baby isn't going to take your boob when you're a stressed-out mess."   I took a few deep breaths, got to my happy place and he latched right on.
I junked half the gimmicky crap I bought and focused on a realistic problem-solving approach.  I realized that breastfeeding is different for every mother and I had to stop trying to solve problems that weren't there to find what worked for me. Of course, there were a few bumps in the road, a clogged duct or two here and there, but I still look back on that time as one of the more rewarding aspects of parenting in those early years.
Enough about me. Back to nursing on the go. Here are my top traveling breastfeeding products.
H&M's MAMA Line Nursing Bras: Nothing can make your life easier as a breastfeeding new mom than a decent Nursing Bra. H&M's latest nursing friendly line MAMA is super soft and they have everything from comfy nursing bras and tops to even a Lace Nursing Dress.
Milk Snob Nursing Covers: It's worth to stress you can breastfeed anyway you want too. It's your boobs, your body and your baby. If you do choose to cover up I'm in love with these beautiful covers that also can be used for car seat covers, highchairs, shopping carts infant swings and more. They're light weight, super soft and made of breathable rayon blend fabric. They have super cute designs too.
Bamboobies Milk- Proof Regular & Overnight Washable Nursing Bra Pads: Nothing sucks (ha) more than being out and hearing even another baby cry and next thing you know you're soaked. As my oldest son put it one day "Mom why are your boobies crying" These Bra pads keep you from the embarrassment of crying boobs and keeps you dry.
Swing Breast Pump by Medela: This on the go battery powered pump is a traveling moms best friend. Which means you can still pump without an outlet in site. It's small compact and fits easily into the diaper bag.
Ergo Original Carrier: I love this carrier, I've tried a lot and I always come back to this guy. I can wear it all day without it hurting my back and it's so easy to nurse in this carrier. They even has a hood so you can nurse discreetly.
Medela Quick Clean Wipes: These Wipes allow you to clean your pump parts quickly on the go. They also work in highchairs and changing tables!
Milkmakers Oatmeal Chocolate Chip Lactation Cookies: Who doesn't like cookies? These little guys help new moms boost their milk. They're perfect to grab on the go and delicious.
Nurgo Traveling Nursing Pillow: Tired of killing your back while traveling on the plane or train while nursing your baby with out a boppy or nursing pillow. No problem, the Nurgo's compact design allows mothers to feed on the go anywhere. The pillow is non-toxic, odor free, Eco-friendly, antibacterial, and hypo-allergenic. The unique carrying case is attached and allows the pillow to compress to it's ultra portable size making it perfect for travel. The handle while carrying doubles as a Bottle Band to hold your water, coffee, wine, whatever.
See more on traveling:
This post may contain affiliate links.
All photos courtesy of Megan Harper.