Welcome to the first installment of New on Gugu!  Did you know that we add new products to Gugu Guru's personalized baby registry database on almost a daily basis?  New products are curated and added by our in-the-know team of baby experts, as well as by other parents like you.  And, as always, we don't accept payment to be added to Gugu Guru; all of our product picks are totally unbiased.
Newborn Lockdown – Our product picks for your first 6-8 weeks postpartum when you're mostly in your home getting to know the newest addition to your family. (This week, we are loving on these innovative, safe and portable Moba moses baskets.)
PRODUCT WIDGET – ID: 582750722505ed6ca0909b52
PRODUCT WIDGET – ID: 5827534daf09b12650e6a6d9
PRODUCT WIDGET – ID: 582753abaf09b12652e6a6c4
Back to the Grind – Once you emerge from your postpartum haze, it's time to get back into the swing of things. Whether you're a stay at home mom or going back to work, this category will give you some suggested life hacks to make your new life with baby easier and so much more productive.
PRODUCT WIDGET – ID: 56d4738b63363624f7210200
PRODUCT WIDGET – ID: 582233de428ba05dc4e3290b
PRODUCT WIDGET – ID: 5824b3b52505ed655dccde95
PRODUCT WIDGET – ID: 582236760452727543abb477
Pack It Up – Whether down the street to your in-laws' house or a flight across the pond for an adventure, our Pack It Up category gives you suggestions for portable, packable finds for your travels.
PRODUCT WIDGET – ID: 5827094f045272626dfe91b4
PRODUCT WIDGET – ID: 58285894af09b12652e6aa7e
PRODUCT WIDGET – ID: 5828d6cd428ba0637bf28db0
And remember, if you don't see something you want on Gugu Guru, you can add any product from any website.  Simply click the link under the "Add To Registry" button":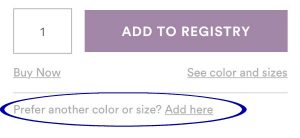 or below the Publish button on the Registry Manager page: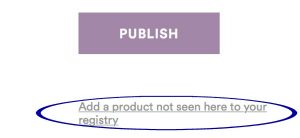 Each week, we will be posting some of our favorite picks from Gugu Guru's unique registry categories so be sure to check back with us regularly so you don't miss any of these cool finds for your family!