-Sponsored Post-
In case you haven't noticed, the botanical theme is in right now; the botanical style can fit so many nursery trends, whether it be boho-chic, romantic, country French. We rounded up some nursery essentials to fit your botanical theme, plus a few extra fun stuff, too!
Looking for more of a succulent themed botanical nursery? Check out this post!
Want to see more nursery inspo posts? Check out Gray Nursery Ideas, Gender Neutral Nursery, Botanical Nursery; Buffalo Plaid Nursery Inspiration; Princess Bride Inspired Nursery; Red, White, and Blue Nurseries; Black + White Patterned Nursery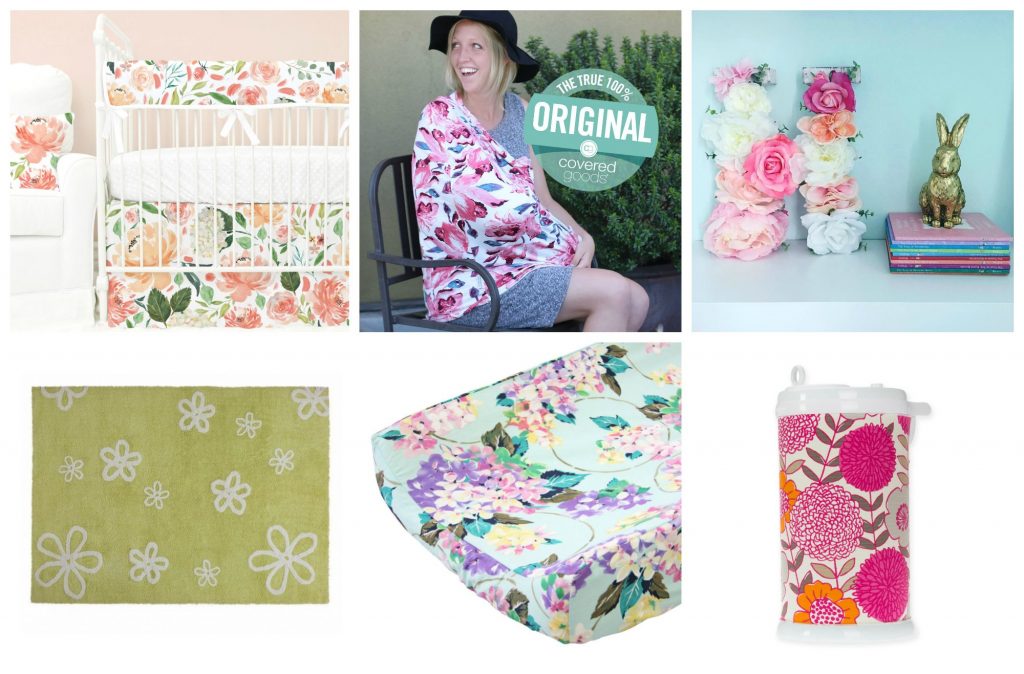 Covered Goods Original Four-in-One Nursing Cover: When we're talking about an investment piece for your life with baby, Covered Goods Original Four-in-One Cover is the one to get. Covered Goods multi-use nursing covers give you all the benefits that the traditional covers do… and more! The nursing cover also functions as a car seat cover, scarf, and shopping cart cover. When breastfeeding, it provides true all over coverage in the front and back, is super soft, and takes seconds to put on and take off. It features a flexible neck that can be worn down under one arm and also allows you to peek in to make sure your little one has latched properly, and can be folded very small and in any fashion for storage. With Covered Goods™ you can truly nurse anytime, anywhere! They come in a plethora of designs, but we are loving the Paradise Floral for your Botanical Nursery. And, just for Gugu Guru readers – use code GuGu72617 for 15% off your order! 
Also seen: Must-Have: Covered Goods Nursing Cover; Minimalist Baby Registry; Two Moms Baby Registry; Registry Essentials: Multi-Use Baby Products
Caden Lane, Secret Garden Peach Watercolor Floral Bumperless Crib Bedding: Could this bedding be any more gorgeous? it's like having a piece of art in the nursery! This 100% cotton bedding features a fitted crib sheet which fits standard crib mattresses 28″x52″, 4-sided crib skirt measures 17″ in length, and crib rail cover approximately 50″ long x 14″ wide with a poly-fiber batting fill with 4 ties.
Also seen: How To: Pick Baby Bedding For Your Registry
Little Sparrows Bows, Floral Letters: We are huge fans of personalization, and we are in love with these floral letters! Not only could you use them for the nursery, but they would make a wonderful prop for first birthday photos.
Lorena Canals Rug, Flowers: Bring the flower garden indoors with this lovely design! This floral pattern adds a burst of lively color anywhere you need it; great for a mudroom, sunroom, child's or teen's room, or a sitting area. We love Lorena Canals because they are super safe for tummy time, crawling, resting, and more – and can be washed in your regular washing machine!
Also seen: Cause-Driven Baby Registry: Lorena Canals; Say Goodbye To Dirty Rugs and Big Dry Cleaning Bills
Caden Lane, Changing Pad Cover-Holly's Hydrangea: This 100% cotton changing pad cover is so gorgeous that you won't want to change diapers on it!
Glenna Jean Ubbi Diaper Pail Cover: We are huge fans of Ubbi Diaper Pails, so why not perk yours up botanical style with this floral diaper pail cover? Super cute to add some "art" to utilitarian items in a nursery.
See why we love the Ubbi Diaper Pail: Top 5 Must-Have Essentials: Baby's Nursery
Thank you to Covered Goods for making this sponsored post possible.