One thing is certain about motherhood, you will need to leave the house eventually and, when you do, you will need to carry things… LOTS of things… for baby. You'll be toting diapers, bottles, an outfit change (maybe two!) and more. Having a baby, especially a newborn, makes it a challenge to use a compact or small bag.  However, there is a light at the end of the tunnel – as your baby grows and needs less stuff, your "on the go" style can evolve.
We love the Fiona mini cross-body diaper bag from Baby Cargo (seen here in poppin' Cool Aqua) — especially for moms of tots who still need to haul around things but not quite as much.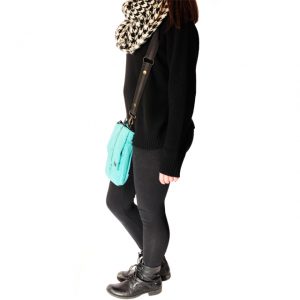 The genius thing about this bag is that you can expand it and use the grommets to slide over your stroller handles OR snap on to your deluxe stroller handle bar using the strap snaps.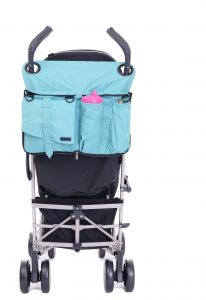 Of course wearing black is a smart move because it's oh so genius at hiding the "hiccups" (literally and figuratively) that can happen in a day in the life of a typical mom but a graphic accessory, like this houndstooth infinity scarf can take your all black attire from potentially drab to certainly fab. (These scarves are also great for in-between seasons.)