Are you searching for a baby bouncer with a small footprint? If so, the Born Free Kova Bouncer is just what you are looking for. The Kova provides a great space for baby to lounge and play. The double-duty design allows parents to switch between the rocker and bouncer functions with ease. The Kova folds flat, uses little space, and is ideal for traveling. Our Gugu Guru Real Mom, Taylor, tested the new Kova Bouncer and provided us with her honest review.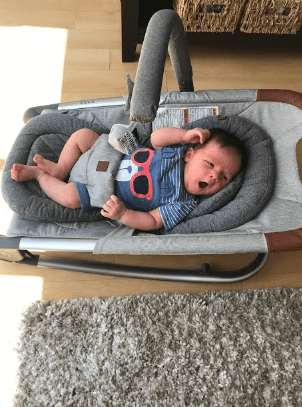 Pros:
There is no assembly required.
The design is compact and thin.
The bouncer folds and can fit anywhere.
The design is chic and modern.
Sturdy and well made
Plush comfortable seating for baby
The Kova bouncer offers two-features (bouncer and rocker). It is easy to switch back and forth between the two.

Cons:
You can't adjust the height of the seat, so baby might lie at a little flatter angle than desired.
The bounce is limited bounce with baby's movements. A parent needs to sit and bounce a young baby.

As soon as we opened the box, I was excited to try out the Kova Bouncer. A major benefit is that the bouncer comes already assembled complete with a carrying case. All you have to do is snap in the toy bar and you are ready to go! It folds to be very compact and thin, which is great for small spaces, easy storage and would be great for traveling. With all of the bulky baby gear that is on the market, it is nice to have a bouncer that can easily fit anywhere.

This bouncer has very plush and comfortable seating. So comfortable that baby fell asleep almost immediately! We love the modern and chic design and the leather accent it features. A major benefit is that this product is both a rocker and bouncer. You can quickly switch between the two by popping out the legs and it is very smooth when in use. It does not have any music or vibrations like some of the other bouncers on the market, however, the toys are a nice black and white so our little one is easily stimulated, and entertained. Overall, I would highly recommend the Kova Bouncer. The stylish design, comfortability, and ease of assembly and storage make calming baby a breeze.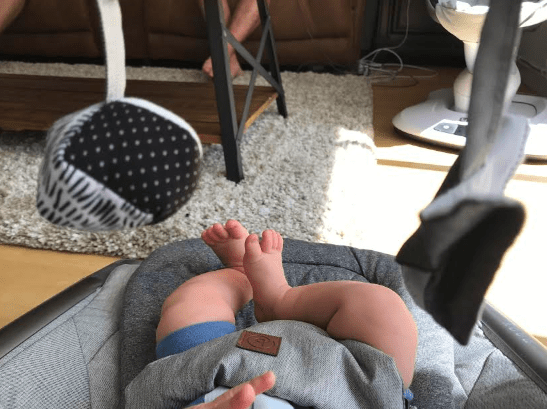 If you are interested in purchasing the Kova Bouncer for yourself or reading the reviews from Amazon customers, click here. A special thank you to Taylor for reviewing the Kova bouncer for Gugu Guru. While she received the Kova Bouncer, her thoughts and opinions are her 100% own.
Review of the SlumberPod from a Real Mom
Real Mom Reviews: Mountain Buggy Duet for Multiples