Gugu Guru registrant and new mama Kenzi reviews Moba bassinet.
When we were making sure we had all the essentials for baby boy, I was really stressing over getting the right bassinet for him. I think it's very important to have baby sleep in the room with mom and dad for the first 6 months, and I wanted him right by my side, but we aren't cosleepers. I searched but everything I found in stores had so much padding on the sides and lots of frill, which is just not safe. The handwoven baskets are beautiful (and great for Instagram photos), but are they truly safe for overnight sleeping?? I reached out to the baby product experts at Gugu Guru (who I registered with this time around) and they told me about the Moba bassinet. I read up on it and it sounded like everything I was looking for, so I wanted to give it a try.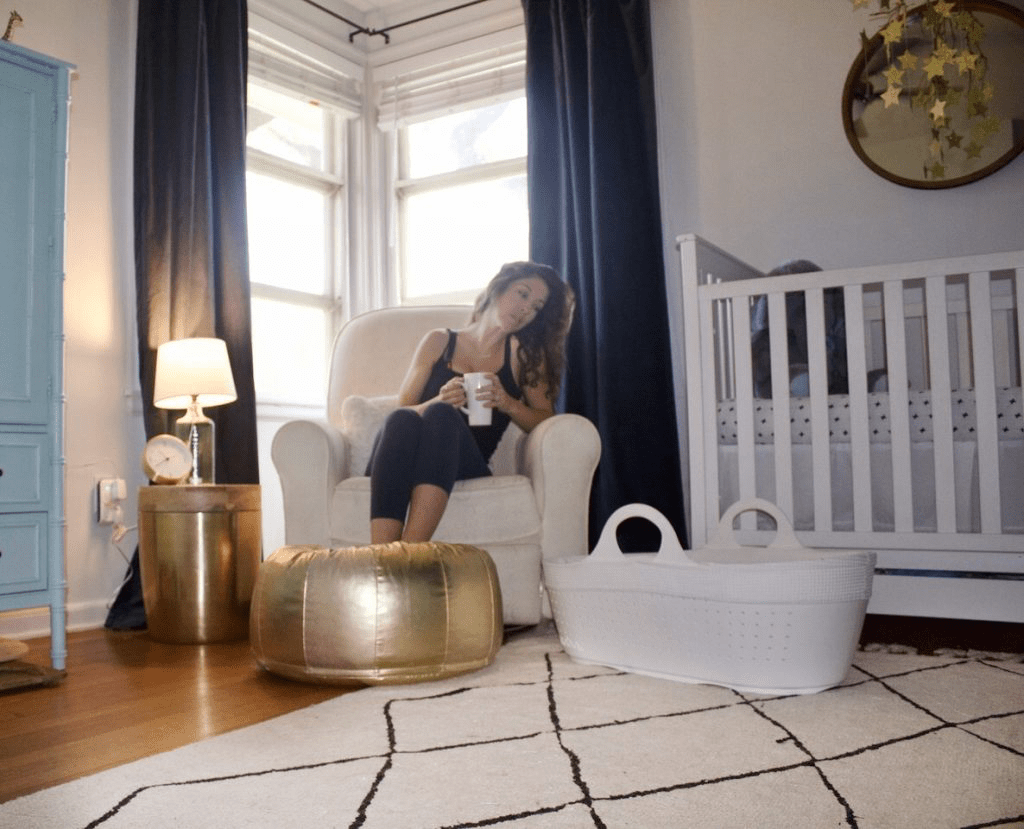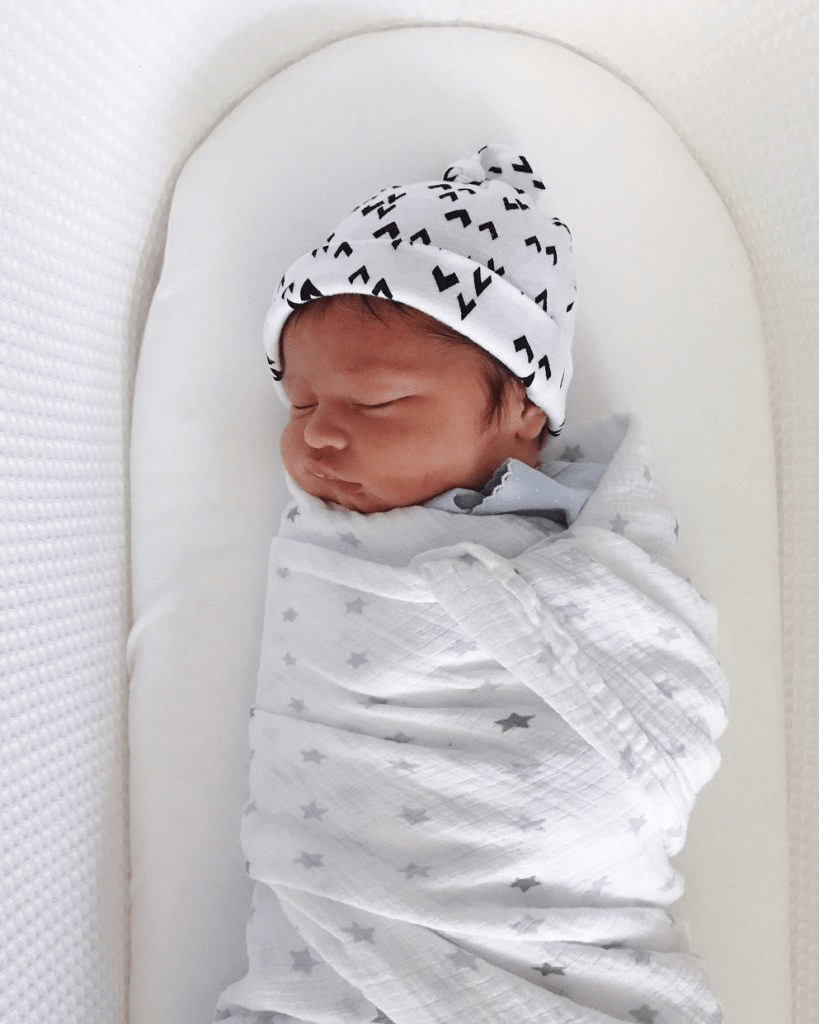 We've used it since the day we brought our baby boy home (above), and now I'm not sure what I would do without it. The Moba Bassinet checks every box and even some I didn't consider: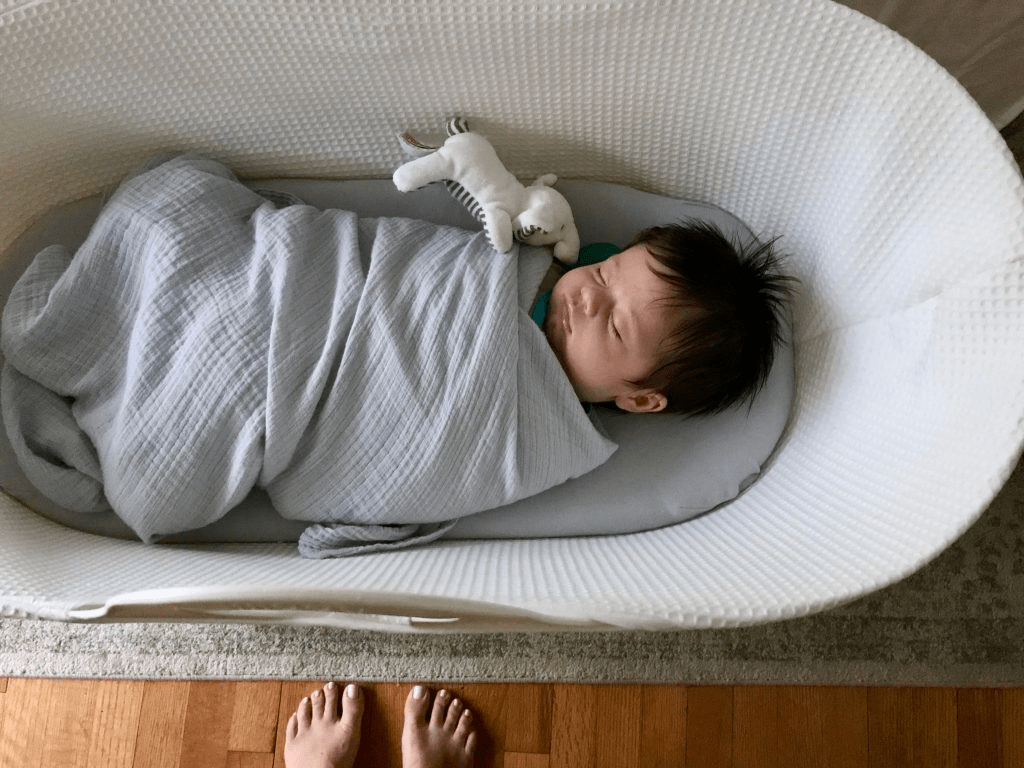 Safety
Obviously, #1 on the list was safety. I'm that mom who wakes up multiple times in the night, even if baby doesn't wake, to just feel my babies. This basket is created with hundreds of breathable holes for maximum airflow, which helps mama sleep a little easier at night. The liner has no frills or padding. The mattress is nice and firm for baby. Apparently it's super comfortable because he prefers his bassinet over his crib.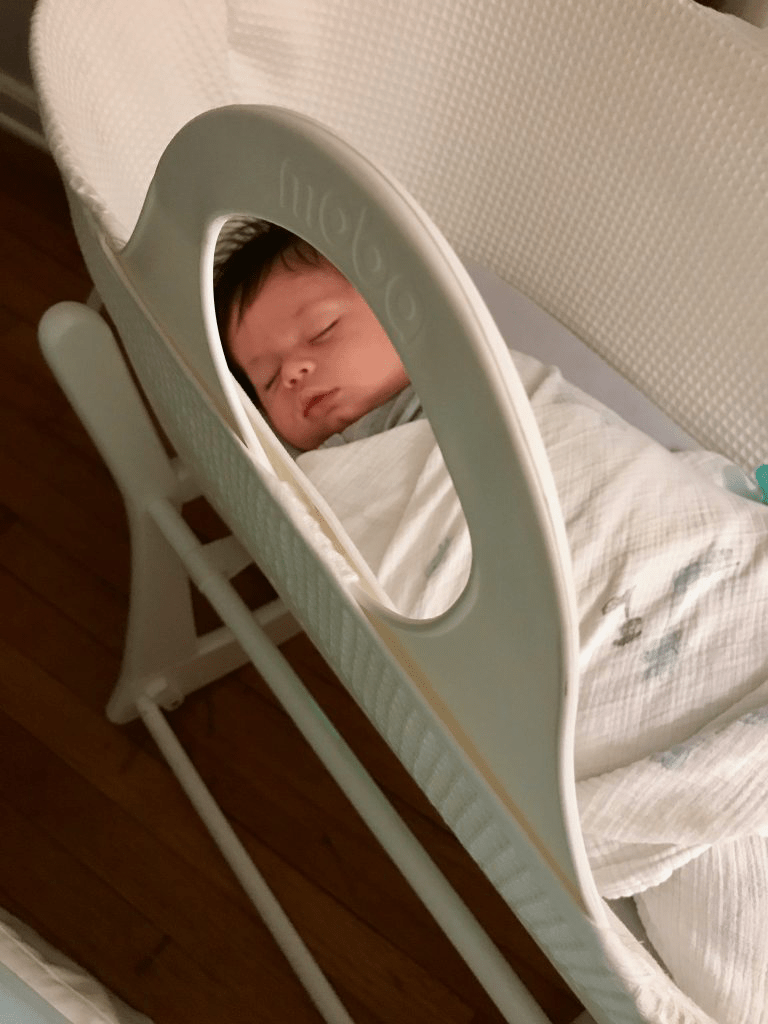 Portability
I was drawn to the idea of a Moses basket for its light weight and portability. Not only can I easily transport it through the house, it travels everywhere with us! I like to it call it my Mobile Moba… not really, but it sounds catchy. We've even taken it to the beach with us. The basket is super lightweight and sturdy. It's molded into one piece so there's no need to worry about it unraveling anywhere or the handles coming off.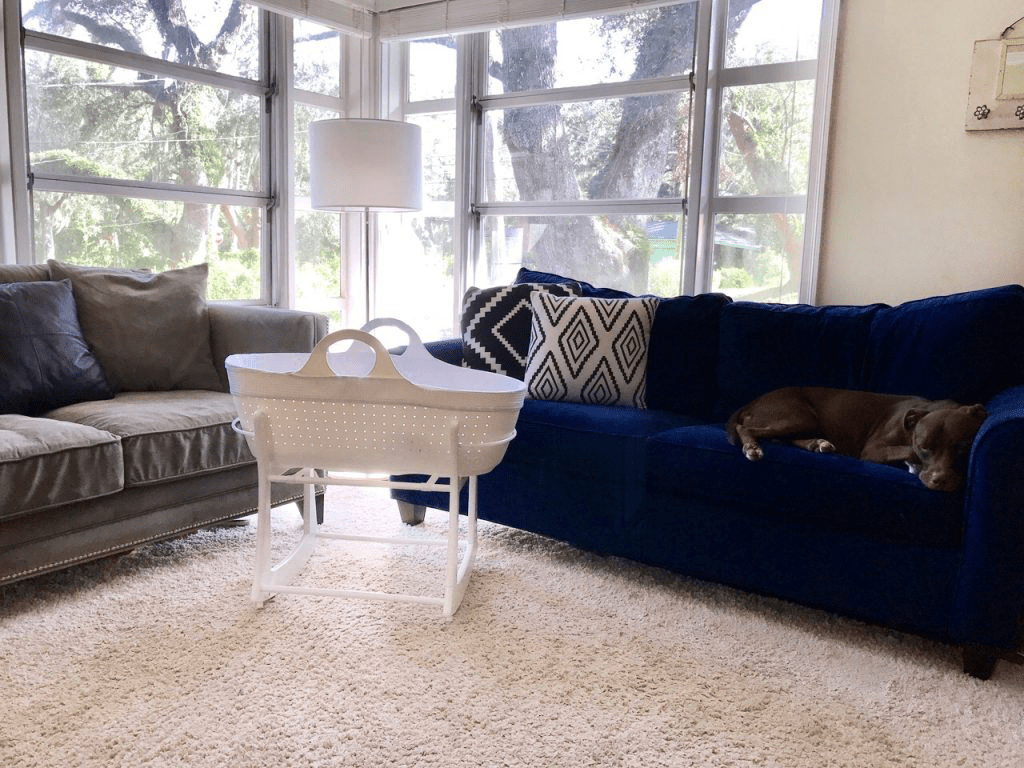 Longevity
Many moses baskets seem to have a pretty low weight limit of 15 pounds, but the Moba goes up to 20 pounds. Call it a hunch, but I had a strong feeling my boy would be on the higher end of the birth weight spectrum (coming in at 10.4 lbs) and would surely hit 15 pounds before 6 months. We're still a few months away from that, but at 2 months, he was already over 14 pounds, so I'm glad he still has plenty of time to stay right next to mommy.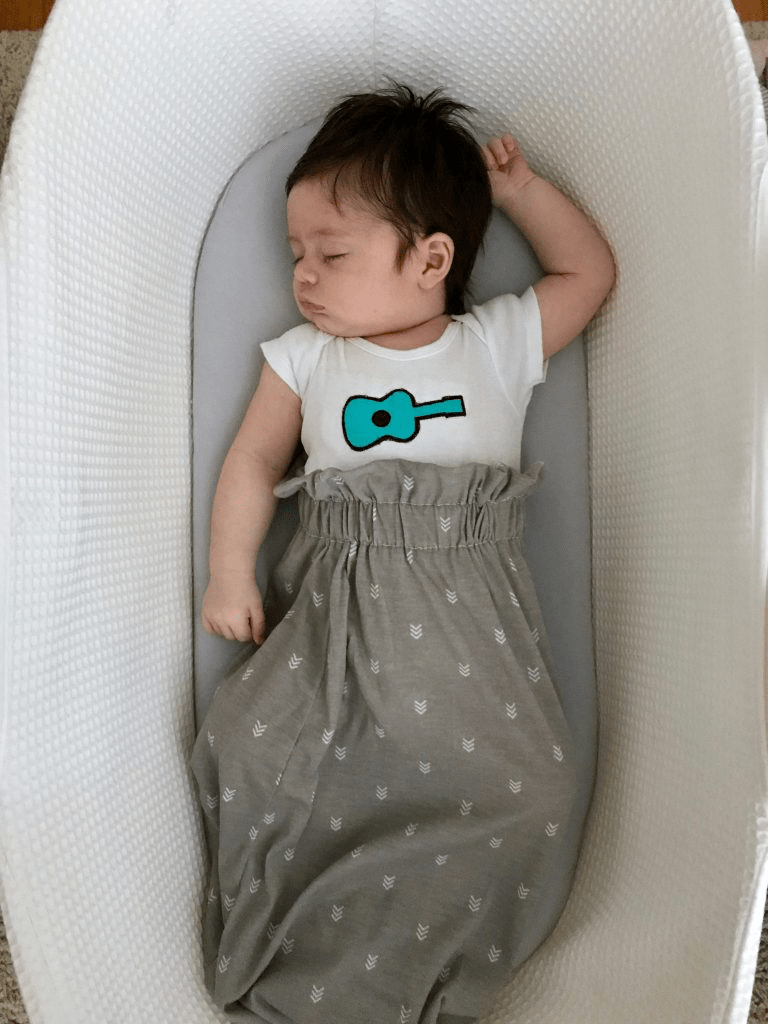 The Stand
The stand that goes with the basket is made to hug the bassinet securely. Most bassinet stands rock front to back, which I've never understood because I feel like I'm rocking the baby back on their head. The Moba stand rocks smoothly side to side. When he starts tossing and turning, his weight allows it to gently rock on its own, which soothes him back to sleep. However, if you don't want it to rock, it becomes stationary with one simple swivel of a small wooden piece at the base.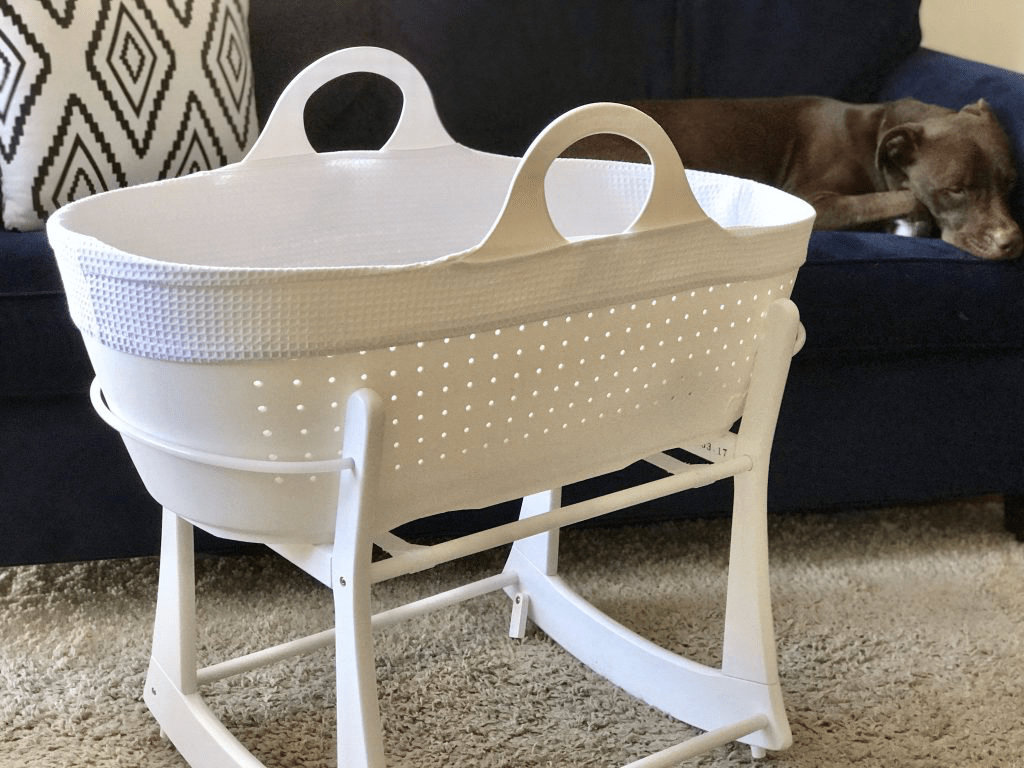 Care
Did I mention we've brought it to the beach? We can do that because all the parts are so easy to clean! I love a clean crisp white all day long, but I'm always so afraid it's going to get dingy, so I hardly ever allow myself to get white in anything… Like why in the world did I think we could have a white living room rug?! But with the material this is made of I felt comfortable going with white and after almost 3 months of use it's still just as beautiful as it was the day we got it.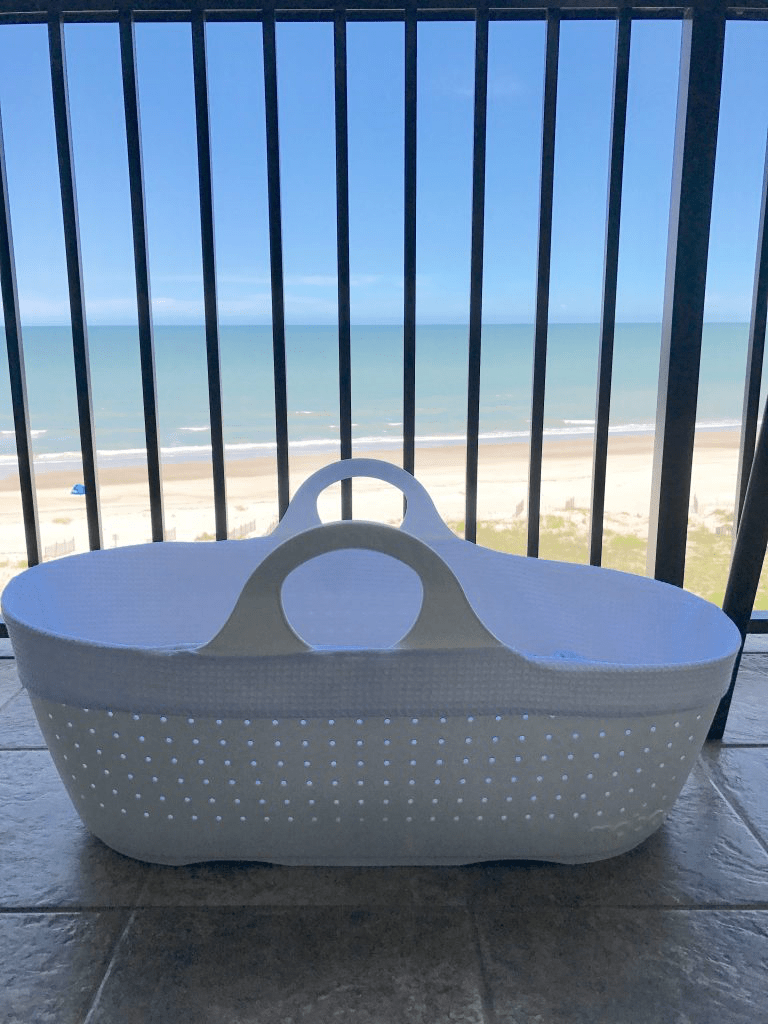 Style
All of the safety features I could ask for and didn't have to sacrifice style. The Moba is a very sleek, contemporary design with 8 unique color options for the basket and just as many for the sheets, which also come in an organic option.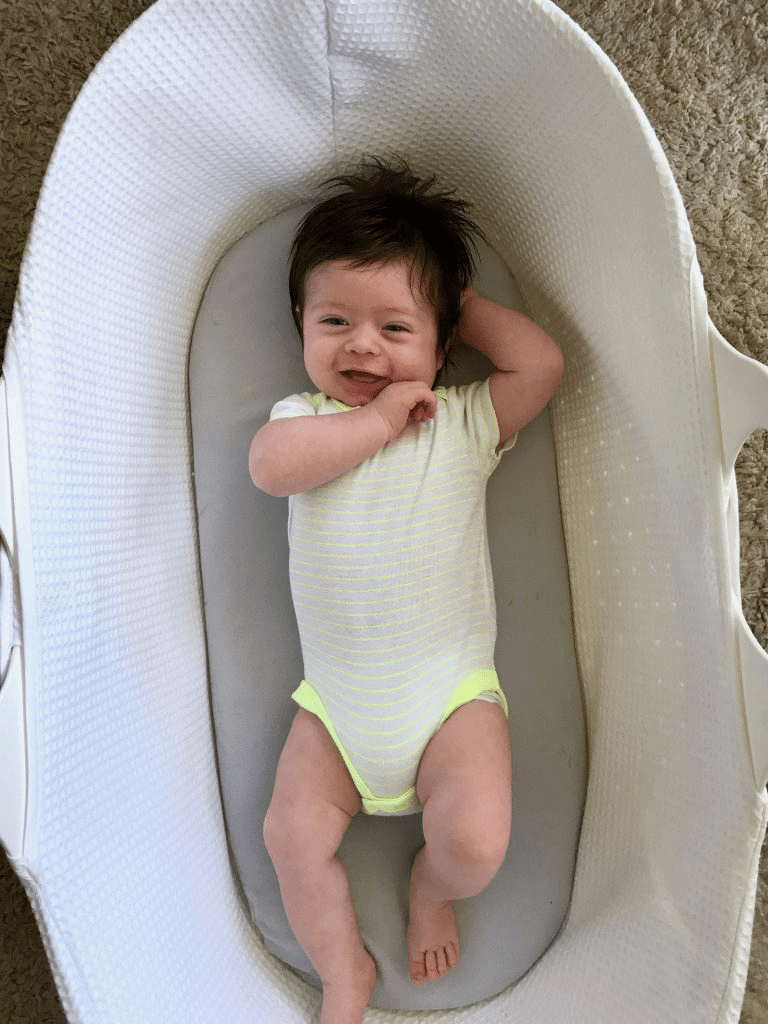 Needless to say, I'm a fan – I actually tried to think of a con and couldn't come up with one. If you're looking for a bassinet and aren't worried about all the frills, but a simple, safe design, this one's for you.
Written by Kenzi – Mommy to three and voice behind Two Shades of Kraze. Follow along her journey on her Instagram at @twoshadesofkraze.
For more info on the Moba, check out New On Gugu This Week: November 14, 2016.