Japanese company, The People Toy Co., is known for creating innovative and fun products for babies and children. The Mochi line of teethers and toys are comprised of 51% food-grade rice and are free of harmful adhesives and paints. You can't get more eco-friendly than that. As our Real Moms discovered, Mochi Toys provided hours of fun and teething relief!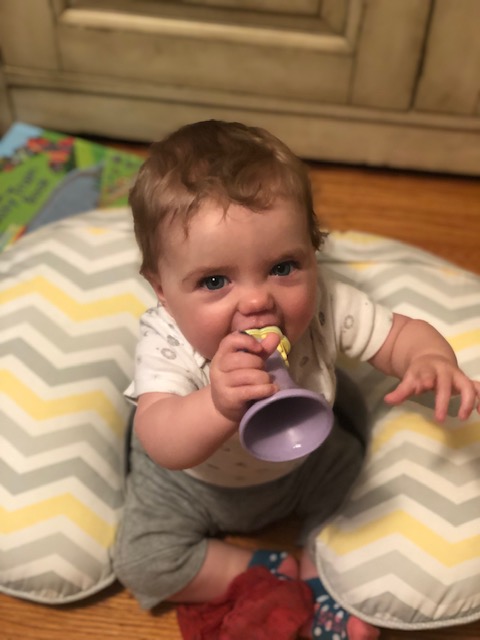 From the minute we took the toys out of the package, my 9mo daughter favored them over the other toys in her basket. She was immediately drawn to the horn and loved surprising herself when she figured out how it makes noise. And the teething ring is also a big hit – the textures are a nice added touch. Both toys are easy to grip and chew, and they look nice too – I love the muted colors as opposed to loud/bright/primary like so many products out there. I'll definitely be buying these as baby shower gifts and recommending them to friends! They are perfect for teething babies and I really love that they are made of rice and completely safe.
– Christine C., Mom to 7 Month-Old Daughter
When I received the Mochi teethers and started to read about the company I was very excited about the safe, eco-friendly teethers.  My son is 11 months old and is a late teether so he is constantly putting everything in his mouth. It was a relief to know that I could trust these toys in his mouth.  I was expecting to receive just a basic teething ring and wasn't sure how interested he would be in it but I was excited when we got a trumpet that makes noise when you blow into it and a teething necklace.  At first, I was more excited about the trumpet than Mikey. When I first showed him how it worked he was actually afraid of the noise of the trumpet. However, after about three days of slowly reintroducing it, he warmed up to it and started playing with it himself. He is now having fun with it as a toy. -Denalee M., Mom to 13 Month-Old Son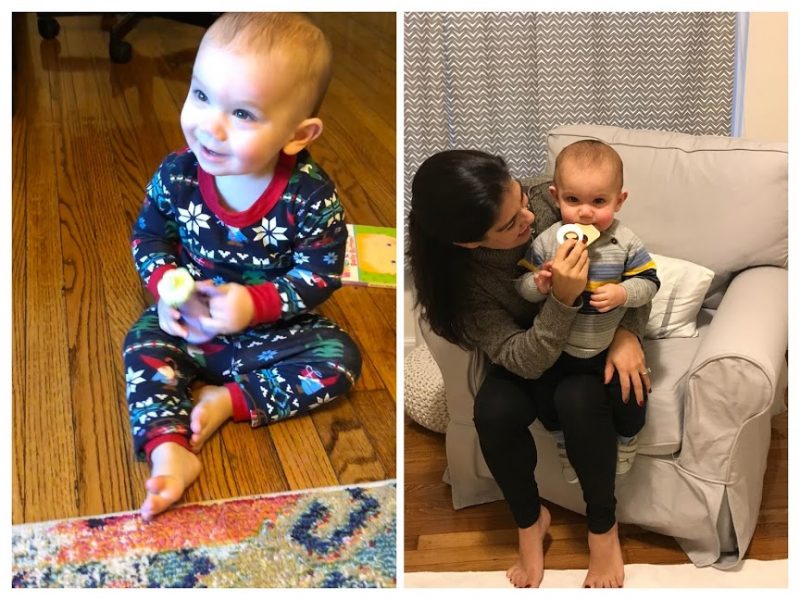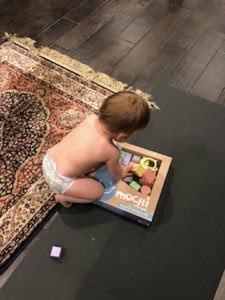 We were generously gifted the People Toy Company, Mochi trumpet and building blocks to review and our little girl adores them.  In general, we try to get more green and less plastic toys so we really appreciate that the People Toy Company uses rice plastic! The innovative design uses 51% food grade rice and it has no toxic paints or adhesives, which is great because the trumpet and blocks immediately went into our baby's mouth. Once I showed Mallary that the trumpet makes noise she wanted to start her own band! Fortunately for parents, it doesn't make too loud of a toot and it's not shrill either. Depending on if the baby is blowing in or out, it kind of sounds like a duck or quiet squeak! She picked it up very quickly and is so happy to play "music"!
Not only does Mallary enjoy blowing the trumpet but she has a great time smashing the block towers that I build for her. She also likes to bring the blocks from one place to another, place them in their original box or on her chair. There are several different shapes and sizes that are perfect for little hands. Mallary's (8-month-old) nanny share buddy, drools and puts all the blocks in her mouth, and they both have fun shaking the rattles in the block set. It's wonderful that the blocks are appropriate for a variety of ages. I'm looking forward to watching her build little houses in the next year. However, for now, she's having way too much fun pretending to be Godzilla!
Thank you so much, Gugu Guru and People Toy Company for allowing me to review these colorful, environmentally friendly, and fun baby toys.
-Emily F., Mom to 14 Month-Old Daughter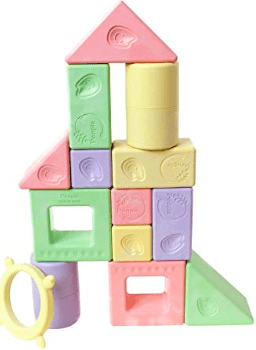 Thank you so much for sending the Mochi Teether set for us to test. We have had a blast with the blocks. They were a hit from the get-go. My kiddo went straight for the rattles and ran around for a bit shaking them. The best part about trying them out was that for the first time my kiddo began building with me. I started stacking up some blocks and he joined in before knocking it all down. I've been keeping a couple of the columns near the changing pad since they have been super helpful keeping him calm and distracted during changes.
I also spent the last week visiting with several other similar age kiddos (5 months to 18 months) and they all loved them too. The parents all were curious about them (without me prompting them at all).
The trumpet has been well received too but due to the noise factor, it gets put away much of the time. My kiddo was pretty excited when he figured out how to work it.

Overall Mochi Toys have been a hit in our household and have been played with regularly since arriving.
-Laura S., Mom to 13 Month-Old Son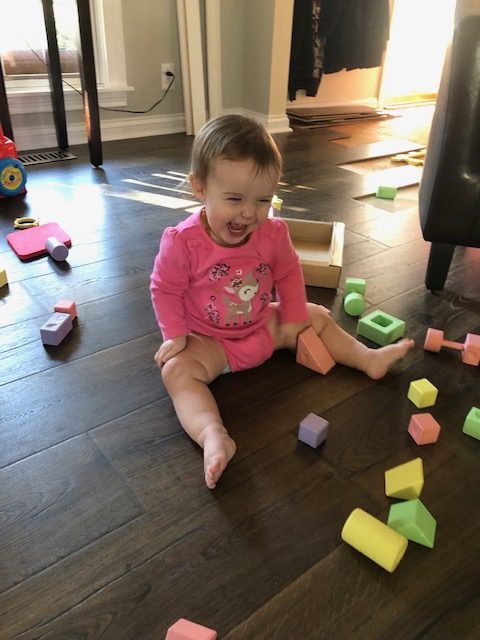 My one-year-old daughter thinks these blocks are wonderful! She loves to knock them over & they entertain her for a solid 7-10 minutes every time! The toy horn was a surprise for her to hear, & at first, she was scared of it, but after a few days she began to love it. She has even learned to blow the horn herself & thinks it's so funny! I would definitely recommend these toys. It's nice having the peace of mind knowing these are quality toys made from rice instead of harmful chemicals.
-Heather L., Mom to 11 Month-Old Daughter
Thank you to all of our Gugu Village Moms for testing the Mochi line of products and providing us with their honest thoughts. If you are interested in testing new products and meeting other new and expectant moms, join our Gugu Village, here!
Like what you see? Check out this other Real Mom Review: