When it's time to start potty training, the options can feel endless. Do you go with a toilet seat or a potty chair? If you choose one over the other, which brand do you choose? And which ones work best? It can feel overwhelming before you even get to the task of actually helping your toddler learn to use the bathroom.
Never fear! We've looked at the options and come up with some pros and cons as well as some suggestions for each type.
Toilet Seats for Toddlers
Using a toilet seat, sometimes referred to as a trainer ring, provides a number of pros. First and foremost, you're teaching your toilet trainer not to fear the big toilet. As they will start using it from the get-go, they'll always associate it with safety. This means that there's less fear when you're out and about and need to use a public restroom. Additionally, a toilet seat–especially the ones that fold–provide an extra convenience factor. Your trainer will be able to go in any bathroom.
Cons include some of what you'd expect with any toilet training: As they don't always fit every toilet, there can be messes involved. Additionally, if you do have a child who shows fear of the bigger potty, they may still show hesitancy even if this is the route you choose.
Delta Children Little Jon-EE Adjustable Potty Seat and Step Stool – $34.99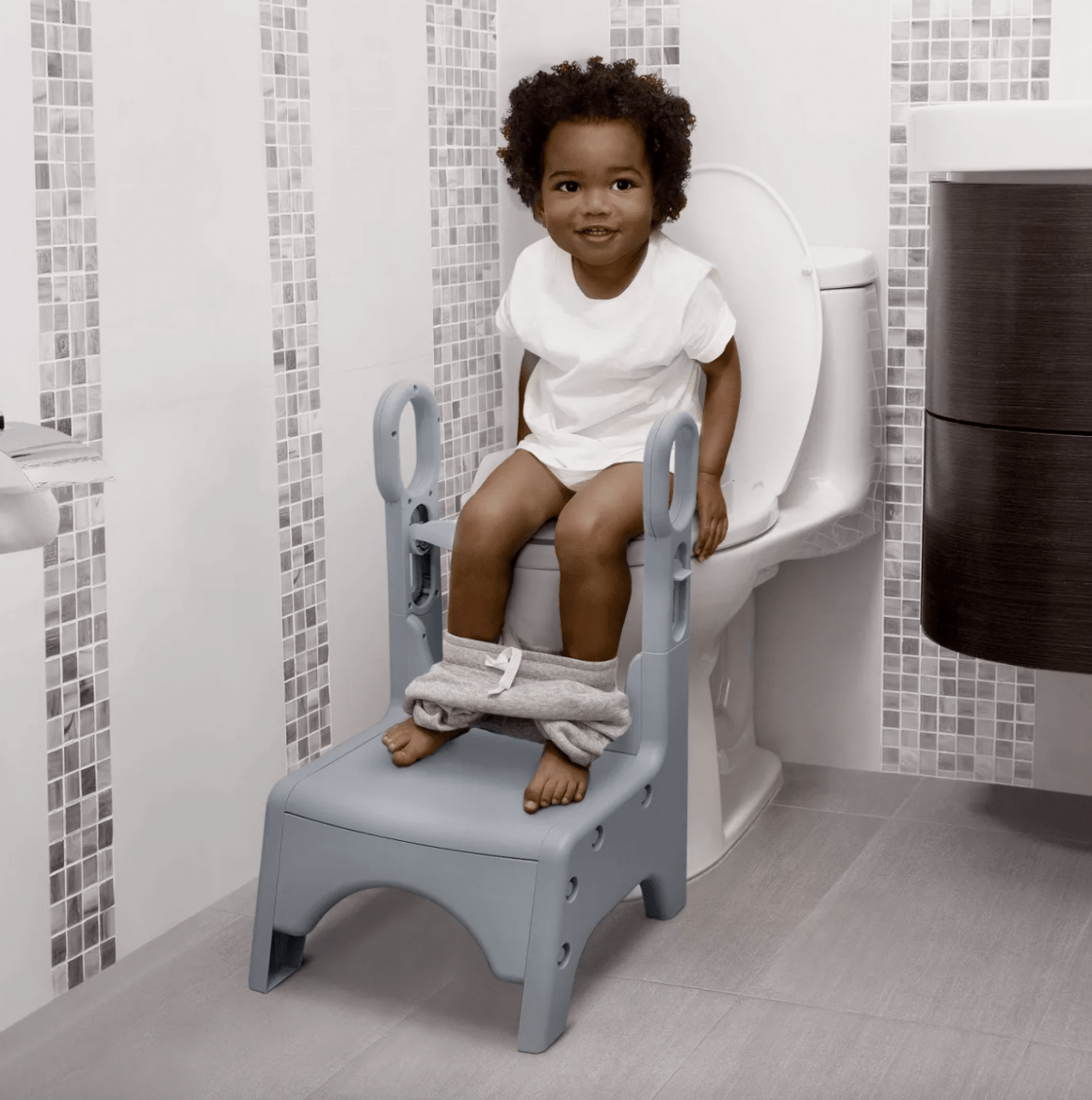 This toilet seat features a wide array of benefits. The adjustable height feature will grow with your toddler. The splash guard is a must-have as well. You can also use the step stool at the sink to help your little one learn how to wash their hands after using the toilet. It really is the perfect addition to your home bathroom.
Jool Folding Travel Potty Seat – $14.99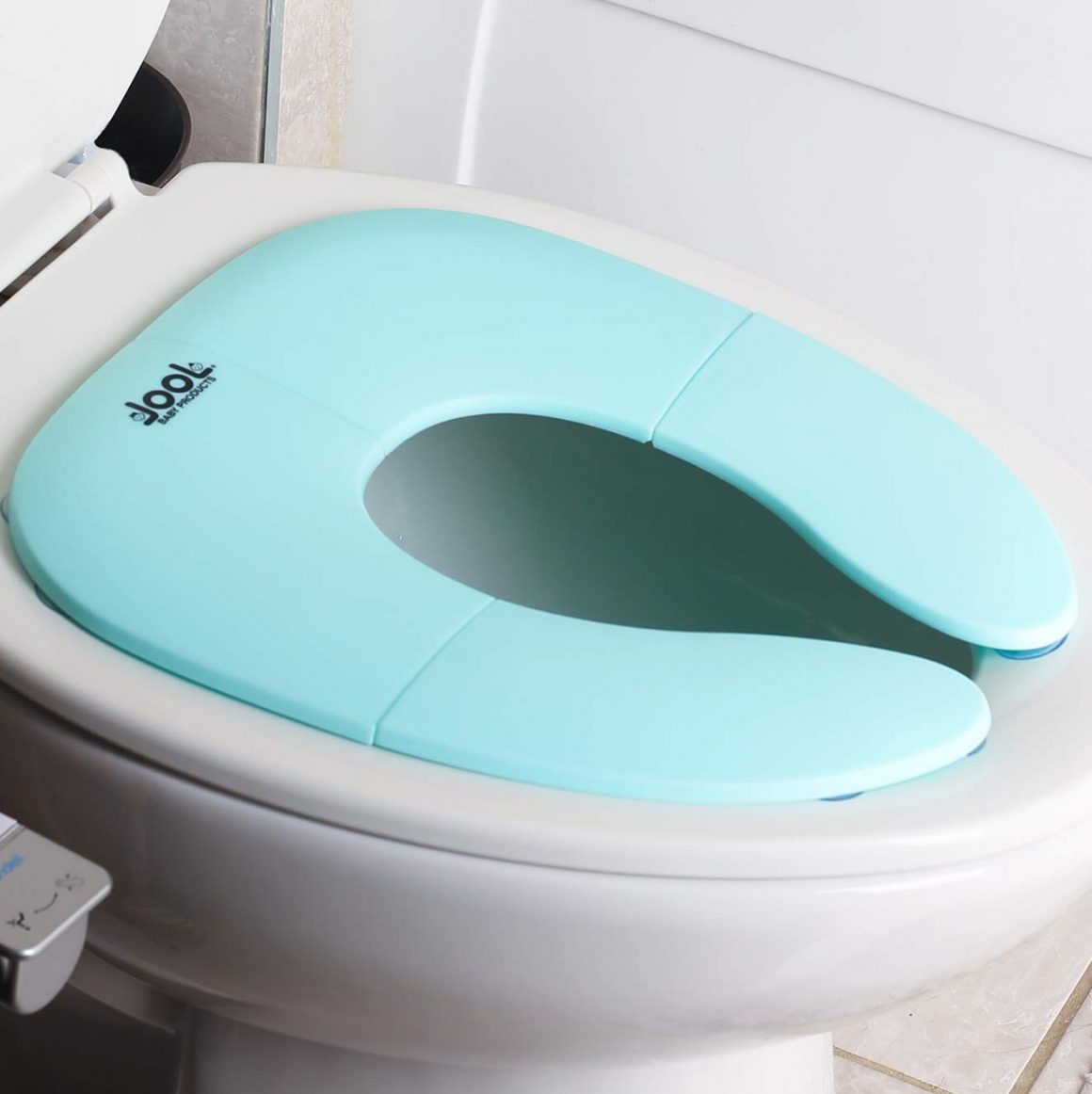 For potty training on the go, we love the Jool folding potty seat. The suction cups on the under side help keep it attached to any toilet. It will help keep it from slipping and keep your little one secure as they go. This toilet seat folds up easily and even comes with a travel bag for easy transport. If you're potty training and traveling, you really need to have this on hand.
Potty Chairs for Toddlers
Potty chairs are miniature versions of the real thing. You can plop them down in your bathroom, or–one of their biggest pros–just about anywhere. That's right: You can set the potty chair in your home office, their playroom, or take it on the go with you to the park.
Cons include a little more mess than a toilet seat in that you have to dump the contents of the enclosed bowl and clean it out. Some kids might also find it difficult to transition to a bigger toilet after getting used to the smaller version.
The First Years Super Pooper Plus Potty Seat – $39.99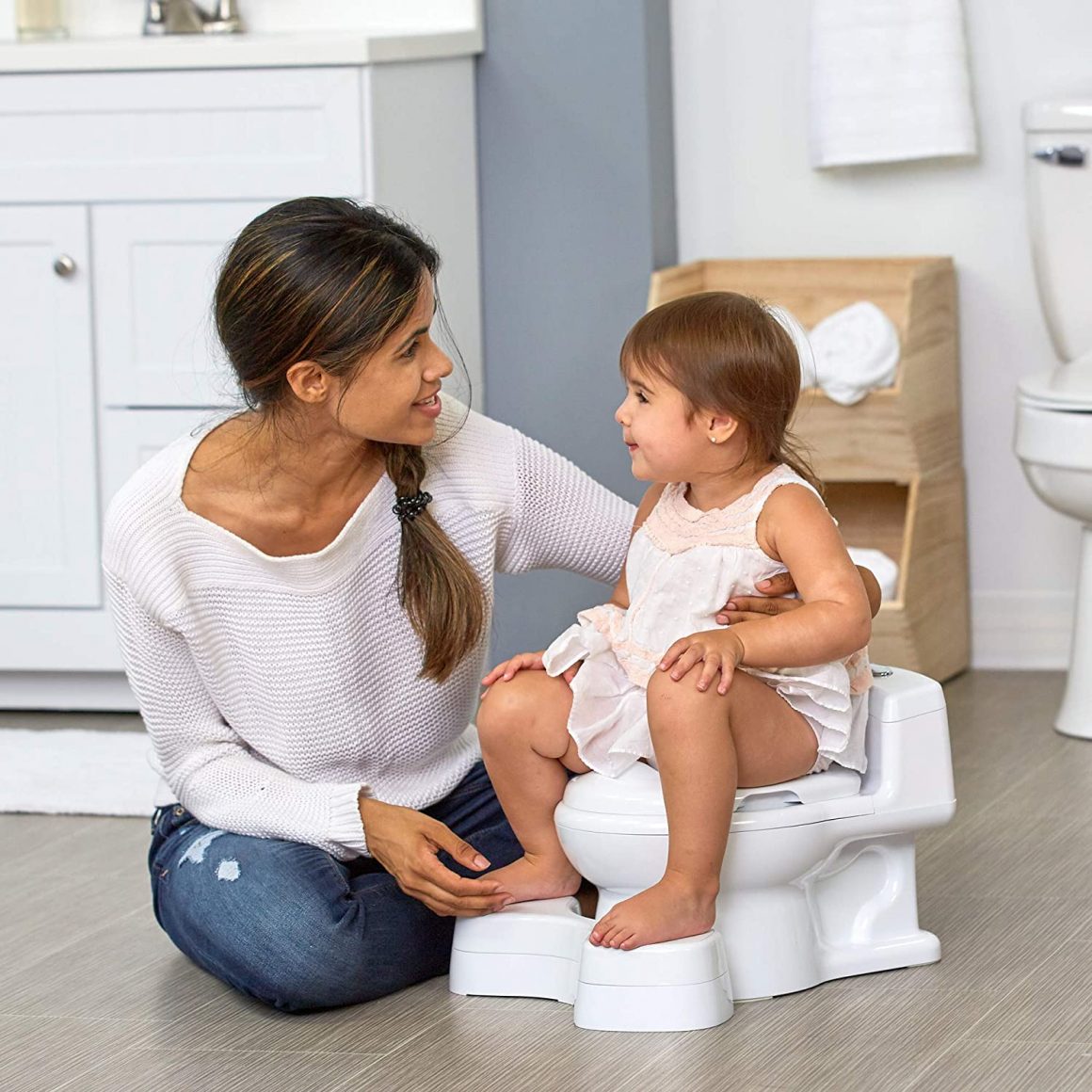 This potty chair was the winner in the feeding Feeding/Bathing/Changing category of the JPMA Innovation Awards last year. Why? It encourages your toilet trainer to sit in the proper position for going, complete with a foot lift. It looks like a miniature toilet as well to encourage familiarity with the real deal.
BabyBjörn Smart Potty – $24.99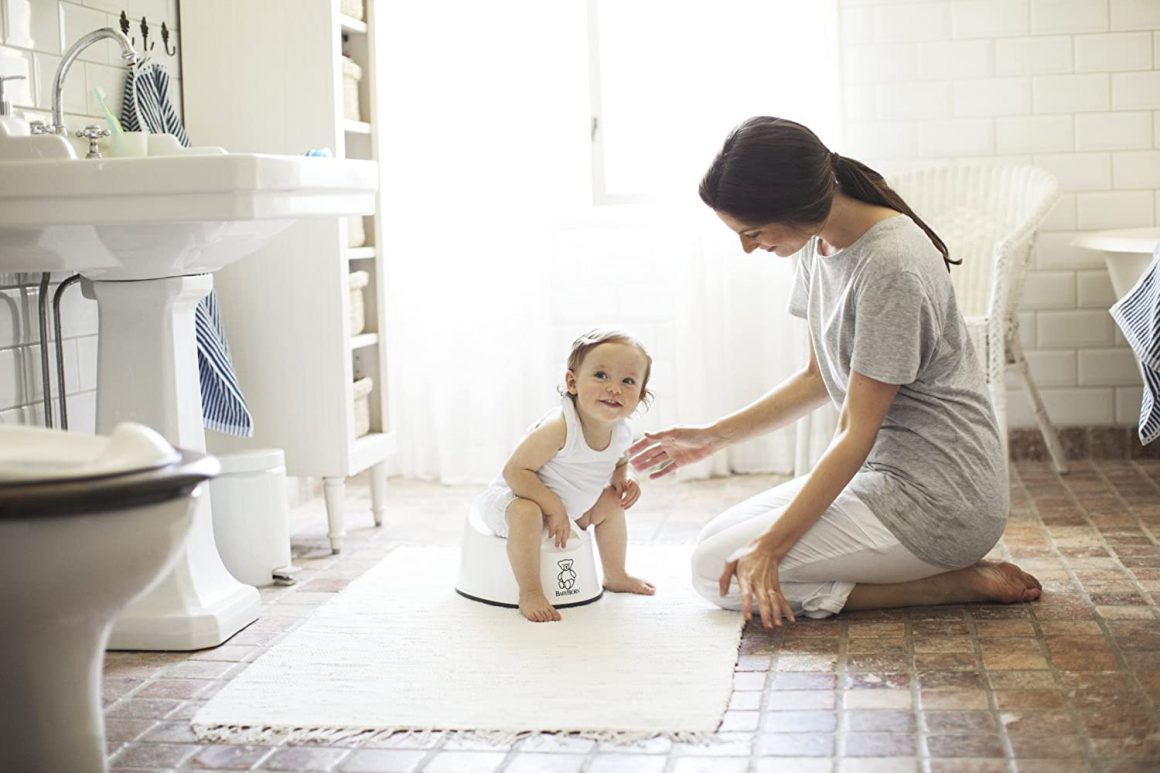 The BabyBjörn Smart Potty is a very simple potty chair. It's easy to clean, but the best selling factor is how easy it is to take along with you wherever you're headed. Set it out on the deck for evening playtime to ensure your toddler can make it to the potty in time. Toss it in the back of the van for your upcoming trip. Just bring along some bleach wipes and you're good to go!
The Best of Both Worlds
Instead of buying both a potty chair and a toilet seat, why not get both at the same time?
Munchkin Arm & Hammer Multi-Stage 3-in-1 Potty – $31.49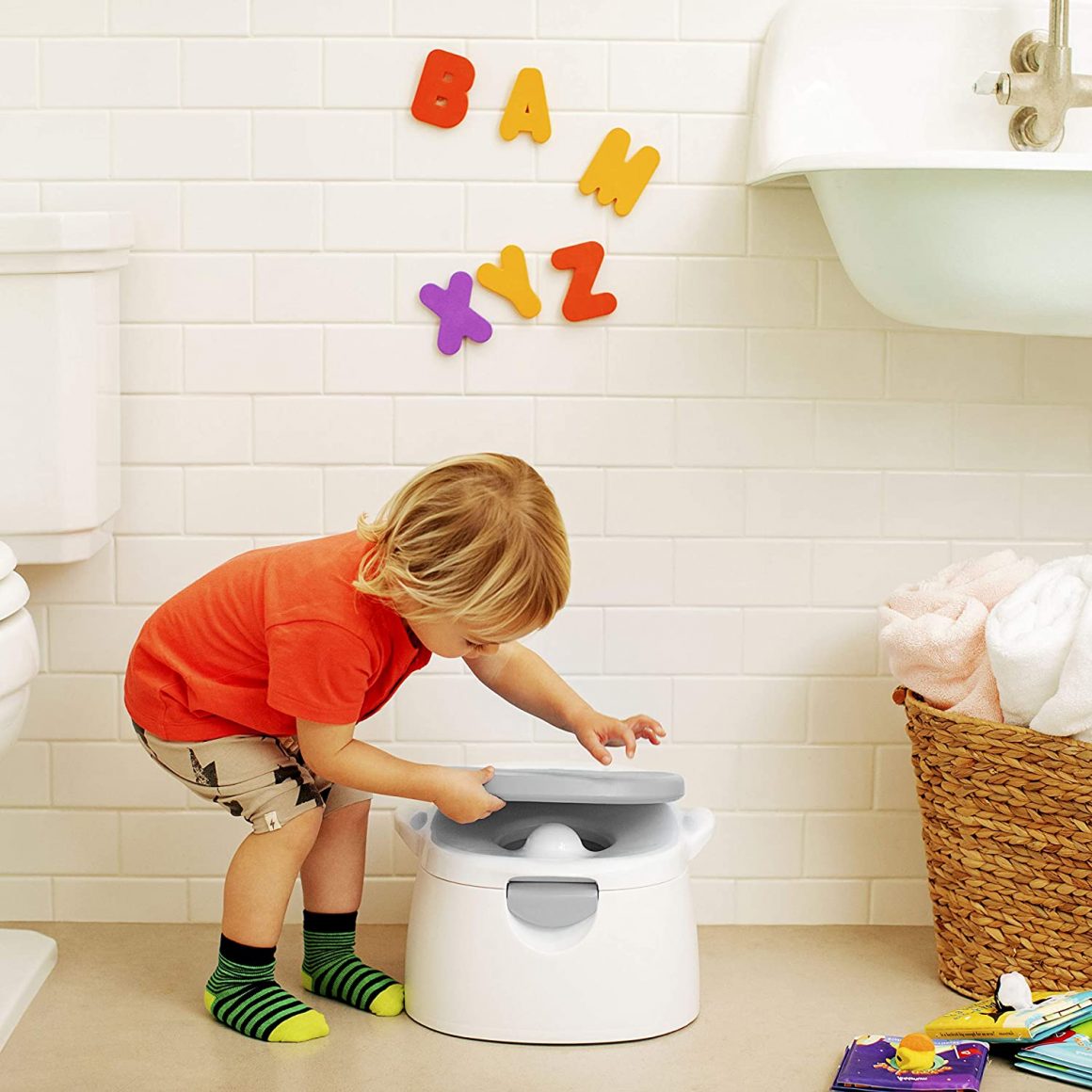 Not sure if you want to invest in a toilet seat or a potty chair? Why not both? This option gives you a trainer ring to use with your toilet or ones in public restrooms, a potty chair for home use, and a step stool to encourage that hand washing with ease. You can cover all of your bases with one purchase.
My Size® Potty Lights and Songs Transitions – $44.99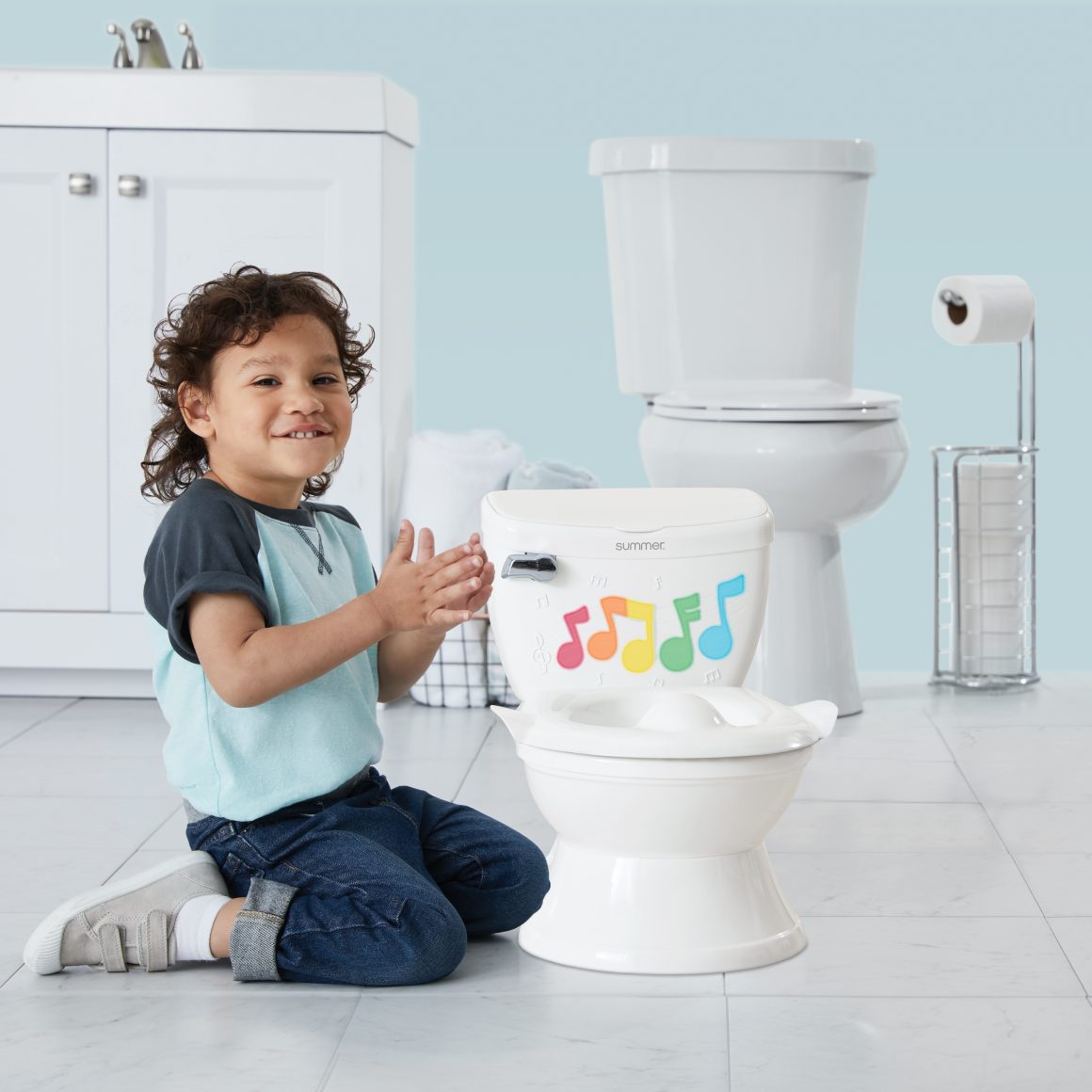 Another all-in-one option, the Lights & Sounds Transitions is a potty chair with a potty seat that can move over to your toilet. Additionally, kiddos will love the six different songs it plays each time you "flush" the potty chair. It makes potty training feel fun and rewarding. (You can read more about this potty chair on our site.)
No matter what you choose, your little one will benefit from the research you're putting into helping them make this next life transition. It will take some patience, but you'll both get there!
Check out more posts for toddler parents:
25 Gift Ideas for a 2-Year-Old
The Scoop: Aden + Anais Weighted Blanket
Creating a Strong Immune System in Infants and Toddlers
---
Join our Mom Creator community by signing up for our email list and receive paid and gifted opportunities with your favorite baby and kid brands in your inbox weekly!
Interested in becoming a mom content creator or influencer but don't know where to start? Join our monthly coaching membership specifically designed for mom creators.