So, your favorite toddler turns two in a couple of weeks. What do you get for them? We've got a list of 25 gift ideas that will appease the tastes of all different kinds of kiddos. Whether you have a 2-year-old who loves imagination play, one who loves to dress up, or a quiet reader, you'll find a suggestion that will make their day.
Toy Gift Ideas
Melange Collection Elephant in Sweater, Blue – $40.00
Every child needs a beloved stuffie. This elephant brings whimsy and fun to all of your kid's play. As an added bonus, Melange Collection works closely with organizations dedicated to empowering women through income generating projects. You can feel good about giving this gift (or any of the other cute options, like a fox, bunny, dog, and more).
Mouse Loves Pig Portable Car Carrier – $39.99
For the all-things-that-go lover, this portable play mat will carry a variety of cars and gives them a place to use their imagination and play. This is perfect for trips and outings to keep your toddler entertained.
Babymoov Indoor & Outdoor Tipi – $59.99
This cute tent gives your child a safe, imagination-rich place to play, indoors or out. Our favorite part about this teepee, in addition to quick setup, is that it offers your toddler sun protection with anti-UV UPF50+ material. Set it up in the back yard, at the park, at the beach, or in your living room.
Plan Toys Doctor Set – $30
Is your little one always taking care of everyone? Do you want to nurture their spirit while encouraging more imagination play? Get them this doctor's set from Plan Toys! Maybe you'll inspire them to become a doctor when they're grown. (Note: If they're fascinated by teeth, the dentist set is also a fun option.)
Mouse Loves Pig Hand Kite Set – $54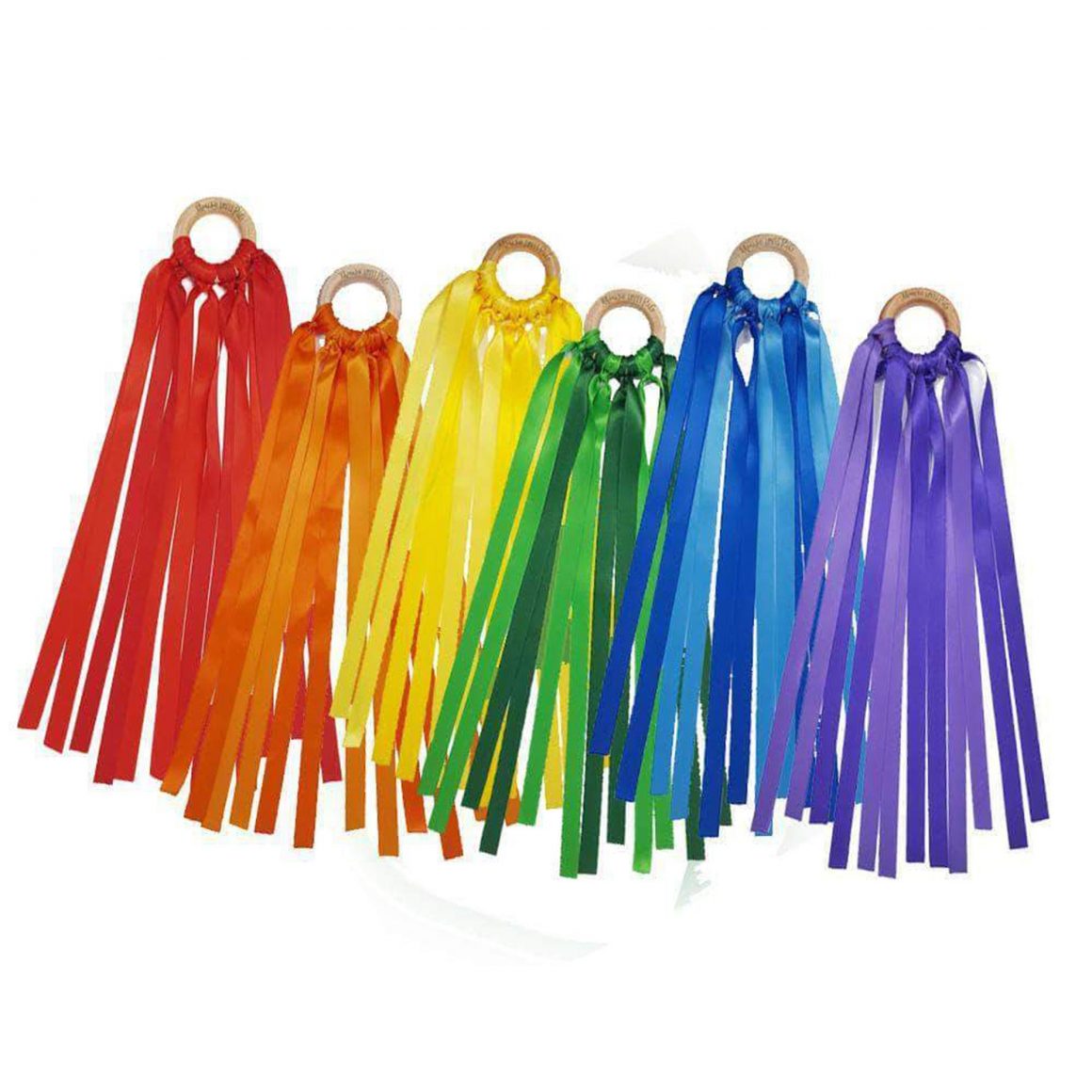 Get moving and grooving with this set of six hand kites in red, orange, yellow, green, blue, and purple. You'll inspire hours of imaginative play while also helping improve their gross motor skills. Win-win!
TROJOY Stacking Dinosaurs – $15.99
If you have a budding paleontologist, these stacking dinosaurs will provide lots of joy and hours of fun. As an added bonus, you'll help solidify their knowledge of colors while they teach you about everything from the ankylosaurus to the triceratops.
SEREED Baby Balance Bike – $52.99
Recommended for ages 12-36 months, this baby balance bike will get them wheeling around in no time flat. You'll help them develop balance skills and get them ready for their first pedal bike.
Clothing Gift Ideas
Clover Baby & Kids Monstera Short Set – $30
Whether they're going to wear these to bed to dream of running through luscious monsteras or to play around the house, hiding behind their parents' gorgeous plants, these comfy clothes will sure be a hit for parents and kids alike.
Gabri Isle Bunny Sweatshirt – $38.00
Hoodies with ears are always a hit. This bunny ear sweatshirt from Gabri Isle is the cutest thing. Ever.
Squid Socks Camping Edition – $24.00
Well, these are the cutest socks for your summer adventures. They feature woodland creatures, camping accessories, and some creepy crawlies. These socks have silicone dots at the cuff to keep them in place as well as grippers on the bottom to keep little feet from sliding on the floor.
Custom Hand-Dyed Pullover Hoodie – $36.00
Make sure they're rocking the biggest trend of the last year: tie dye! You can pick your primary color and set them up in the latest trend.
Pull-On Rainboots, Cat & Jack – $19.99
If you give a two-year-old a pair of rain boots, you're gonna have to ooh and ahh over them as they'll be sure to show you their boots over and over and over again. That's okay when it's these tiger cuties from Cat & Jack at Target.
Corduroy Overalls from H&M – $29.99
Hit both the neutral color palate trend as well as the texture one with these corduroy overalls. They'll be stylin' more than you, and that's a-okay.
Stripe 5 Panel Trucker Hat – $38.00
But imagine this hat paired with the corduroy overalls and a black long-sleeved t-shirt. Seriously. Toddlers today have all the fashion luck.
Unisex Stretch Jean Jacket – $22.00
This stretch denim jacket fits comfortably while looking uber-cool. It also comes in a light wash to mix up the look a bit.
Distressed Toddler Jeans – $14.99-19.99
Not only are these the cutest things ever, but they're comfortable due to that elastic waistband. Whether you're still changing diapers or working on potty training, easy on and off pants are key, even if they're Cool Pants.
Training In Unders Organic Cotton 5 Pack – $35.00
Whether they're ready right this second or have no clue about the potty just yet, some absorbent training pants are good to have on hand at this point. There's also a five pack with cats, unicorns, and more if that's their thing.
Gear Gift Ideas
Larktale caravan Stroller/Wagon – $449
Need a little more room now that your two-year-old takes up more space? The Larktale caravan Stroller/Wagon has room enough for two, perfect for playdates and more. They'll be rolling in style. (PS: It has a really awesome rain and wind cover that you can buy to keep your little riders dry.)
CamelBak Eddy 14oz – $13.99
Since toddlers are always on the go, it can be hard to keep them hydrated. Make it feel fun by giving them their own water bottle like yours.
Bodhi Toddler Standard Bed by Karla Dubois – $239
Upgrade their bedroom from nursery to toddler by replacing their crib with a toddler bed. This one from Karla Dubois is modern and unique, allowing you to do so much with their newly redesigned space. While the bed comes in six colors, this neutral Pebble would suit any room.
Book Gift Ideas
Ekaterina Trukhan 5-Book Set from Workman Publishing – $29.75
These books from Workman Publishing are printed on an indestructible paper-like material. Your little reader won't be able to rip, tear, or puncture the pages. This set lets them learn about numbers, colors, shapes, and more.
Families Can by Dan Saks – $7.99
The main idea of this 2021 book is that "a family is love no matter how it looks." This important message is aimed at our youngest readers in this beautifully illustrated book. Additionally, Dan Saks has a number of other great books for this age group, including Families Belong and Families Grow.
Mrs. Peanuckle's Hiking Alphabet – $7.99
If you're a hiking family, already traipsing through wooden trails with your toddler strapped to your back, this is an alphabet book you simply must add to your library. "A is for Air; C is for Compass," and so on. Teach your kiddo to speak your outdoor language now!
Nerdy Babies: Dinosaurs by Emmy Kastner – $7.99
Next up, we have the newest book in the Nerdy Babies series explores all things dino. They'll learn about shapes, sizes, and yes, dinosaurs in the Mesozoic Era.
Maddie Frost Collection from Workman Publishing – $35.70
Another set of indestructible books rounds out our list. This one includes six books from Maddie Frost and brings three nursery rhymes and three explore-your-world type books to your library. They're sure to be a hit.
—
Well, there you have it. 25 gift ideas for 2-year-olds that are sure to bring a smile to your favorite toddler's face. Be sure to let us know which items were a hit!
Check out some of our favorite gift guides:
Ultimate Gift Guide: Ages 0-2
Ultimate Gift Guide: Ages 2-5
Reima Baby Kit: The All-in-One Baby Gift
Work from Home Gift Guide