A pacifier can be a game-changer for parents and babies alike. When nanobébé created the Flexy Pacifier they were extremely thoughtful in their design. The nanobébé Flexy features one-piece construction, recommended by the American Academy of Pediatrics, to reduce the risk of choking. The nipple is made of soft silicone, which is BPA and phthalate free.  For breastfeeding mothers concerned about pacifier use, the ergonomic shape discourages nipple confusion. Our Gugu Village Parents were able to test the nanobébé Flexy Pacifiers and loved the durability, shape, and one-piece design. 

Misty H. – Baby: Newborn
The nanobébé Flexy Pacifier is a great pacifier for both newborns as well as older babies and toddlers. It comes in two sizes: 0-3 months and 3+ months. I like the single-piece design – you never have to worry about anything getting trapped in tiny creases or crevices. It makes washing the pacifier very easy. The silicone is soft but durable at the same time. 
For newborns, the lightweight, ergonomic nipple design will help ensure that it stays put and doesn't accidentally fall out. As a breastfeeding mom, nipple confusion is definitely something I worry about when introducing a pacifier. The shape of the Flexy Pacifier helps to minimize this while promoting healthy oral development.
It comes in a variety of colors, including several that are very neutral. Overall I'm very pleased with both the quality and construction of the nanobébé Flexy Pacifier.

Heather L. – Baby: Newborn
Before using nanobébé, my daughter would only take one other brand of pacifier. This made daycare very difficult because they do not allow the animal attachment on the pacifier for fear of suffocation. We've tried a couple different pacifiers to see if she would take them for daycare, but she never would. The nanobébé pacifier is the first pacifier (that's daycare approved) that she will keep in her mouth! She seems to really like it and is starting to choose it over her first pacifier. I have more peace of mind putting her down for the night with this in her mouth, knowing that there is no risk. I would highly recommend this pacifier and plan to buy more for my baby on the way!

Abby S. – Babies: 2 month old twins
I was nervous to add a new pacifier in the mix, but my little ones (twins!) took to the nanobébé quickly! It does look smaller than the pacifiers we had been using but I appreciated both the size and the modern shape. My kiddos have sensitive skin, so any way to minimize the area the pacifier is covering, the better! Since we are probably on our way out with the pacifiers, I like that the pacifier itself is smaller. I also love that it's all one piece and can go into the dishwasher for easy cleaning! Overall, I would definitely recommend this as an option to keep in the mix.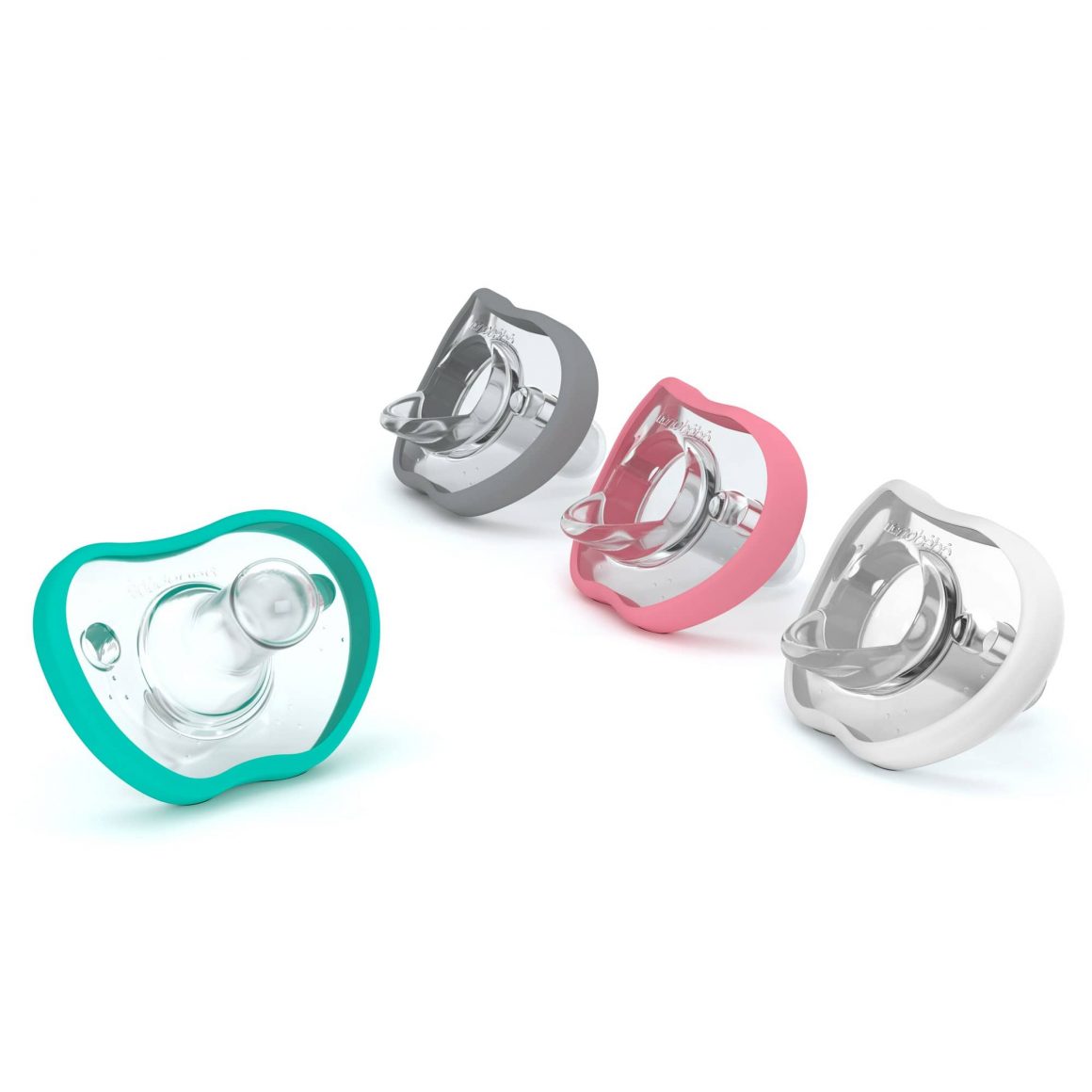 Read more of our Village Reviews:
The Village Reviews: Rambler LA Mat
The Village Reviews: bloom BABY All Natural Wipes
The Village Reviews: Go Happy Kids Travel Tray