In honor of International Breastfeeding Week, we reached out to the breastfeeding guru herself, Amanda Cole of Yummy Mummy, to share some of her quick tips for things every breastfeeding mom needs. Amanda  conceived of the idea for Yummy Mummy after the birth of her daughter when like many other new moms, she was looking for help overcoming the challenges of breastfeeding and motherhood. She saw a need for a one-stop-shop for support, services and products to help new moms meet their personal breastfeeding goals and their needs as a new mom. Yummy Mummy is a retail store on the Upper East Side of New York City, and is a company dedicated to All Things Breastfeeding and for moms-to-be!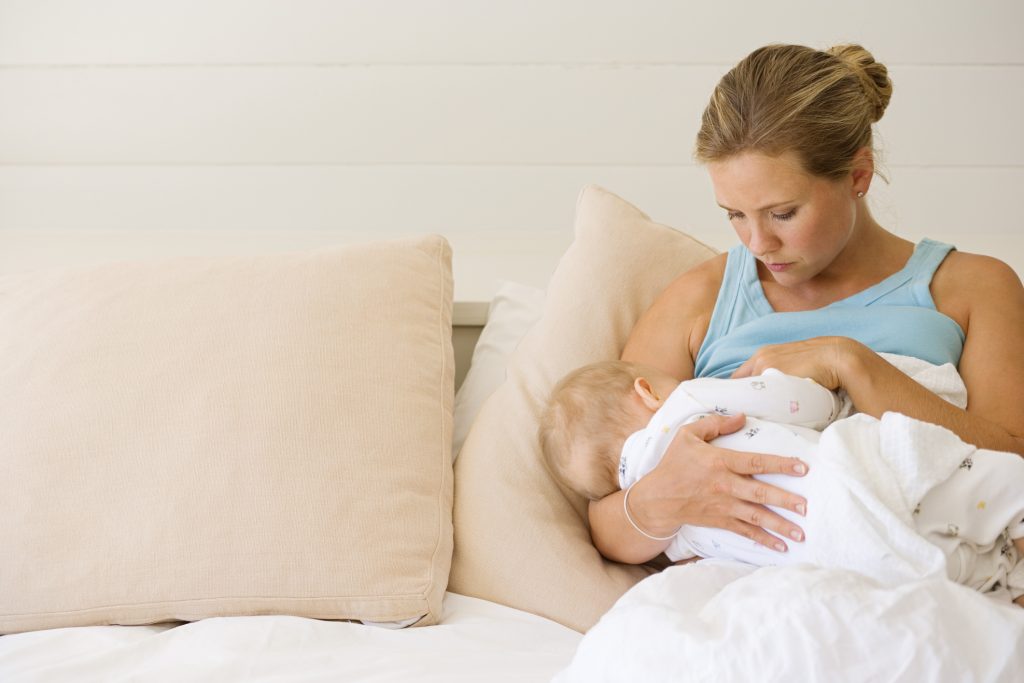 Breastfeeding is one of the best things that you can do for you and your little one, but just because it is a wonderful thing to do, doesn't mean that it's always easy. The most important thing you can do is make sure that you have the right support. Support from your partner, support from a couple key products, and if you are having trouble, support and information from experts. Here are five things every breastfeeding mom needs.
A Quality Pump –
Most nursing moms find that they need to pump, at least occasionally. If you're breastfeeding, pumping is essential if you are planning to return to work, or even if you just need to take a break to run some errands, go to a doctor's appointment, or take a well-deserved nap. Pumping allows your partner or another caregiver to give your baby a bottle while you are away. Most insurance plans now cover breast pumps often at no additional cost to you. Find out how easy it is to get a breast pump through insurance in this short video.
 A Hands-Free Pumping Band –
Every new mom could use an extra hand. A sturdy hands-free pumping band gives you two. Send an email, have a snack or flip through a magazine. Moms we talk to love these bras because they can still get things done while pumping. Look for a pumping band made from a strong elastic material that won't stretch out with repeated use. Here are two that keep their shape from your first pump to your one thousandth: the Pump Mate Hands Free Pumping Band, and the Snugabell Pumpease Hands Free Pumping Bra.
Three Great Nursing Bras –
Your ribcage and cup size change during pregnancy and your time nursing. A couple of great-fitting nursing bras can make a big difference in your comfort and ability to easily nurse or pump. The general rule is that you need at least three nursing bras. One on you, one in the wash and one in the drawer.
Check out some great stylish and supportive nursing bras here.
A Versatile Nursing Top or Two –
If you plan to pump or nurse on the go, a breastfeeding mom needs a nursing top that is comfortable and stylish. Many tops and dresses come with hidden panels or zippers so that no one knows that it is a nursing top except you and your little one. Check out some of our favorites here.
 A Support System –
Emotional support from your partner is key and something every breastfeeding mom needs.  Nobody does it alone. Don't be afraid to tell your partner what you need (or what you don't need from nosey family members!).  And if you have questions or concerns, or are having a tough time breastfeeding, seek support and advice from a specialist.  You can find an International Board Certified Lactation Consultant (IBCLC) (IBCLC) in your area here.
Want to learn more? Check out our Mompreneur Profile on Amanda Cole!  Plus, Six Tips On How To Successfully Return To Work After Maternity Leave and our Trend Spotter Report: All About the Boobs!