Back to Sleep week, which is focused on safe and healthy sleep for baby. Today's post featured the BabyBjorn Cradle, which is a must-have for postpartum mamas, minimalist parents, eco-friendly moms and dads, and small space living, too. Plus, head to the bottom of the post to enter for a chance to win one!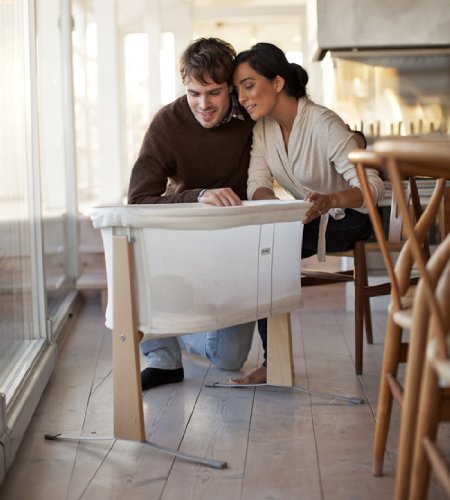 There are so many reasons the BabyBjorn Cradle has become a favorite of parents everywhere (it's no surprise, since we love their bouncers too!). With full mesh walls, the cradle allows you to see baby, and also allows for full air flow – which is significant in safe sleep for baby. There are no no electronics, buttons, vibrations, batteries, or plugs, but there is a gentle springy movement that parents can utilize for some soothing. This is perfect for parents who like to keep technology at bay when it comes to babies, or families that keep technology out of the bedrooms.
As our sleep expert, The Safety Mom says, the American Academy of Pediatrics recommends that baby shares a room with parents for a year; the BabyBjorn cradle is a fantastic way to keep baby in the parents bedroom and sleep safely. Unlike a lot of bassinets that you have to stop using when the baby is around 3 months the Baby Bjorn cradle can be used until he baby is 6 months (or 18 lbs or baby can sit up unassisted). Plus, it is a beautifully designed piece that will fit into any home design (which is great when you want to have it in your master bedroom). It is overall a safe design (not just beautiful) with no loose parts, mesh walls and stable legs.
Another reason we love this cradle is that it only weighs 13 pounds so parents (even those mamas that are recovering or postpartum) can easily move it around the house to keep a close eye on baby while they sleep. It's super helpful to have a safe space for baby to sleep which you can easily move around the house! If you're planning on having a c-section, the BabyBjorn cradle is going to be a dream for you, because you can keep baby close to the bed, and move baby around the house to sleep easily.