With Earth Day in April, it seemed like the perfect time to chat once again about a much loved standard crib mattress brand here on Gugu Guru, Colgate Mattresses. There are so many reasons we love and highly recommend Colgate Mattresses for parents; as you know, the decision to pick out a standard crib mattress can be overwhelming for some parents, as not only is the mattress where baby will spend the majority of their time, but the crib has to be a safe and soothing place for baby to rest, play, grow, and learn. Made in America, Colgate Mattress is a third-generation family-owned and operated company comprised of committed craftsmen who have been dedicated to manufacturing quality crib mattresses for over 60 years.
We've written extensively about why Colgate is a fantastic choice for your nursery in our Back to Sleep campaign, Innovative Sleep Products roundup, and as a Nursery Essential for Mother's Day, plus we got to Meet the Makers Behind the Mattresses, but today we're focusing on a very exciting new collection within the Colgate company, the zenBaby line of mattresses.
The zenBaby Collection from Colgate is their most innovative mattress line yet, as it is designed with KulKote®, a groundbreaking water-based temperature-regulating technology that helps create a tranquil and secure, zen-like environment for baby to relax and sleep.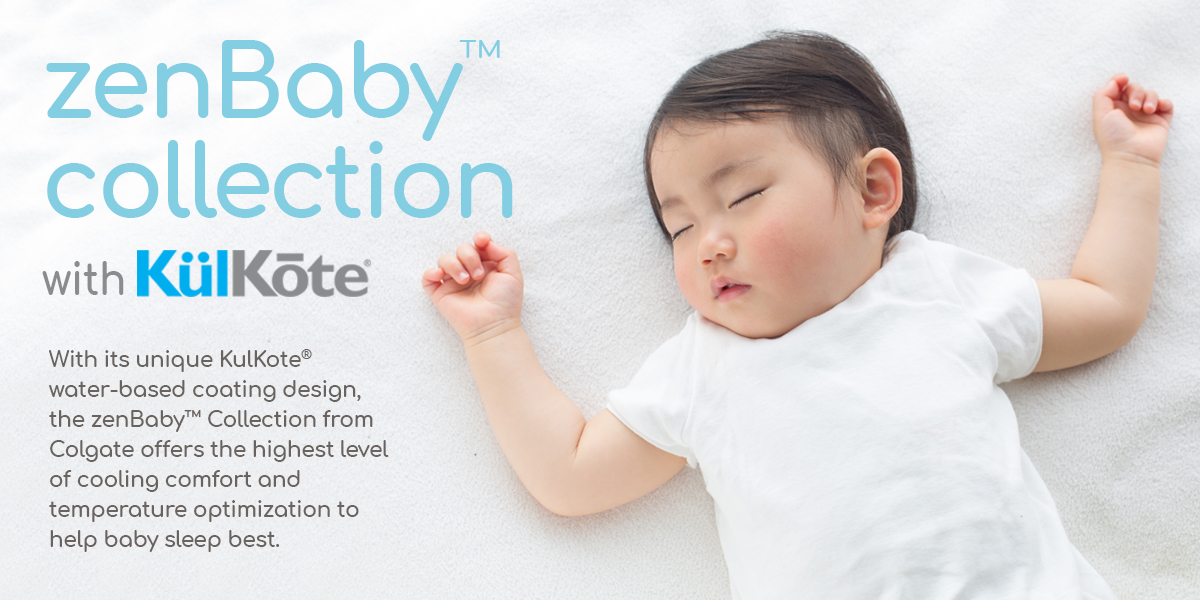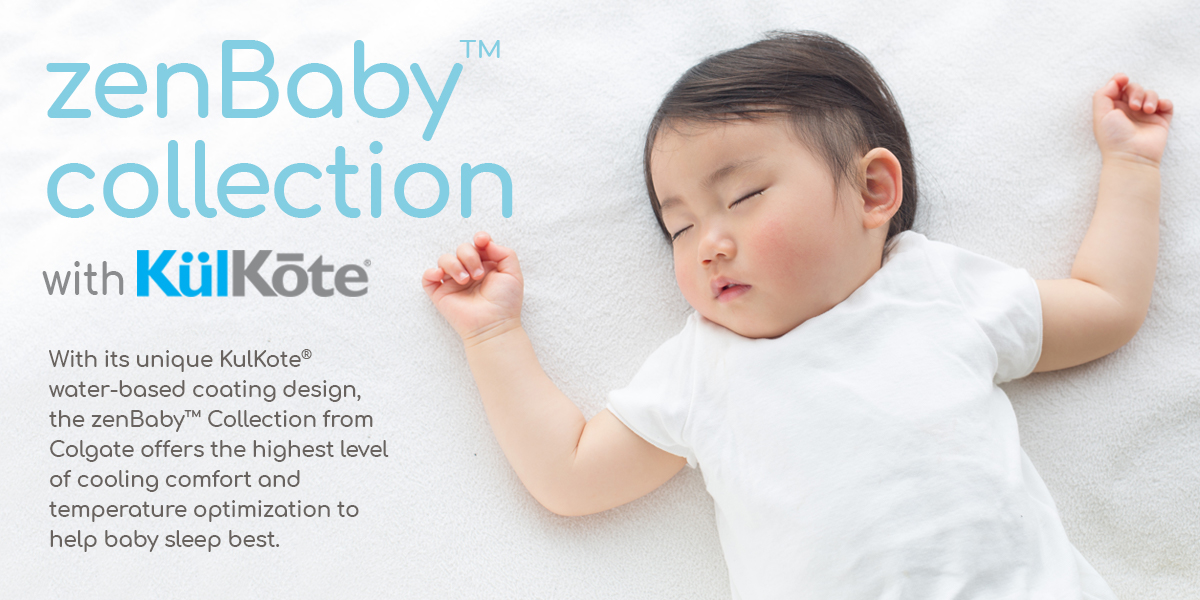 The exclusive collection includes a Hybrid 2-in-1 with pocketed microcoils, a 2-Stage eco-classica™ foam mattress, and a Portable Crib Mattress – all made with KulKote® to ensure the most comfortable and "zen like" sleeping climate for baby; the zenBaby line of mattresses is the first and only crib mattress to feature this innovative sleep technology. Since we're focusing on Earth month and being eco-friendly within the nursery, we wanted to point out that  that all three mattresses use premium eco-classica™ foam, are entirely made in the USA and are CertiPure and Greenguard gold certified – incredibly safe for baby, bringing you, as a new parent, peace of mind.
When you're buying a Colgate mattress, you are investing in your child's future of restful sleep, as the zenBaby™ Hybrid 2-in-1 is a versatile, dual-firmness, infant-to-toddler transition crib mattress. The infant side features an extra-firm eco foam made with plant oils and coated with KulKote® for optimal temperature regulation and comfort. The toddler side features durable and supportive microcoils for added pressure relief, breathability and posture support.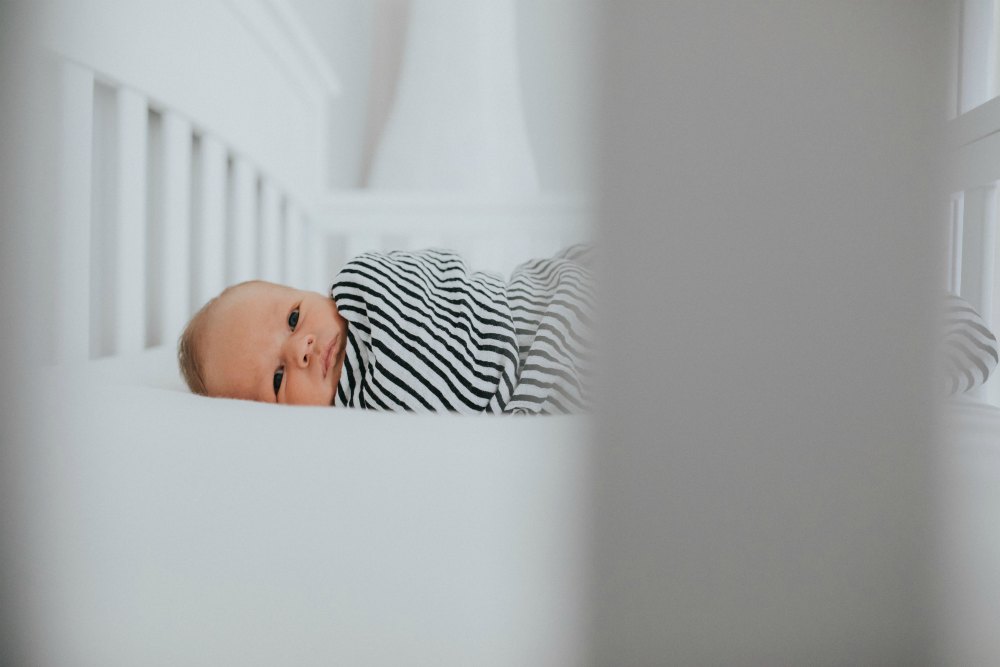 We know many parents will love that the zenBaby Hybrid also features an ultra soft cotton blend cover with waterproof backing, and chemical-free rayon cloth flammability barrier; you can rest easy knowing your baby is sleeping on the safest mattress possible, and breathing in fresh air, free of any chemicals. Plus, all Colgate products are hypoallergenic, odorless and GREENGUARD® Gold & CertiPUR-US® certified safe for no harmful emissions. Colgate has always chosen to use non-toxic barrier fabrics instead of harsh fire retardant chemicals to give parents peace of mind while not only meeting, but exceeding federal flammability standards. Colgate takes your baby's safety incredibly seriously and they are the first mattress company to use natural coir fiber made from coconuts shell husks.
Colgate is legendary for their commitment to exacting manufacturing standards of crafting safe crib and toddler mattresses. Colgate uses only the highest quality components, hand assembled right here in the USA because, as they say, "while many crib mattresses may look similar on the outside, we know it's what's on the inside that counts." When it comes to your baby's safety, especially regarding sleep, there are no compromises to be made, which is why Colgate is your one-stop-shop for your baby's mattress needs, they've been providing parents peace of mind since they began in Atlanta in 1955, and have paved the way for setting the standard when it comes to your baby's crib mattress.
Gugu Guru is so appreciative of our sponsors; thank you to Colgate Mattress for making this sponsored post possible.
Featured and bottom photos via Alexandria Mooney Photography