One of the things that no one talks about when you become a new parent is the evolution of the diaper bag. You will start out, a worried and confused new parent, with a packed-to-the-gills diaper bag of infant gear. Over time, as you learn what you actually need for baby, your diaper bag will become less cluttered, and then slowly, as your baby grows to a toddler, all of the items you used to need (burp cloth, pacifier) will slowly disappear and make room for toddler necessities. We rounded up 5 essential toddler diaper bag must haves! What necessities for your toddler do you always carry?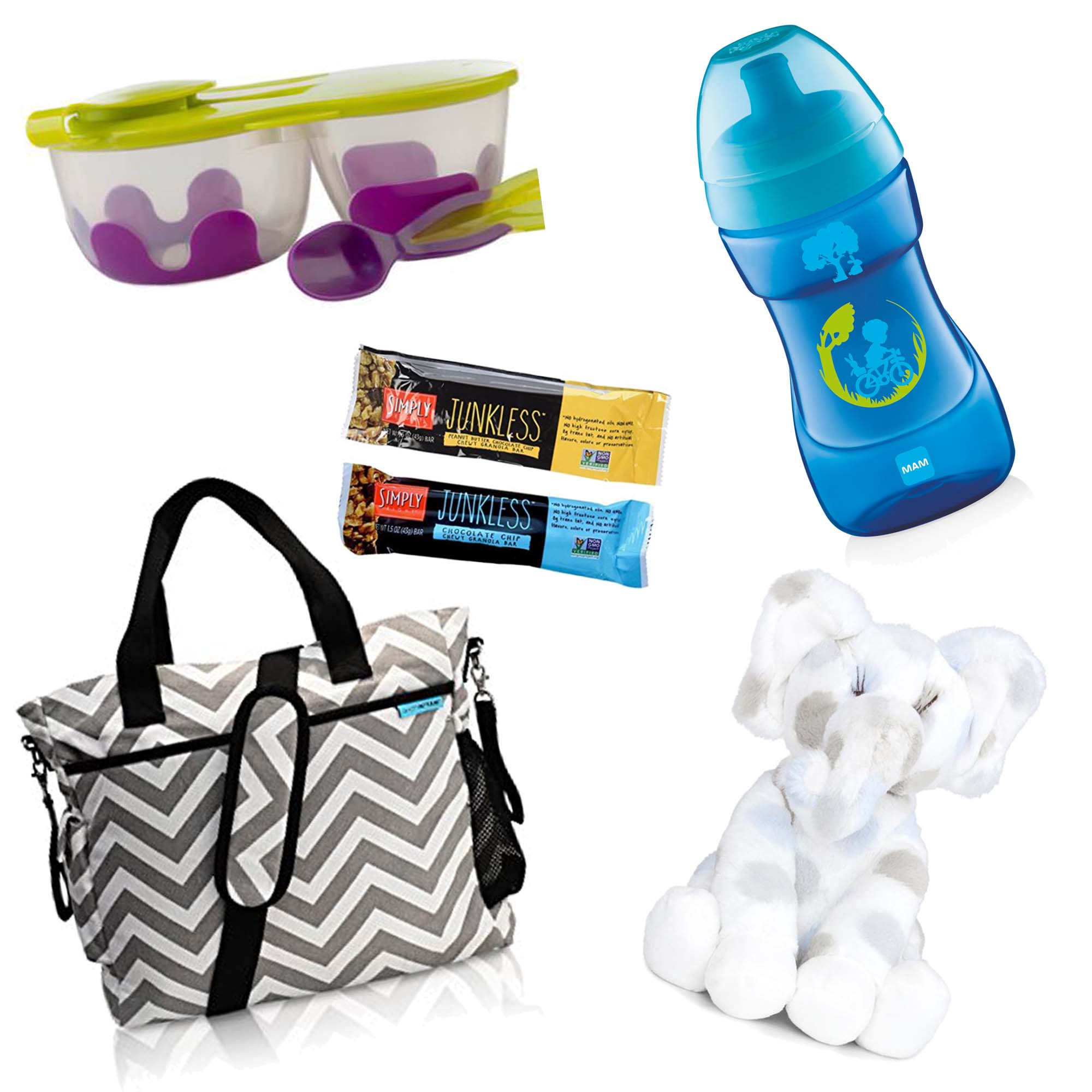 Baby K'tan Smart Gear Diaper Bag: Did you know that Baby K'tan has an amazing diaper bag, too? Coming in chevron (pictured), black, or dandelion print, this diaper bag is a must-have for life with a busy toddler. What makes this bag so different and just so genius is that it includes a built-in wetbag with antibacterial lining and water-tight zipper as well as antibacterial pockets that kill germs and odor causing bacteria. That is perfect for a potty-training toddler, or any kid who loves to "do it my way!" and spills all over themselves (can you hear us sighing from there?). Plus, the K'tan diaper bag has 12 functional pockets to store all your toddler's toys, snacks, essentials and more.
Also seen: Keeping Your Diaper Bag "Spring Clean"
Junkless Chewy Granola Bars: Speaking of snacks, it is literally a rule of life that you cannot leave home without snacks when you're out with a toddler. Our team is a big fan of the Junkless Granola bars when it comes to feeding the little ones. Coming in peanut butter, chocolate chip, strawberry, or cinnamon, they have no artificial flavors, colors or preservatives, no hydrogenated oils, no high fructose corn syrup, 0g trans fat; and what's more, they have less sugar than many other leading granola bars – only 5g per 1.1 oz. bar. Our editor's kids got the chance to try these and loved having them for breakfast, too!
MAM Baby Sports Cup: Another thing about toddlers you should know is that they are always "sooooo thirsty, mommy!" Make sure you're all ready to go with a MAM Sports Cup full of water. The innovative MAM Sports Cup opens automatically for drinking and does not have to be opened by hand. A patented valve system ensures that the cup remains leak-proof but is always ready for drinking. This cup also features a leak-proof cap that help keep bottles clean when not in use.
Also seen: On the Go Snacks for Busy Moments with Kids
B.Box For Kids Snack Pack: Yes, more snacks. We told you so! Pretty much a toddler diaper bag is 50% snacks and 50% ways to clean up after snack. With two separate compartments that seal separately, you're able to serve different foods. Also great for crackers and dip, little sandwich shapes and berries. Fab for all ages and stages. Handy spoon stows away in the lid. BPA, Phthalates and PVC free.
Also seen: On the Go Snacks for Busy Moments with Kids
Little Giraffe Plush Toy: Every toddler needs a plush buddy to take on their journeys, and we love the sweet plush animals from Little Giraffe.   Made from the same cuddly Luxe Dot fabric Little Giraffe blankets are known for, but this time with squeezable cuteness! The giant ears and curled trunk is sure to delight any toddler boy or girl. Coming in pink and blue, this little elephant, known fondly as Little E, will become the buddy you're little buddy has always wanted.