The Boon GRUB is sleek in style with all the features you really want in a high chair. From a removable tray, seat pad, and seat that are all dishwasher friendly. Adjustable legs, tray, and footrest to give your child a custom fit and ensures you can use it from the countertop to the table. When your little one outgrows the baby high chair, the GRUB transforms into the perfect toddler chair. For only $149 with all these features, this high chair is a home run. Read on for some real mom reviews and see what they loved about this high chair.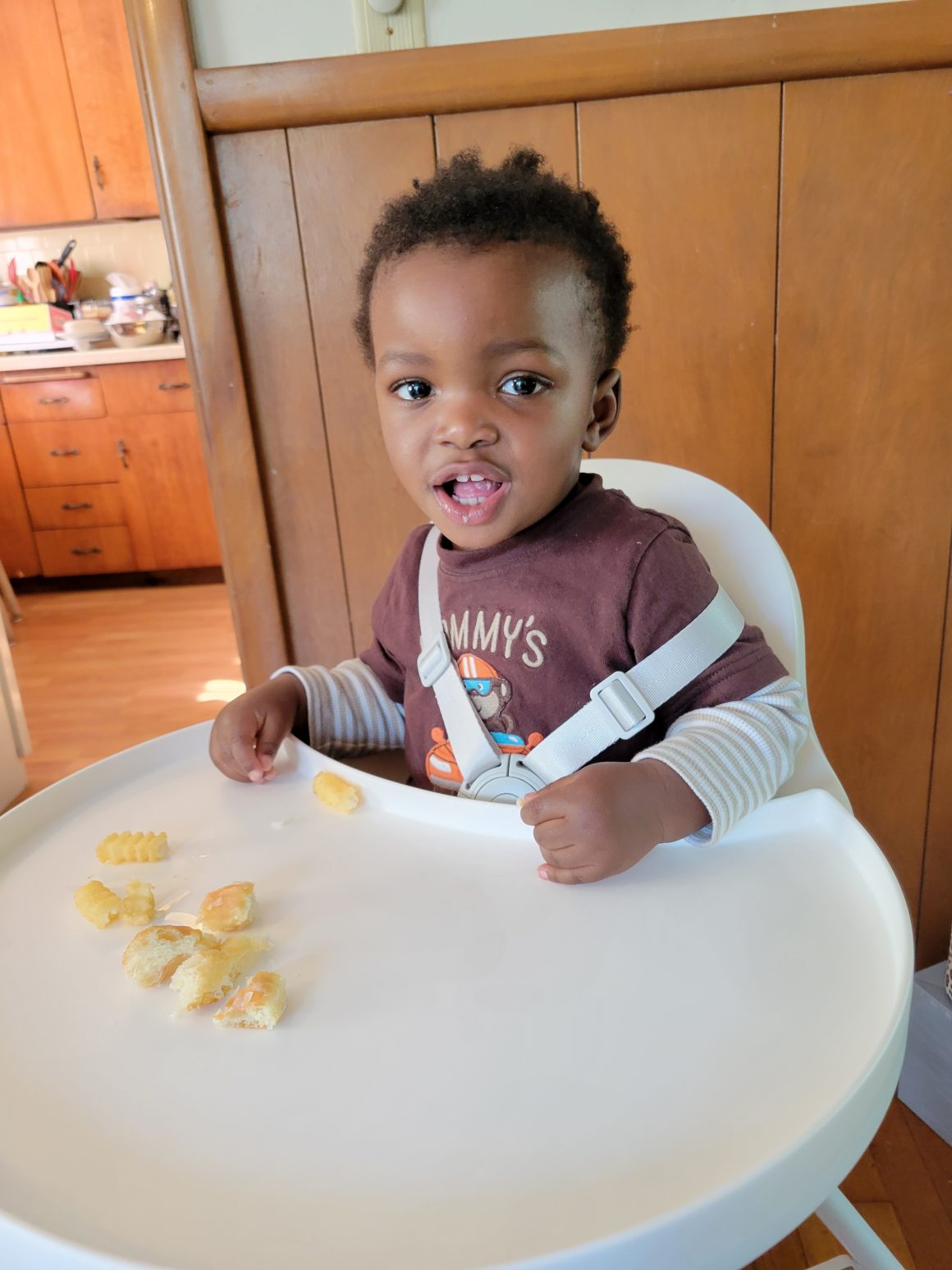 Monique A. – Baby: 15 months
This High Chair was easy to put together, it took under a half hour. The directions were not the greatest, but we made it work. Once together there were some features we truly enjoyed. We loved how washable it all is, we loved the different levels of the chair, the footstool, and the straps to keep him in. Those straps were so easy and secure especially when needing to keep him safe once we removed the tray. It took a few trials to figure out how to easily remove the tray, but now I think we have it. At first, it was frustrating once we removed the tray because we had nowhere to put it, but then we figured out that it fits so easily underneath the seat. The only issue we have is we wish the tray could lock into place in the last slot. We cannot comfortably get our guy in and out of the seat without taking off the tray.
All in all we really love this high chair for all the reasons we stated above. We would highly recommend this chair as it is safe, sleek, easy to clean and grows with your child.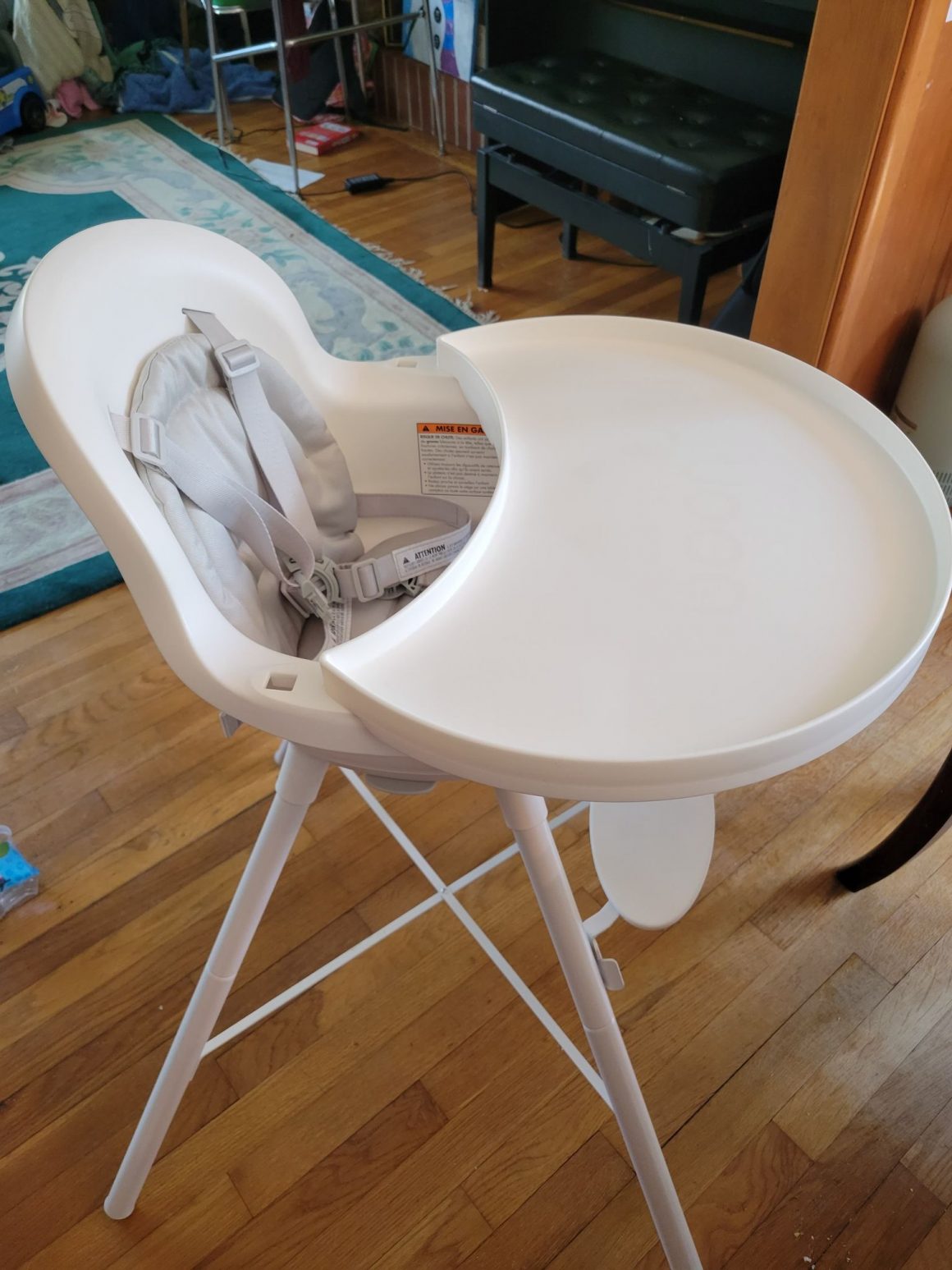 Christine Benton – Baby: 10 months
As a first time mom, I am always looking for products that are easy to use and more importantly easy to clean. The Boon high chair definitely hits both of those marks. We already use other Boon baby products, so it definitely makes sense to expand into this area now that our son is feeding himself. My favorite feature of the high chair is the fact that it can go into the dishwasher. Although I will likely hand wash often, the fact that it can be deep cleaned in the dishwasher when needed is clutch. There seem to also be very little crevices that food can get stuck in which is very important for me.
Overall, the all white chair is very sleek, which works well with our kitchen. It was fairly easy to assemble and adjust as needed. I do wish the high chair was a little easier to collapse or you could remove the legs to easily transport. As my son continues to grow I like that this chair has the option to also convert into a toddler seat. It seems like a product we will be able to use for several years which is definitely something I consider before purchasing baby or toddler products.
Thank you to Boon Inc. for making this sponsored post possible!
Add to Your Registry: Boon GRUB Highchair
Check out more Real Mom Reviews:
3 Real Moms Tell us Why this Pacifier is a Gamechanger
Motif Luna with Battery Breast Pump: Real Mom Review
Real Mom Review: The Super Easy-to-Carry Maxi-Cosi Coral XP!