If you're looking to stay and look hot cool this summer, you've come to right place. We've rounded up 5 maternity dresses and 5 nursing dresses for you. We've covered everything from casual to fancy and in between.
Maternity Dresses
It's hot. Being pregnant during the dog days of summer makes everything feel exponentially hotter. Even if you're not normally the dress wearing type, throwing on a dress can help you stay cool. Plus, one piece of clothing feels lighter than multiple pieces.
Here are some maternity dresses we're loving right now for mamas-to-be.
Maternity Striped Cami Dress – $35.99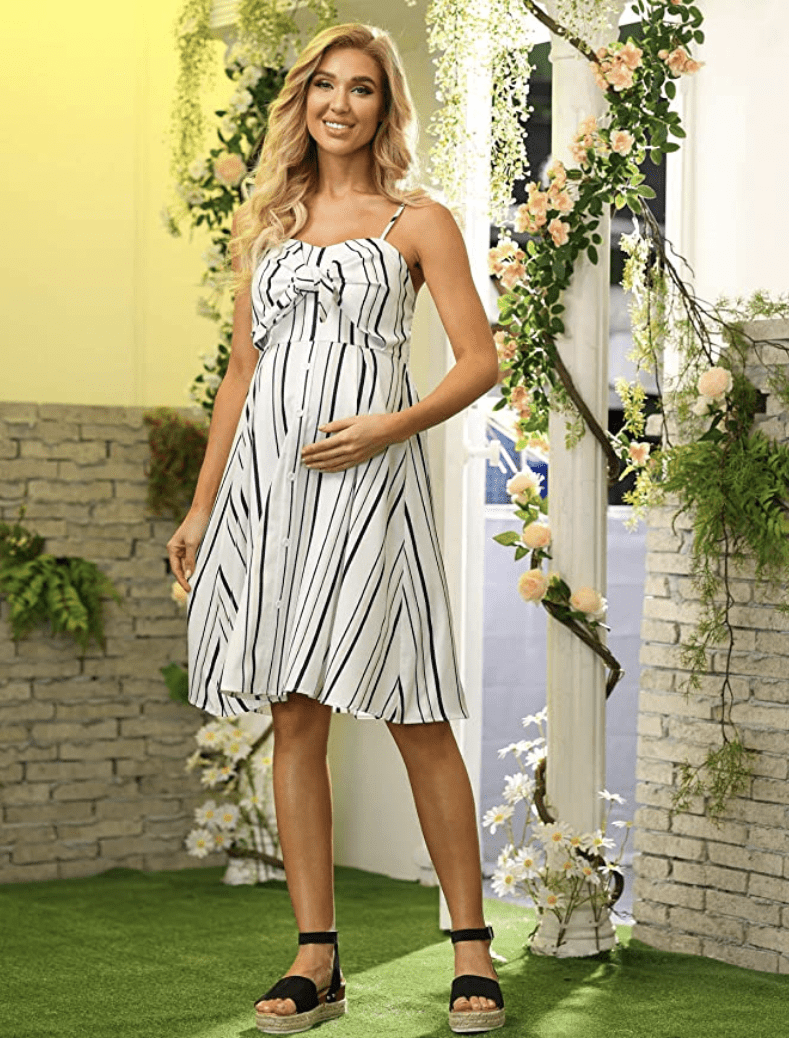 This striped dress offers more than just a flowy shift to cover your bump. The tie feature in the front adds shape and the buttons down the front bring more style. The back is also smocked to adjust to your growing bust size. Pair this with some cute sandals like the model and head out.
Sunflower Maxi Dress – $38.99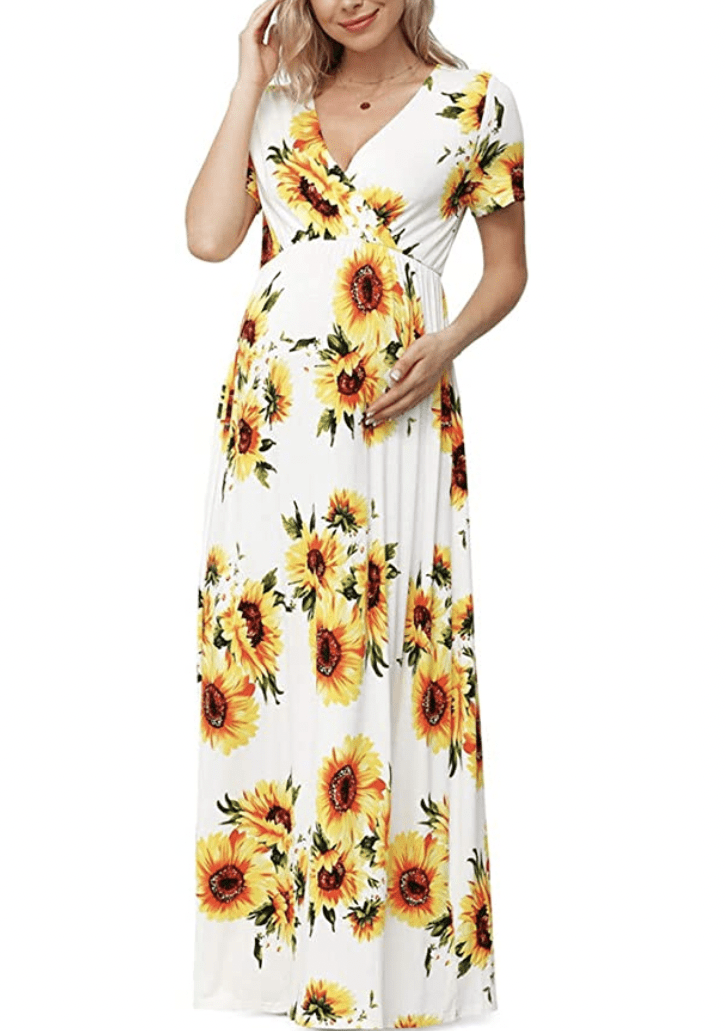 Late summer is the perfect time to wear sunflowers. Throw this beauty on and head to a local sunflower farm to capture some gorgeous and timely maternity photos. As an added bonus, the shape of this neckline makes it a perfect candidate for a nursing dress.
Off-the-Shoulder Tie Dye Dress – $26.99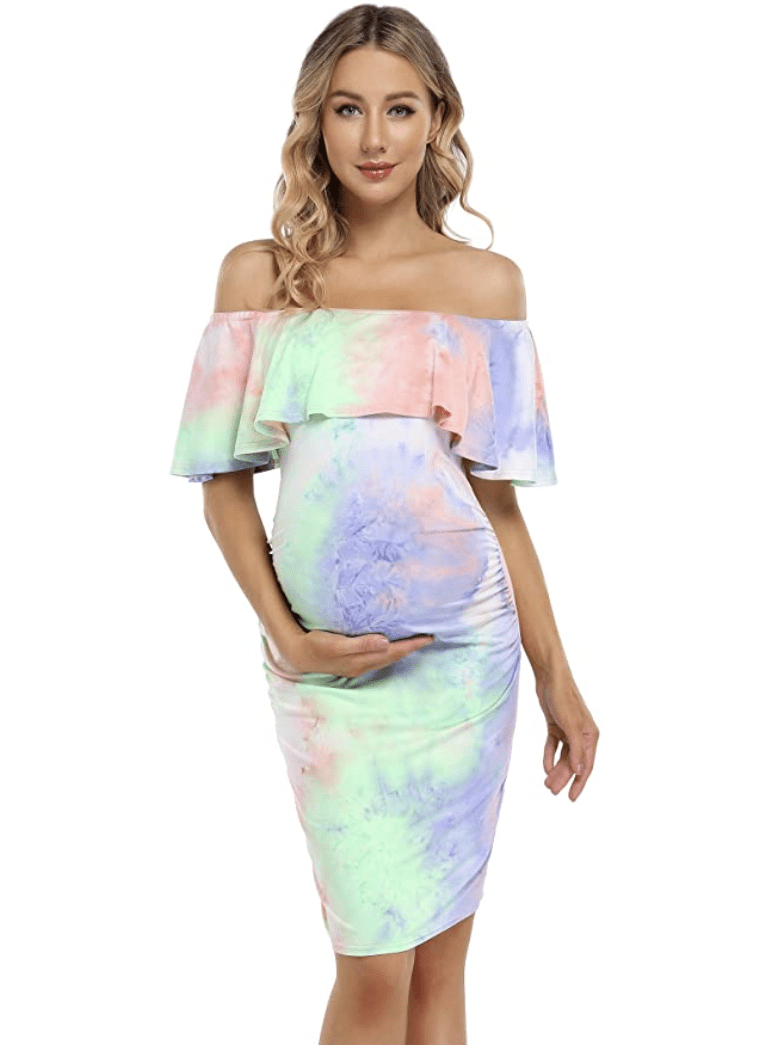 Get in on the summer's hottest trend: tie-dye! These colors feel both funky and pretty at the same time. The off-the-shoulder look will look stunning for a dinner out on your favorite local patio at sunset.
Casual Midi Maternity Dress – $19.99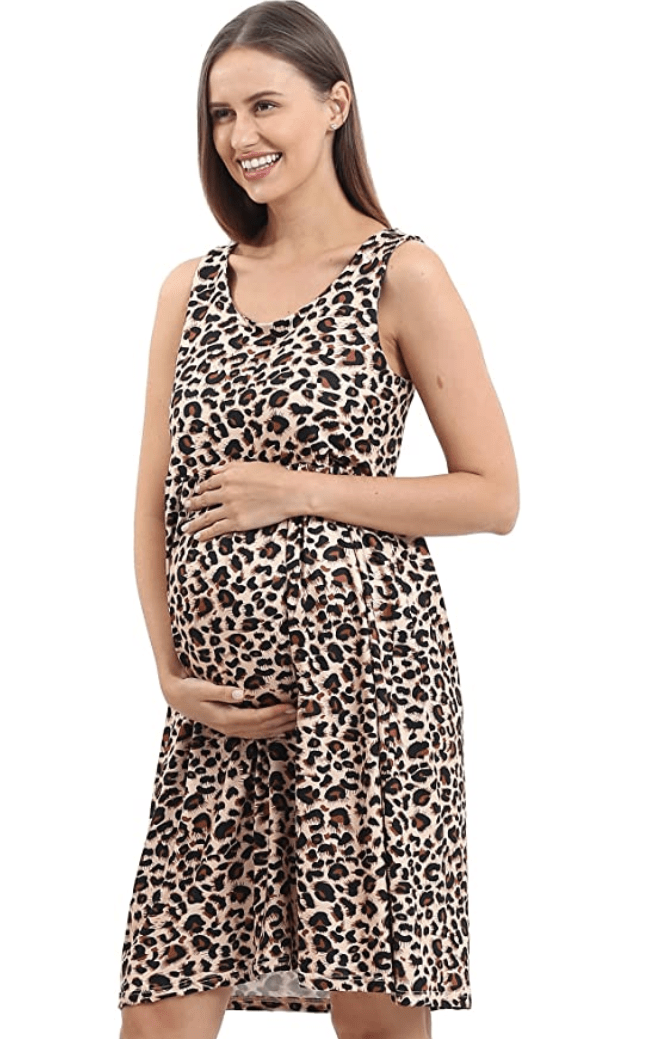 Need something more casual to throw on to chase your older kids around the yard this summer? This tank maternity dress is the perfect option. We love the animal print trend, but it also comes in solids and a few floral prints. Why not get a few?
Floral Bodycon Maternity Dress – $29.99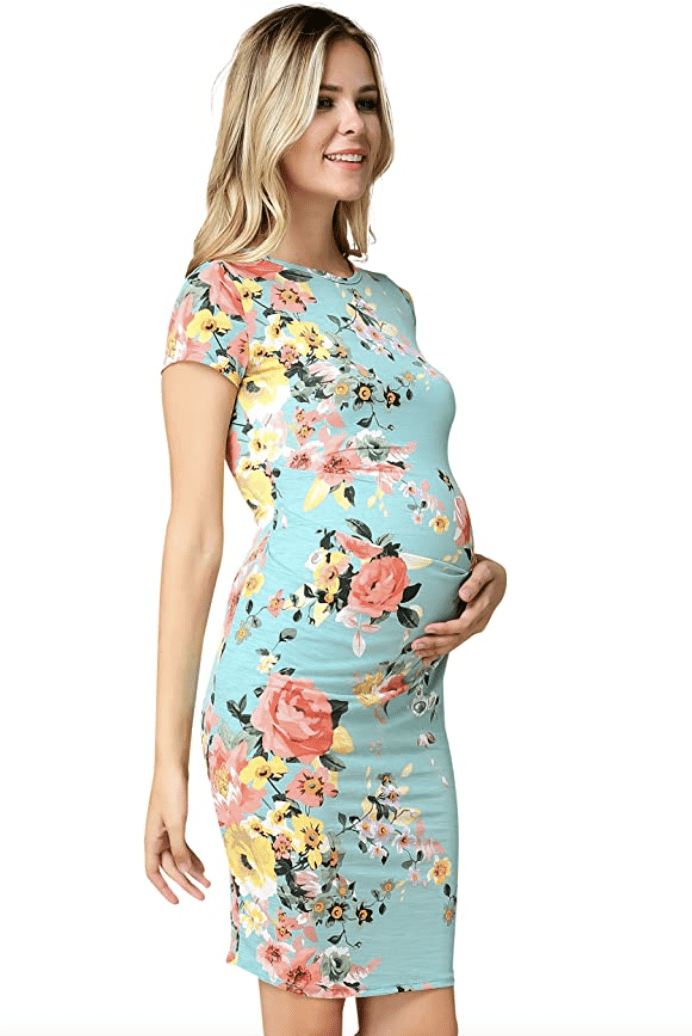 Attending a wedding or some other fancy function? This dress takes your look to the next level by showing off your baby bump. Pair it with some comfy but stylish flats so you can dance your little one to sleep.
Nursing Dresses
Nursing during the summer months can feel just as hot and uncomfortable as those months spent pregnant. Stay cool with one of these dresses that all feature easy access for your breastfeeding tot in one way or another.
Tank Style Nursing Dress – $21.99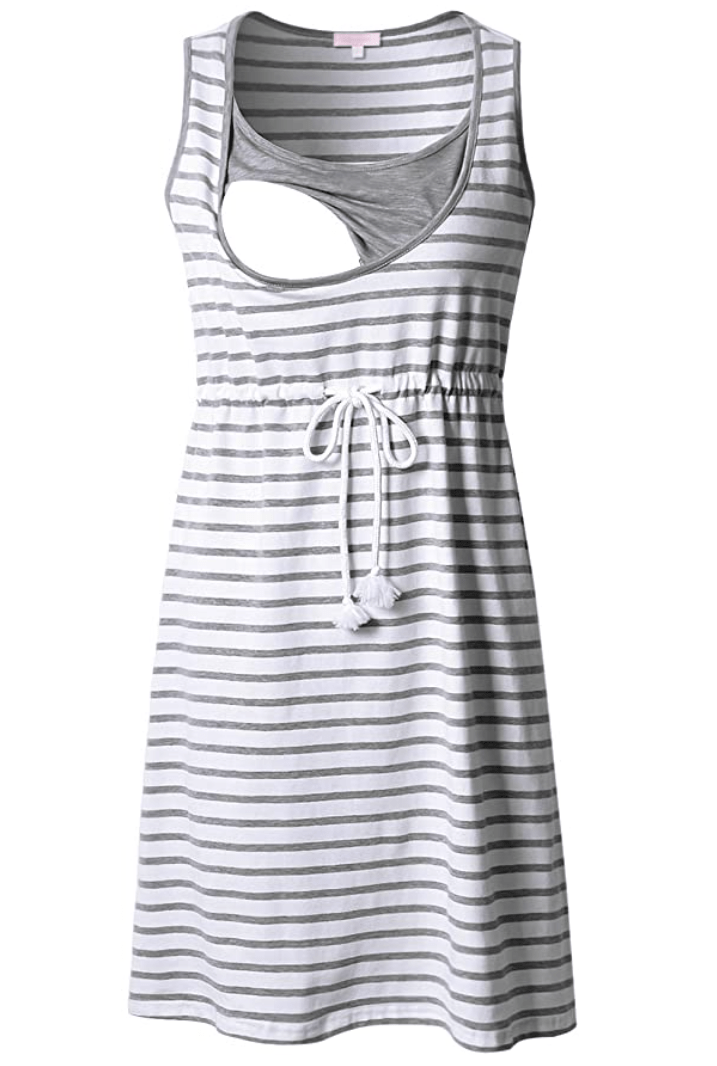 Stay cool and look stylish while toting your newborn around this summer. Throw on this striped nursing dress and some easy kicks. We love that easy access panel and the fact that this dress comes in a variety of colors.
Button-Front Nursing Dress – $21.99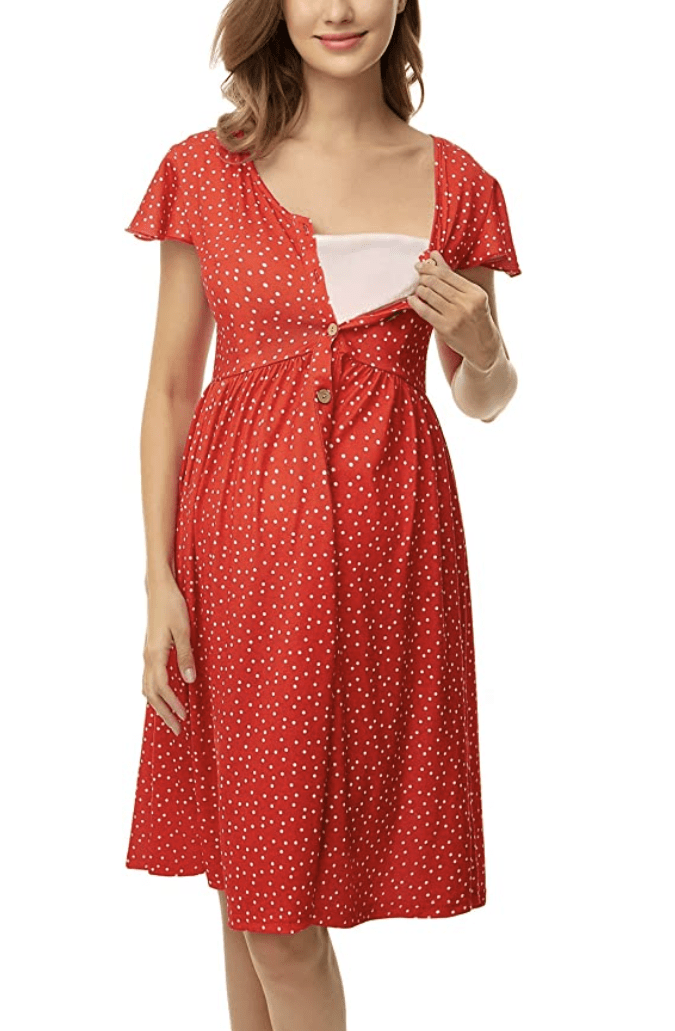 This dress can easily go from the office to the park. It uses buttons for nursing access. This particular polka dot print brings some class to a business casual look. Like some of the other dresses, it's available in a variety of solids and prints.
Lemon Print V-Neck Dress – $27.99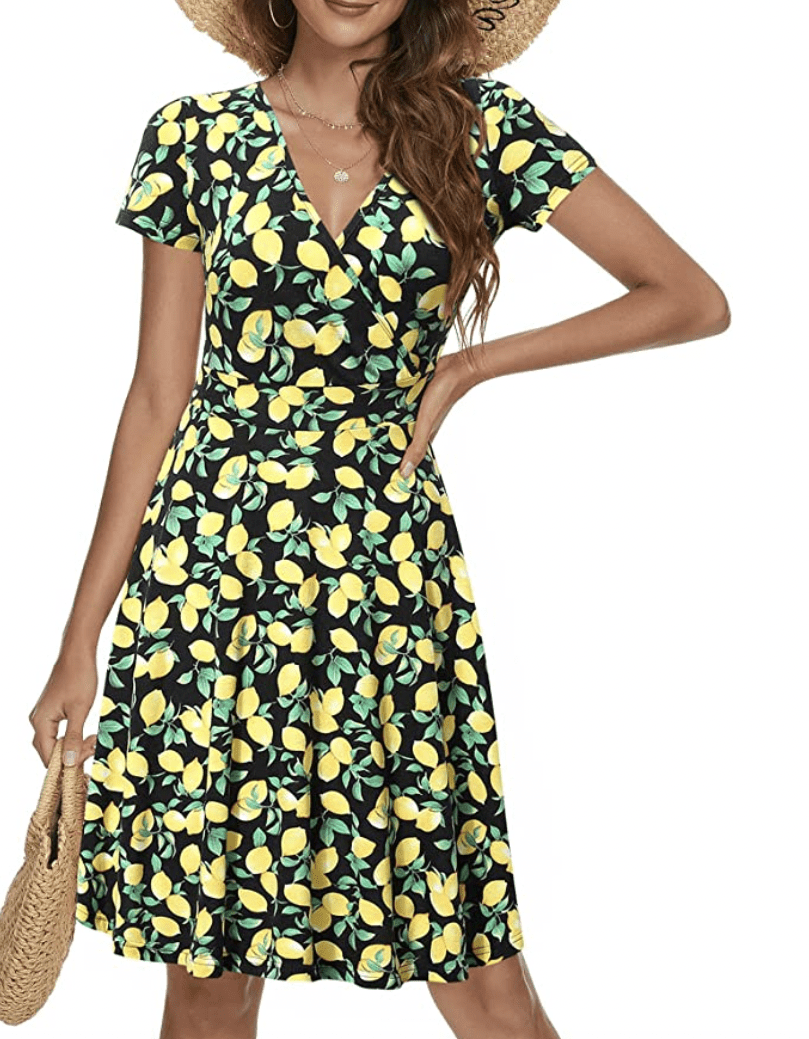 When life gives you lemons, put them on a dress and rock it. This dress features a deep v-neck which provides easy access for nursing on the go. It also comes in other prints, but lemons remain all the rage this season. Don't pass this one up!
V-Neck Floral Wrap Maxi Nursing Dress – $25.99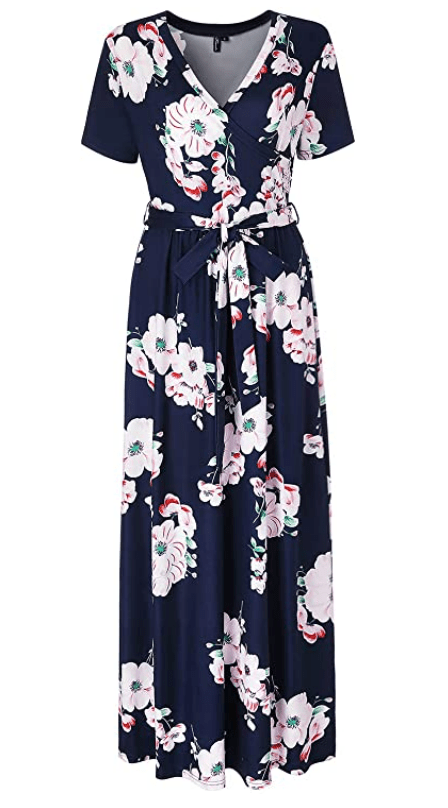 This nursing and maternity dress is a real stunner. The bold print offers some summer color on a cool navy background. The surplice neckline makes for easy breastfeeding anywhere you happen to rock this frock.
Adjustable Spaghetti Strap Nursing Dress – $27.99
This summery dress features adjustable straps so you can get the best fit possible. The snap-down style is quick and easy. But the truly best part about this dress? Pockets!
What dresses are you wearing to stay cool this summer, mamas?
More fashion posts for mom:
Breastfeeding Style for Nursing Moms
Fashion and Function: Back to Work as a New Mom
ORiANE Favorite: The Sara Turtleneck Tunic
Maternity Clothes for Working Moms: 5 Must-Have Pieces