Giggle is a parent-trusted children's brand offering products from infancy through childhood. Each product category has been thoughtfully curated to ensure parents are making smart purchasing decisions, with Giggle's guidance along the way. Giggle's Feeding section has an amazing collection of hand-picked items known for quality and longevity. From spoons, snack cups, bottle warmers, and more Giggle has all of your baby's feeding needs covered. Our Gugu Village Parents tested items offered at Giggle and provided their thoughts.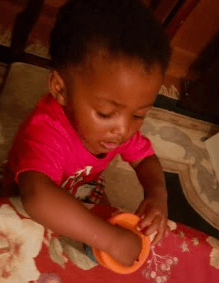 We received the Boon Bottle Warmer and were pleasantly surprised. It fits perfectly on our countertops and does not take up much space. We use the Avent bottles which are wide and they fit perfectly. It's very easy to use, you press the button after filling the tube in the back with the correct amount of water for warming and once the light goes off it starts heating. The Boon doesn't beep when ready which is great for late feedings. My son is waiting patiently for his bottle with no tears because it heats items quickly. When we are ready for food it also warms jars.
-Emalee G.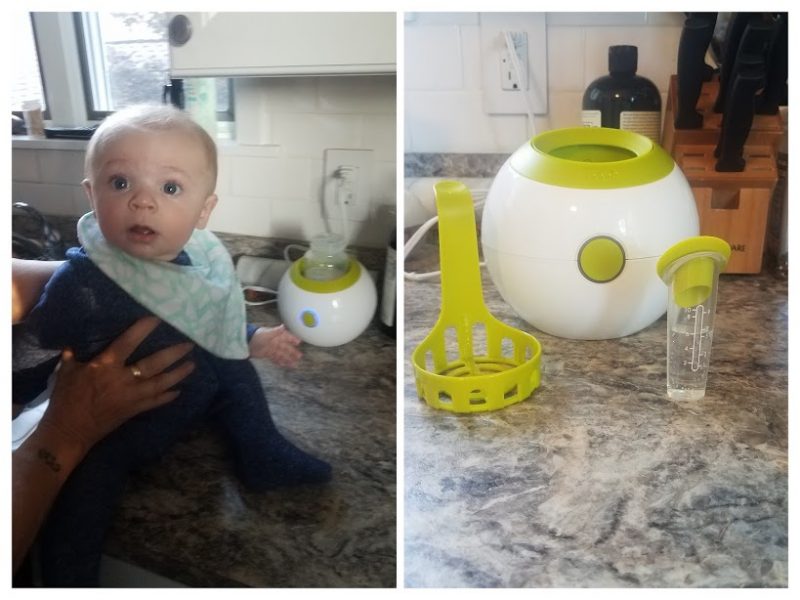 The Boon Snug Snack Cups are awesome for our 17 month-old. It is easy for her little hands to get in and out of without losing the snack. It also does a good job of containing crumbs, etc. When my daughter shakes it, which she loves to do with all her snack cups, the silicone top keeps most of the broken snack pieces inside, rather than having them shake out all over the place. These are great in the car as well; I love that because there are no handles on the side, it fits in the cupholder on her car seat. They're dishwasher safe, the included cups hold 7oz and the fact that they're made without BPA, PVC and Phthalates is a huge plus. They're easy to put on and take off, contain every type of snack we tried and I would highly recommend!
-Christine C.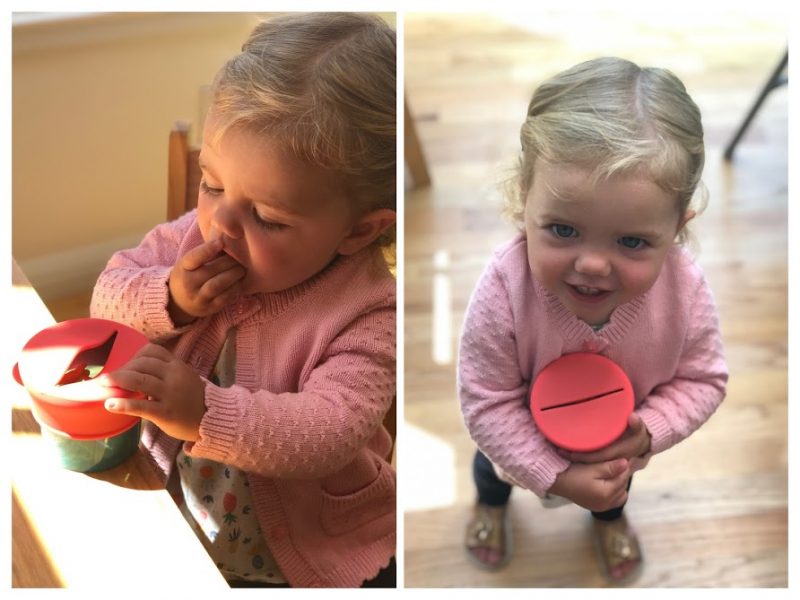 When we were building our baby registry, I did a lot of research on the different products I would need and the ones that we could do without. One of the items that was up for debate with many moms was a bottle warmer. Since my plan was to exclusively nurse I decided that we didn't need one. Unfortunately, after dealing with a low milk supply, I am now an exclusive pumper. This means storing cold bottles of milk in the refrigerator. When the time came to eat, we were left with warming bottles under hot water. This took forever and was definitely not fun with a hungry, crying baby waiting. We were excited to try the Boon Bottle Warmer! The bottle warmer is very small and compact, taking up very little space on our counter. The warmer comes with a chart indicating how much water to put in for the amount and type of milk you are warming. This warmer is very simple-just one push of a button to get things steaming. This is a nice feature when we are in a hurry as we don't want to mess with a lot of different settings. There is no sound indicating when the warmer has finished but does have a nice light indicator that shuts off automatically. All in all, it takes about 5 minutes for us to warm the pumped breast milk straight from the refrigerator. Our baby does not mind lukewarm milk, so for parents whose babies like very warm milk, it may take longer to get it to their preferences. Another great feature of this warmer is that it can fit many different types and sizes of bottles. Overall, the Boon bottle warmer is very simple and gets the job done in a lot less time!
-Taylor S.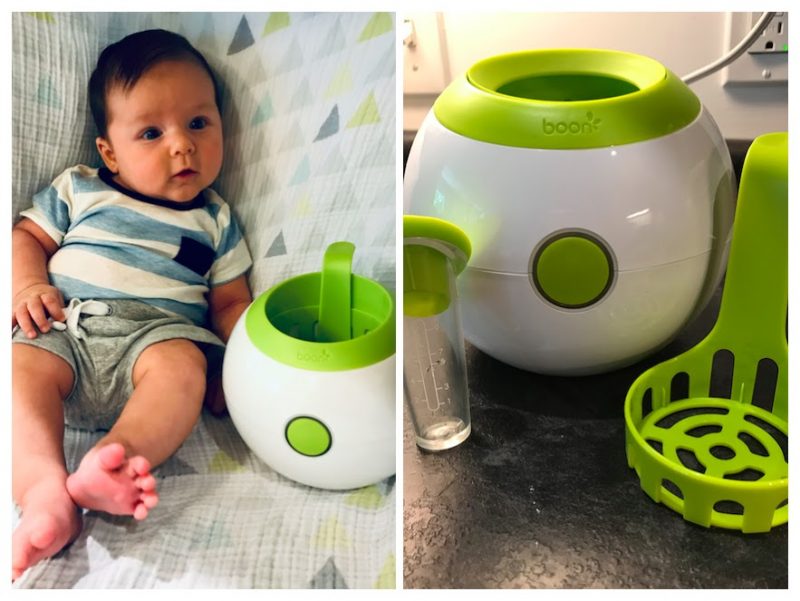 Having a toddler is a little like living with a Tasmanian devil. You can clean a room, walk out, and come back to a disaster less than 10 seconds later. The same goes for mealtime. We're lucky if more of her food makes it into her mouth than the floor, the chair or her lap.
The
Boon CATCH BOWL
is designed with toddlers like mine in mind. It has an extra-long lip that provides a landing zone for all of those macaroni noodles that make their way off the spoon before reaching their intended target. The suction cup base keeps it firmly on the table so you don't have to worry about it accidentally (or on purpose) getting knocked onto the floor.
It's intended for younger children who are just starting to learn to feed themselves but can definitely continue to be used for older kids, like my almost-3-year-old who uses it every day. The capacity is perfect for a toddler – it holds just over a cup of food.
You don't want to put this one in the microwave, but you can toss it in the top rack of the dishwasher. Or if you're like me and use it for every meal, it easily washes up by hand. We've put a variety of different foods in here and it doesn't seem to stain or hold odors.
The coordinating MODWARE toddler utensils are the perfect companion to the CATCH BOWL. My daughter is really into matching these days, so she loves that her fork and spoon match her bowl. The handles are extra wide and ergonomically designed for toddler's hands. There are no sharp edges and just like the CATCH BOWL they are dishwasher safe.
We are definitely on the Boon bandwagon with this set!
-Misty H.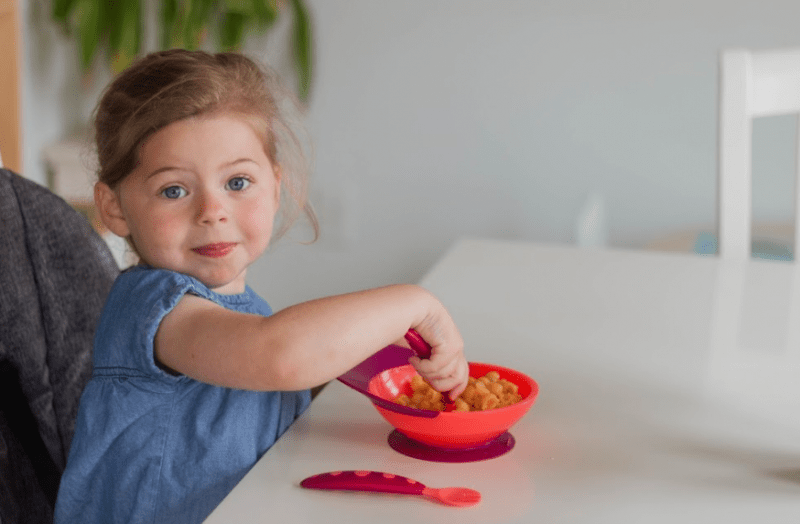 The
Boon Catch Bowl
is bright and cheery in color with the bright blue and green colors. My 14-month-old was immediately curious about it. We have tried it with various types of food and found that the functionality of the "catch" part works best with a liquidy type of foods such as stews and cereal. My son also attracted to chewing on the bottom suction! We have also tried it with my 5-year-old and while the bowl is a bit small for him, the catch part helps with the dripping while he's eating and he thinks it's so fun to use his baby brothers stuff!
-Lindsey T.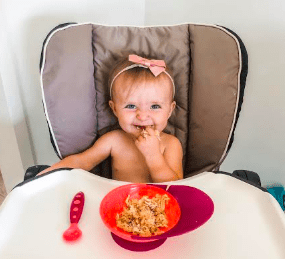 We had the pleasure of testing the
Boon Catch Bowl
. We were able to test out this bowl in several locations and surfaces. Overall, we really like this product. When we used this on the high chair, it did not suction very well. We also have a seat for our kitchen island and the suction cup worked a lot better on our granite counters but still came off easily from our 9-month-old tugging on it. I think this is best for when we go to eat out. My daughter makes a huge mess, so to have a bowl we can attach to the table, helps keeps the table and surrounding area cleaner. The catch part of the bowl is also a great idea, especially when eating out. I think this will be handier when she is a little older because she just uses it as a teether when we put it facing her. Overall, we really like this bowl, it's lightweight and easy to throw in the diaper bag and bring around town with you. It's easy to clean and I love the colors and matching silverware you can get. I just wish the suction cup worked a little better on all surfaces.
-Sarah H.
Thank you to Giggle for providing our Village testers with the products for this review. We appreciate our Gugu Village Parents providing us with their honest thoughts after testing these products. For more information on Giggle or the items featured in this review, click here!