-Sponsored Post-
We know that it can seem overwhelming to register for everything you may need for a baby; so, we've broken all the necessities down into your Top 5 Must Have Essentials for every category you may need. Today we're covering the Top 5 Must Have Essentials for Baby's First Night Home – don't forget to add them to your registry! Head to the bottom of the post for a handy checklist you can use to make sure you don't forget any of these Top 5  Must Have Essentials for Baby's First Night Home.
See also: Top 5 Must Have Essentials for Baby's Nursery, Top 5 Must Have Essentials for Baby's First Flight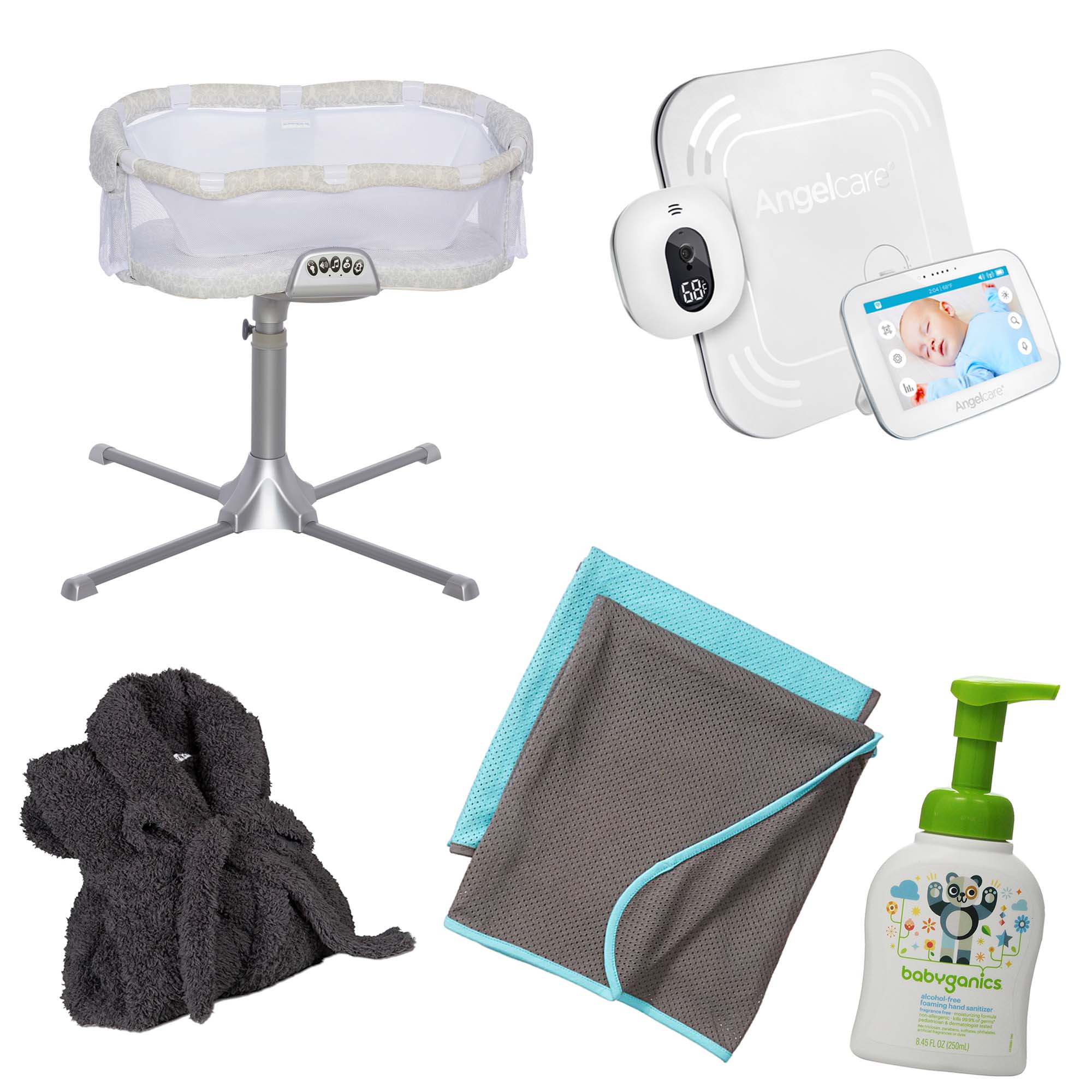 1. Halo Bassinest: When you come home with baby, you're going to need someplace safe to put said baby! Enter, Halo's Bassinest. The Halo Bassinest Swivel Sleeper with Newborn Insert is the only infant bassinet that swivels 360 degrees to bring your baby close for safe sleep.  Position your newborn as close to you as you want, even right next to you in bed, but he is always in his own safe sleep space. The Newborn Insert, which snaps easily into the Bassinest, fits snugly around your baby's body, offering the soothing comfort of a gentle cuddle for a better's night sleep. Both the HALO Bassinest Swivel Sleeper and Newborn Insert are made with breathable mesh fabric to ensure optimal airflow. Unlike stationary and attached bassinets, the Bassinest Swivel Sleeper's 360-degree range of motion allows mom to tend to many of her baby's needs without having to get out of bed, making it ideal  for c-section mamas.
Also seen: Back to Sleep with the Halo Bassinest, City Living Picks, 10 Essential Items for Your Registry 
2. Little Giraffe Women's Stretch Chenille Bathrobe: Those first few nights with baby can seem endless, so why not swathe yourself in something luxurious – and easy to clean – to help get through those late night scream-fests and feeding? This chenille robe from Little Giraffe is incredibly soft and plush, so you can rock baby in your lap and both you and baby will be cuddly warm. We highly recommend wearing robes around the house the first few days and nights because it makes for easy access to breastfeed or do skin-to-skin with baby. 
3. Baby K'tan Swaddle Blanket: Any new parent can tell you that there's nothing as important as a good swaddle blanket; swaddling makes the baby feel safe, secure, and sleep better (we hope!). Baby K'tan, a leader in the baby wearing world, has released their newborn swaddle and toddler blankets, and we think these are a Must Have for Baby's First Night Home. Made of an innovative breathable stretch fabric, the Baby K'tan Newborn Swaddle blanket  provides continuous airflow so that baby doesn't overheat while sleeping. As your little one grows, your swaddle can be used as the perfect sized toddler blanket, nursing cover and so much more. Most importantly, they are machine washable, so baby can spit up over and over again!
Seen also: Fun Baby Shower Gifts Roundup
4. Babyganics Hand Sanitizer: A recently hatched baby is susceptible to getting sick very quickly, and no one wants to have to take a new baby back to the hospital for a cold! It's okay to remind everyone around you to wash their hands before touching baby, but we also suggest keeping plenty of Babyganics Hand Sanitizer in every room – seriously! The alcohol-free plant based formula kills 99.9% of germs, and its non-allergenic ingredients are soothing to the most sensitive hands, without any of the bad stuff, such as triclosan, parabens, sulfates, phthalates, artificial fragrances or dyes. 
Great Idea From: Veronika's Blushing, Essentials for Momma & Baby's First Few Weeks
5. Angelcare AC517 Video Monitor: The first nights at home with a new baby can be surely daunting, so it helps to have some peace of mind with a movement and video monitor. Angelcare's AC517 touchscreen movement, video and audio monitor offers the only wireless movement sensor pad in the market and features activity tracking which reports on baby's movement levels. The new wireless sensor pad goes under the crib mattress and can track subtle movements (like breathing, rolling and kicking) that audio and video monitors can't detect. This means parents can truly monitor all of baby's slightest movements. This touchscreen monitor from Angelcare offers the only wireless movement sensor pad in the market and features new data analytics that sense and track baby's activity level. Imagine being able to track every move your baby makes; very reassuring for a new parent! Furthermore, with this insight into baby's activity level during sleep, parents are better able to adapt routines and respond to baby's needs. Purchase an Angelcare AC517 Monitor from Angelcare and use code GUGU for 25% off! 
Also seen: Nursery Gear Essential, Angelcare AC517 Movement Monitor 
Need some tips for surviving those first few nights at home? Don't worry, we got your back!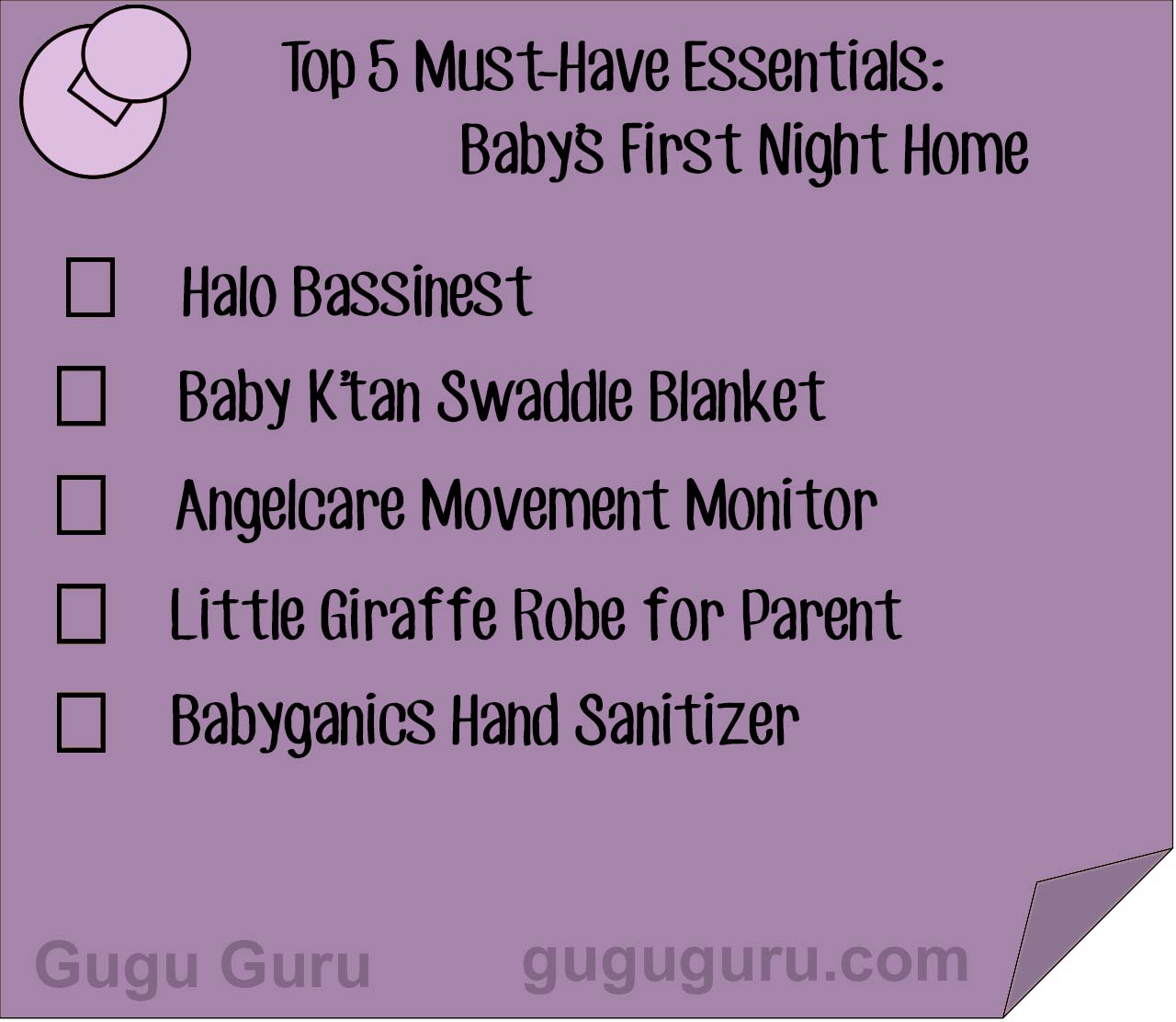 Thank you to Angelcare, Little Giraffe, Baby K'tan, and Halo for making this sponsored post possible.