Looking for the best teethers, pacifiers, and lovies for your baby? We've got you covered. From the budget parent to the minimalist and more, in this guide we've rounded up the best teethers, pacifiers, and lovies in 2018 for all types of parents according to Gugu Guru's experts.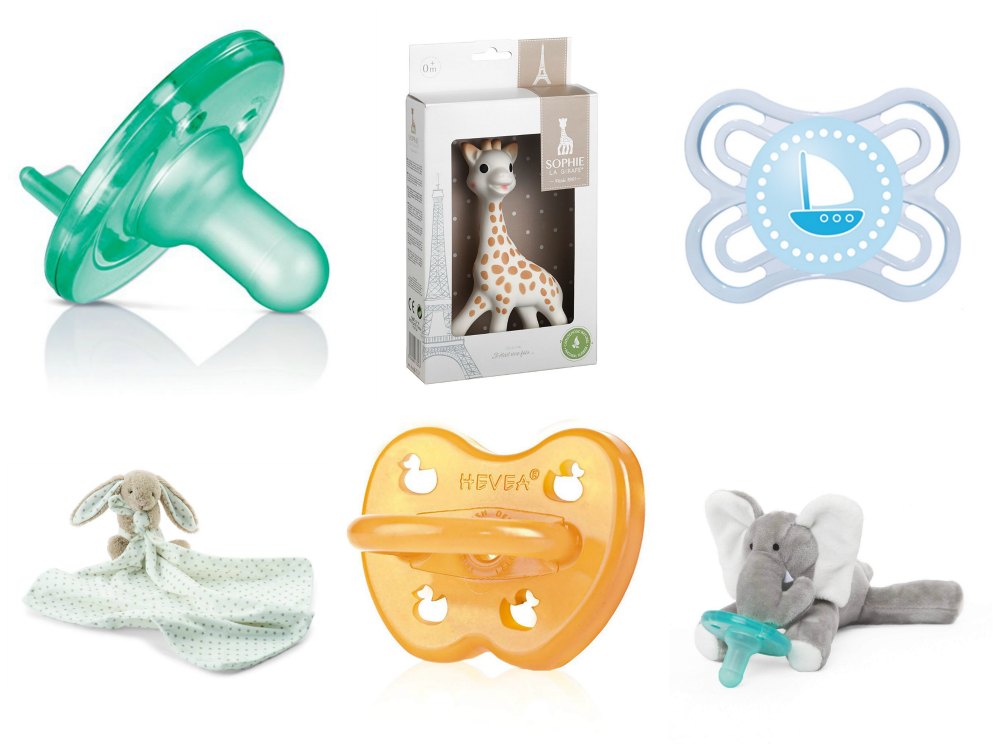 1. Hevea Pacifiers: 
Danish designed, Hevea pacifiers are made from 100% all natural rubber latex. These pacifiers are made with a solid design so there is no concern about bacteria building up or pieces breaking off. Hevea pacifiers are soft and gentle on baby's face thanks to the ergonomic shape and ventilation holes.
Mam works closely with dentists and orthodontist when designing each of their pacifiers to ensure the reduced risk of misaligned teeth. The Perfect pacifier is extra thin and super soft and features Mam's ultra soft silicone nipple so it is comfy in baby' mouth. Thanks to the extra large ventilated holes baby's skin won't get irritated from use.
These pacifiers are ideal for baby from birth through 3 months and are designed with a baby's developing mouth in mind. This pacifier is one piece and can be washed in the dishwasher and is safe for sterilization. The Philips Avent Soothie is the pacifier given out at more than 2000 hospitals nationwide.
4. Sophie la Girafe: 
The design of this teether has not changed in over 55 years and veteran moms have been trusting it for all those years. Thanks to the contrasting spots, squeaky sound, soft feel and perfect size for their little hands, babies love to stick Sophie against their gums for relief. Sophie is made from 100% natural rubber and foot paint so there is no strong smell or taste.
Thanks to the unique style of the Wubbanub it will help ensure the pacifier stays close to baby and will allow baby help to reposition it into their own mouth. Designed for birth through 6 months the Wubbanub is a one-piece pacifier that is made with medical grade silicone. Baby will love seeing their favorite animal and will be able grasp and manipulate the pacifier.
6. Jellycat Lovey: 
These beautiful loveys by Jelly Cat are so unbelievably soft you are going to want one for yourself. Available in almost 20 animals and color varieties, the Jelly Cat Loveys can easily be matched to your nursery design. Suitable from birth these loveys will help keep your baby calm and happy as they soothe themselves against the soft fabric.
Check out more top Gugu Picks: