Recently we polled our Gugu Guru users on topics they would like us to write about next. Overwhelmingly the response was that our community wants to learn about safe WiFi baby monitors – topics like how to choose one that can't be hacked and general concerns about security and baby monitor vulnerabilities.  We needed a little help on this so we put together a list of common questions that we are asked by our users and then had a chat with our friends at Evoz.
First, what is a baby monitor?
The concept of a baby monitor is generally pretty simple — it's a microphone, with or without a camera so that you can listen or watch your baby without physically being next to them. Your first choice is an audio only monitor. They're inexpensive and these days, they work with DECT technology, just like a cordless phone  – remember those? Your second choice is a video baby monitor. These also use DECT technology, along with a few that use newer technology you've probably heard of — Bluetooth. It's how your phone connects to your car's speaker. Your baby monitor camera sends the video it's live streaming to your handheld viewing device. Your third option is a WiFi Baby Monitor.
How do WiFi baby monitors work?
WiFi monitors were created so that parents could have a very extended range. With DECT or
Bluetooth technology, your monitor is going to have limited range – within the house or maybe into the yard, but not much further (though occasionally you might hear your neighbor's monitor – or they may hear yours!) With WiFi technology, you can basically use your baby monitor anywhere you can watch cat videos on your phone. You can check in on your sleeping baby and babysitter while at the office.
However many parents wonder if safe WiFi monitors exist, and rightfully so. With stories like this one about a man hacking a wi-fi baby monitor, they are concerned about security and baby monitor vulnerabilities.
When shopping for safe wifi baby monitors, what should I look for?
The first thing you'll want to ask yourself is whether or not you will want a separate, handheld receiving device. Traditional audio and video monitors have always come with a receiving device because of of the dedicated technology. With WiFi monitors, many brands connect the camera directly with your smartphone. They're taking advantage of the fact that smartphones today have exceptional resolution and clarity, are always on us and are easy to charge. You no longer have to search your house for the place you left your handheld receiver or check if it's charged.
The second thing you'll want to review are any speciality features. Features like smart wake up logging and shared access just weren't possible with the dedicated monitors, but are becoming available on WiFi monitors.
The third thing you need to know when shopping for safe WiFi monitors are any product's vulnerabilities. We hear of stories every so often about a baby monitor getting hacked, like in this 2018 article from NPR. Check with the vendor that the monitor doesn't ship with a default password. Make sure that access to the video stream is password-protected even inside your house, and all communication takes place over secure connections. If your monitor offers shared access with other family members or caregivers, you should have control over their access at all times.
Do WiFi monitors give off radiation that can hurt your baby?
WiFi monitors use the same WiFi that's probably already in your house. With any radio source, whether it's an older DECT monitor or a Bluetooth monitor or WiFi, if you're concerned about radiation the best thing to do is keep the transmitter as far from the baby as you can. In fact monitors should be at least 3 ft (1 m) away from the crib to prevent the baby from grabbing onto any cables or wires anyway, so physical distance is the all-round winning tip for safety.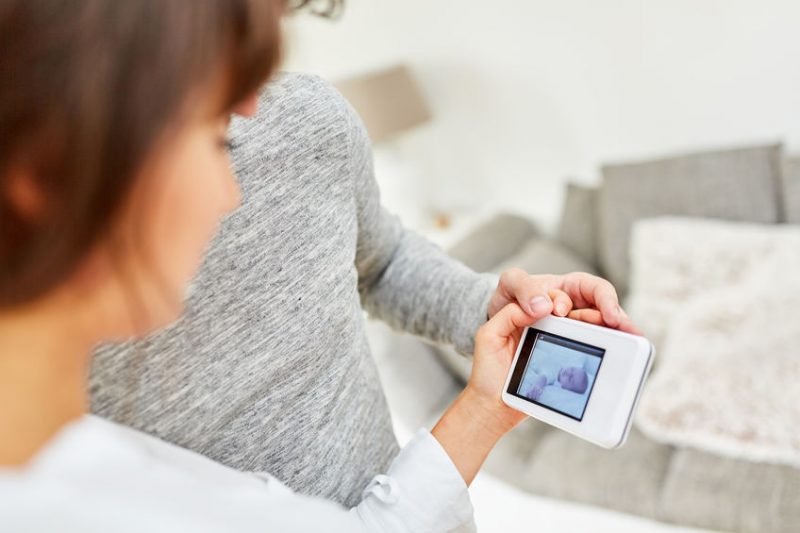 Are there certain types of WiFi monitors that are less secure and that can be hacked?
Absolutely. The fact is that it is easy to hack some WiFi monitors because some companies don't pay attention to security. There are a couple of things you need to look for when researching safe WiFi baby monitors:
Credentials. "Credentials" are the unique username and password that you use to access your email, your FB, and hopefully your baby monitor. Have you ever set up a device where the sticker on the back said "Username: Admin" and "Password: Admin"? Those are easy to remember and easy to type in, but they mean that anyone can type in the same credentials and access your device.
Extraneous Programs. One of the most common weaknesses that allows a hacker to take over a baby monitor is if the baby monitor ships with programs that are open to the internet but are insufficiently protected. Sometimes these programs might be part of the way the baby monitor is meant to work and other times were only meant for the research and development phase. Either way these "backdoors" are dangerous and your vendor should be able to guarantee the monitor doesn't have any.
Encryption. You might worry that even if someone can't break in to your baby monitor because you set up strong credentials, and the monitor doesn't ship with weakly protected programs, someone might still be able to spy on your family by eavesdropping on the monitor when you are using it. Encryption protects against the eavesdroppers.
How do I know if I am getting a safe wifi monitor?
Make sure your device doesn't ship to you with default credentials. If the first step in setting up your monitor is entering something like "password1234", DO NOT CONTINUE.
Make sure that your home network includes strong credentials. If someone can guess your WiFi password, not just your baby monitor security but all your computer and phone security could be at risk.
Finally, do a google search to see if your baby monitor brand has been listed in any recent articles about security. Read the reviews. Look for expert advice from Gugu Guru. And if you have any questions, reach out to the brand's support.
What type are the most secure and safe WiFi baby monitors?
To sum it up:
A monitor that ships without generic credentials.
A monitor where you control access.
A monitor that doesn't include extra, unnecessary programs.
A monitor that allows you to set up strong credentials.
And buy from a brand that cares about security and stays on top of any vulnerabilities.
Gugu Guru loves Evoz because it checks off all of these boxes.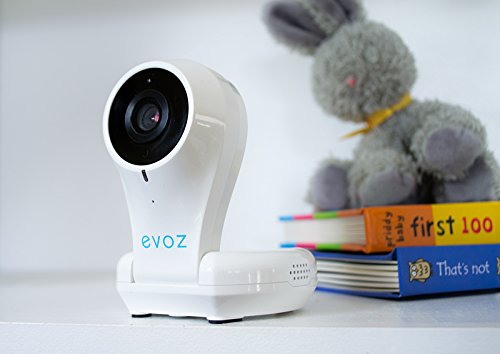 You can learn more about Evoz here and read a real review here.