The 2021 holidays will be here before we know it and along with everything else on our plate, we also have to decide if we'll be traveling with our little ones this holiday season. No matter what you choose for your family, Gugu Guru is going to have your back, recommending the best products to keep things stress-free.
Gear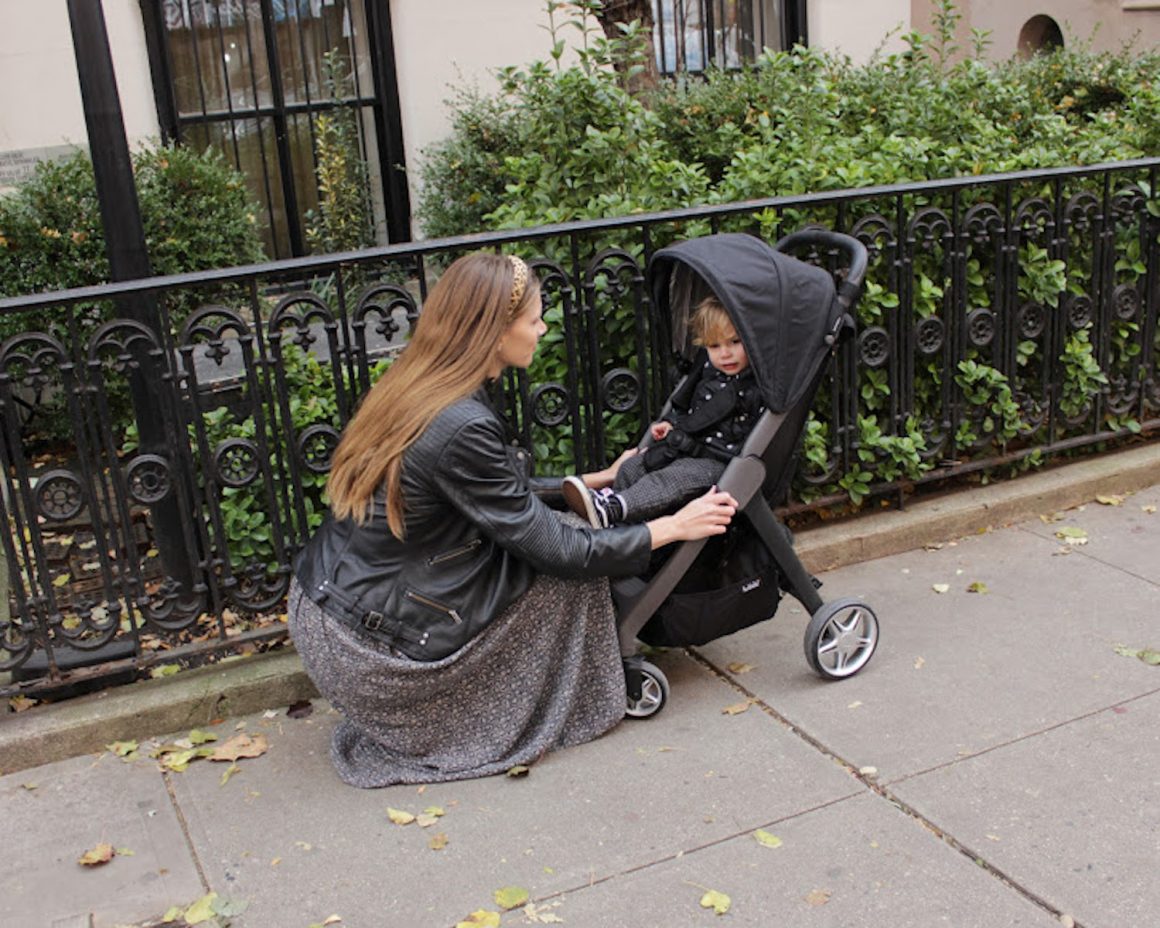 Car Seat – Our post on Travel Car Seats is a great place to start.

The Clek Liing: designed with a European belt path allowing you to securely install the car seat without the base. It is also aircraft-approved. Bonus: the lightweight polyester-spandex blend interior fabric feels like pjs, giving your little one a cozy place to snuggle up.
The Wayb Pico is ultralight, super strong, and absorbs energy forces in a crash while being 8lbs! It folds compactly for easy storage and installs safely in seconds with LATCH or a seatbelt.
Stroller -No matter where you have to fit your stroller, we have the best Lightweight Travel Strollers to meet your needs. Here's two of our favorites:

The Larktale chit chat™ is constructed from recycled nylon fiber for a lightweight and incredibly strong design. Built in suspension, quick fold, and a carrying strap makes travel with littles a breeze.
The Mountain Buggy Nano is a hidden gem. It's car seat compatible, has a carry strap, and a travel bag while meeting carry-on requirements for most aircrafts.
Carrier – Great for the airport, discreet nursing, and naptime. Some parents actually prefer a carrier to a stroller for travel! Either way, take our Baby Carrier quiz or check out 2 of our picks:

The Baby K'tan Original carrier is especially nice for travel as the included sash converts to a carry bag when needed! Known as the "wrap without wrapping", it offers a hands-free, buckle-free experience for parents! The new Active Oasis style has antimicrobial properties for a little extra peace of mind.
If you prefer something with a little more structure, the BabyBjorn Mini is made of soft cozy fabrics. It has an adjustable seat and head support to make it ergonomic.
Changing Pad/Diaper Bag – We recently surveyed our Gugu Village for the most inconvenient place they have ever had to change a diaper. Topping the list was an airplane bathroom. Having a hands-free bag like the TWELVElittle Diaper Clutch 3.0 or the Kibou bag makes it so much better.
Travel Gear Bags –J.L. Childress has some excellent options. The bright colors make your bags easy to spot and they have Disney options, too!
Sleep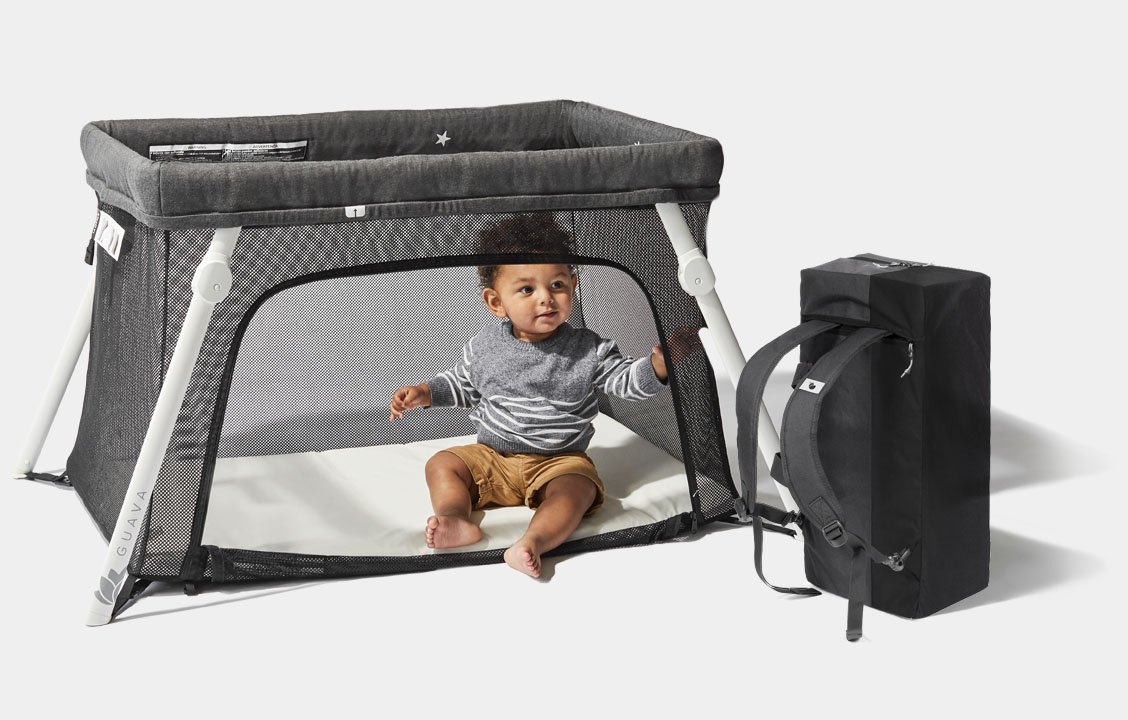 Travel Crib – To continue following Safe Sleep Guidelines, we recommend a playard or travel crib at your destination. Looking for something more compact?:

The Babymoov Travelnest is a portable bassinet that can be used as a diaper bag, napper, or changer. It converts within seconds and has a removable foam mattress plus sturdy edges to keep newborns, infants, and toddlers comfortable.
Pro-Tip: If your stroller system came with a detachable bassinet (that is approved for sleep) this is a great option for your baby in a hotel or family home as well!
Sound Machine – whether you are trying to mimic your baby's home environment or drown out other guests, the Yogasleep Hushh Portable White Noise Machine is excellent. It's compact, clips onto your stroller/carseat/bassinet and lasts 6+ hours on a single charge.
Toddler Options – Looking for a solution for your toddler? The Shrunks Toddler Travel Bed Portable Inflatable is an excellent airbed choice. It's made with built-in guard rails, fits a standard crib sheet, and includes a compact pump and carrying bag. For durability, check out the Regalo My Cot Pals is lightweight, holds up to 75lbs, and requires no setup.
Pregnancy Pillow – Expecting Mamas, don't forget about yourself! I recently drove from NJ to FL at 7 months pregnant and bringing my bbhugme® Pregnancy Pillow was a lifesaver. I used it in the car, the hotel, and for elevating my swollen feet. My pregnancy travel must have!
Feeding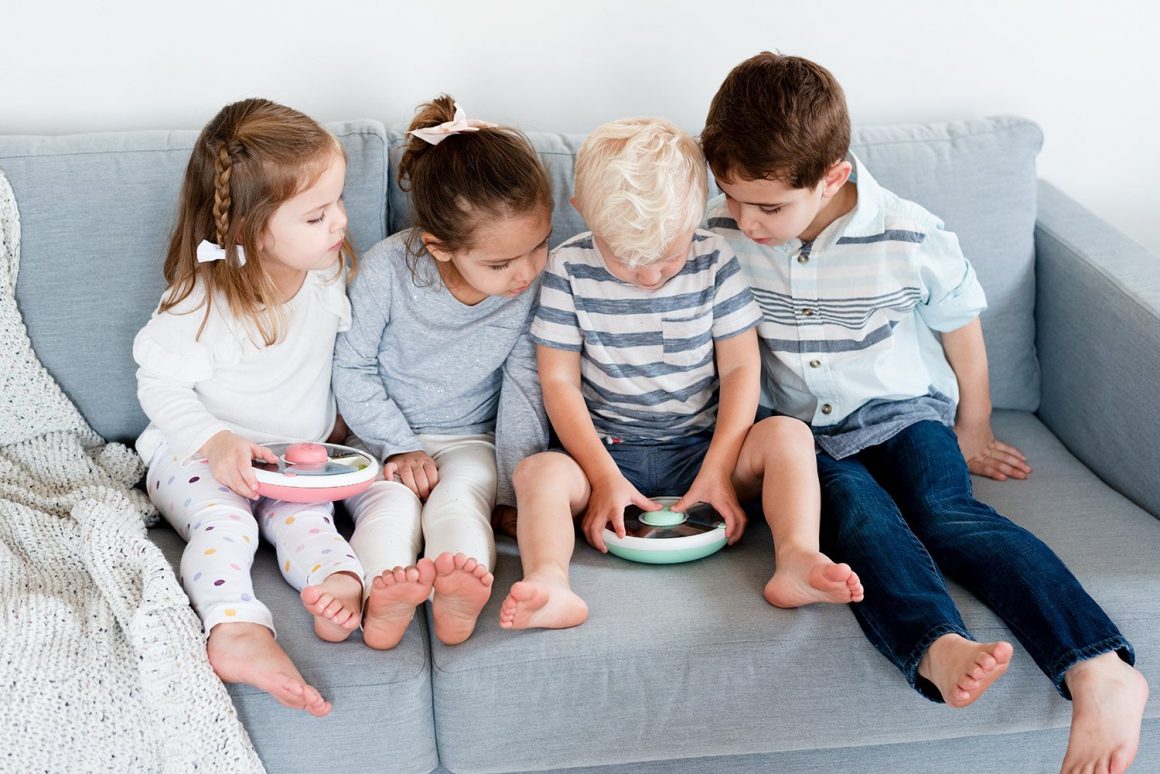 Formula Container – Figuring out formula logistics on vacation can be its own stressor. You may want to ship ahead to ensure formula will be waiting at your destination. To help carry small amounts, the Baby's Brew Formula Dispenser Pro is mess-free, easy, and fast. It holds 150 grams of powdered formula, and one push equals 1 scoop of formula – that's it!. If you prefer pre-measured, Tommee Tippee Closer To Nature Milk Powder Dispensers fit inside most bottles for travel.
Bottle Brush – to clean and reuse your bottles, the Boon TRIP Travel Drying Rack is compact and includes everything you need – the drying rack and 2 brushes. Just add soap.
Cooler – from breast milk to sippy cups, baby food to snack containers, water bottles to flasks (oops how did that one get in there) you may need to keep things cold. PackIt's Freezable Classic Lunch Boxes is the first and only lunchbox with freezable non-toxic gel built in to keep food and drinks chilled for hours. The Luli Bebé Monaco Snack Bag can be worn either as a backpack or over-the-shoulder and fits large 16oz beverages. Finally, the YETI Hopper Portable Cooler is the perfect size for long road trips, holds temperature extremely well, and can fit 6 bottles or cans with ice.
Snack Container – toddlers + snacks will keep tantrums at bay. For airplane days, we choose to lighten up on many rules – you want goldfish for breakfast, great! The GoBe Kids Snack Spinner is easy to pack and allows you space for 5 different snacks. We also love the Baby's Brew 2-in-1 Snack Cups that can be used as a collapsible cup for on-the-go drinks or snacks. Best of all, both are dishwasher safe!
Organization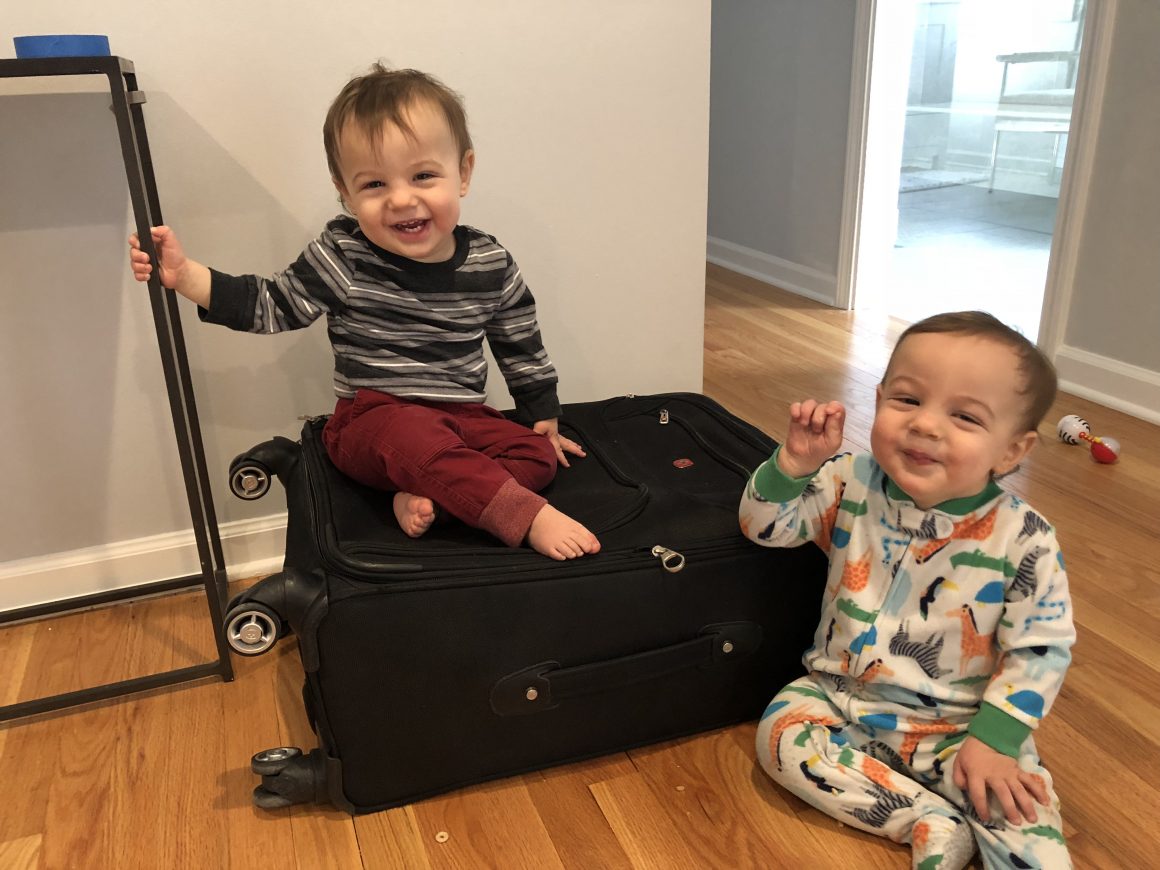 Packing Cubes – to an over-packer, trying to fit 14 days of clothes for 4 people into 2 suitcases sounds like a nightmare. This is where the Shacke Pak Packing Cubes Set comes in. Separate by person or color to make packing a breeze. Pro-tip: Put them in your suitcase standing up (with the handles on top) for maximum fit and easy access.
Extra Bags – this one is a bit of a Pro Tip, but bring extra bags with you! We never leave home without a BAGGU Reusable Shopping Bag or two. These come in hand for souvenirs, snacks and drinks, wet/dirty clothes, unexpected accidents, and so much more. Other options are Wet/Dry bags like these from Bumkins, Diaper Sacks, or even just large freezer bags.
Apparel & Accessories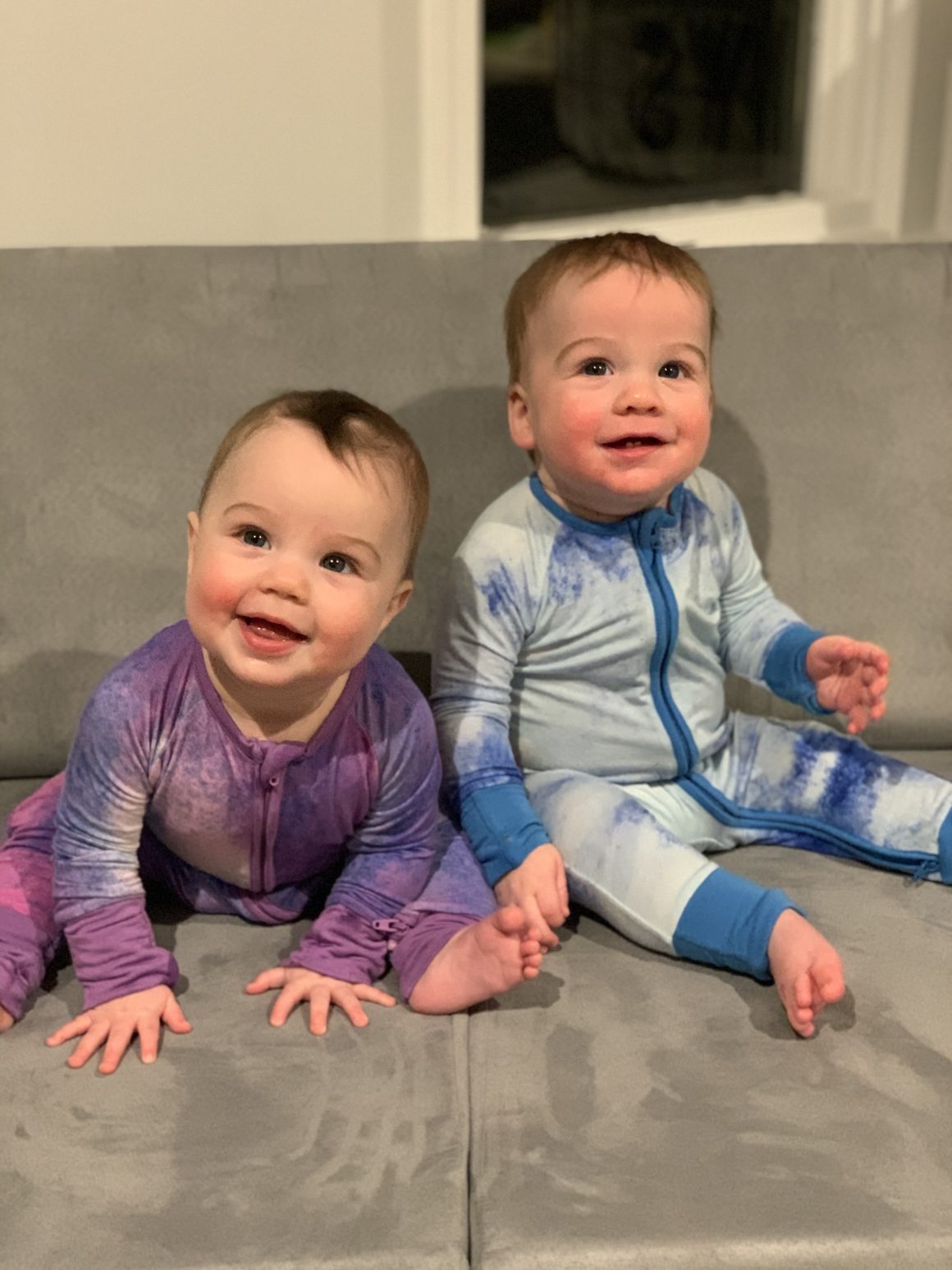 Pajamas – Sometimes having a jammie day makes everything easier. Plus, when siblings are dressed in matching prints or colors, it is much easier to keep track in airports or rest stops. A few favorites include Clover Baby & Kids, ergoPouch, and Little Sleepies.
Socks – no one wants to worry about finding missing socks. Squid Socks feature 100% skin-safe tested silicone dots on the inside cuff to gently hold the socks in place. They are also moisture-wicking, have temperature control properties, are buttery soft, and naturally antibacterial.