-Sponsored Post-
When it comes to breastfeeding and dressing up for work or events, we get so many questions about how to do both. Luckily, we're here to tell you that breastfeeding and looking amazing are not mutually exclusive concepts! We rounded up some of our favorite nursing friendly apparel, plus some handy ways to breastfeed and still feel in style.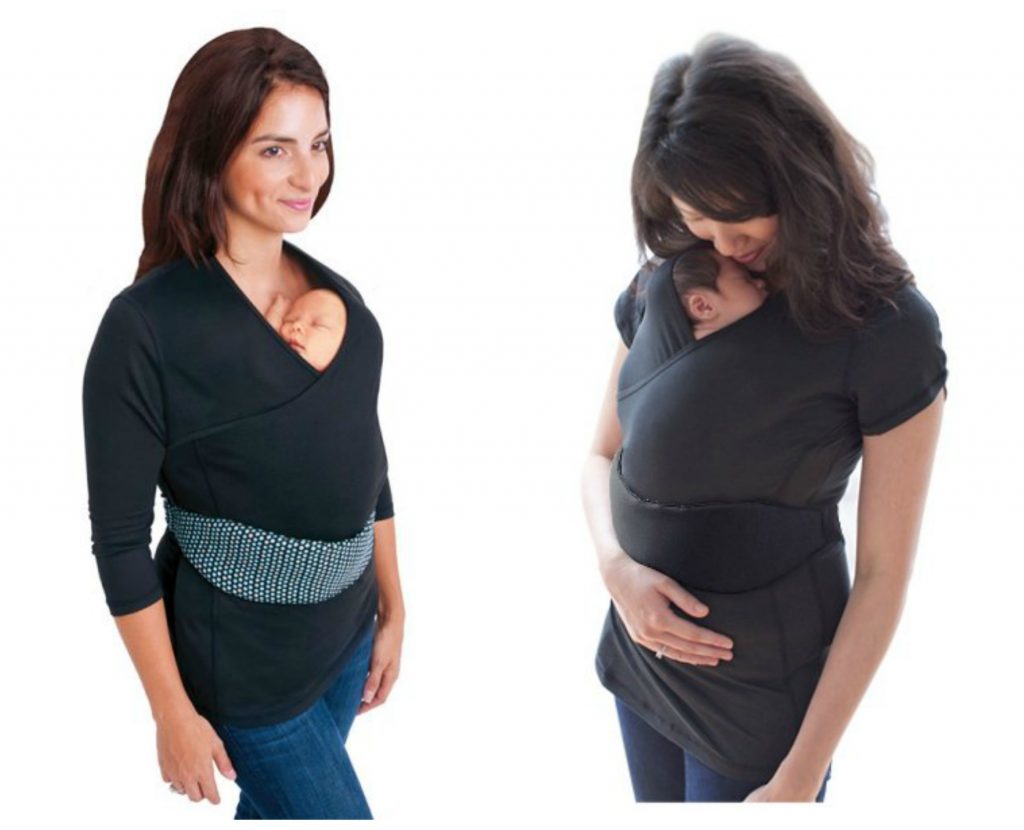 NuRoo Baby Pocket:  Designed for hands free skin-to-skin contact, NuRoo engineered the Pocket using their signature fabric and added ventilation. It features mesh under arms and back releases heat and a support belt. We love how stylish the NuRoo Pocket looks, and when it comes to breastfeeding, it's wonderful to have baby close – plus, skin-to-skin contact is known to increase milk supply, so the NuRoo Pocket can help keep you stylish, close to baby, and improving your milk supply. The NuRoo Pocket is machine washable, too!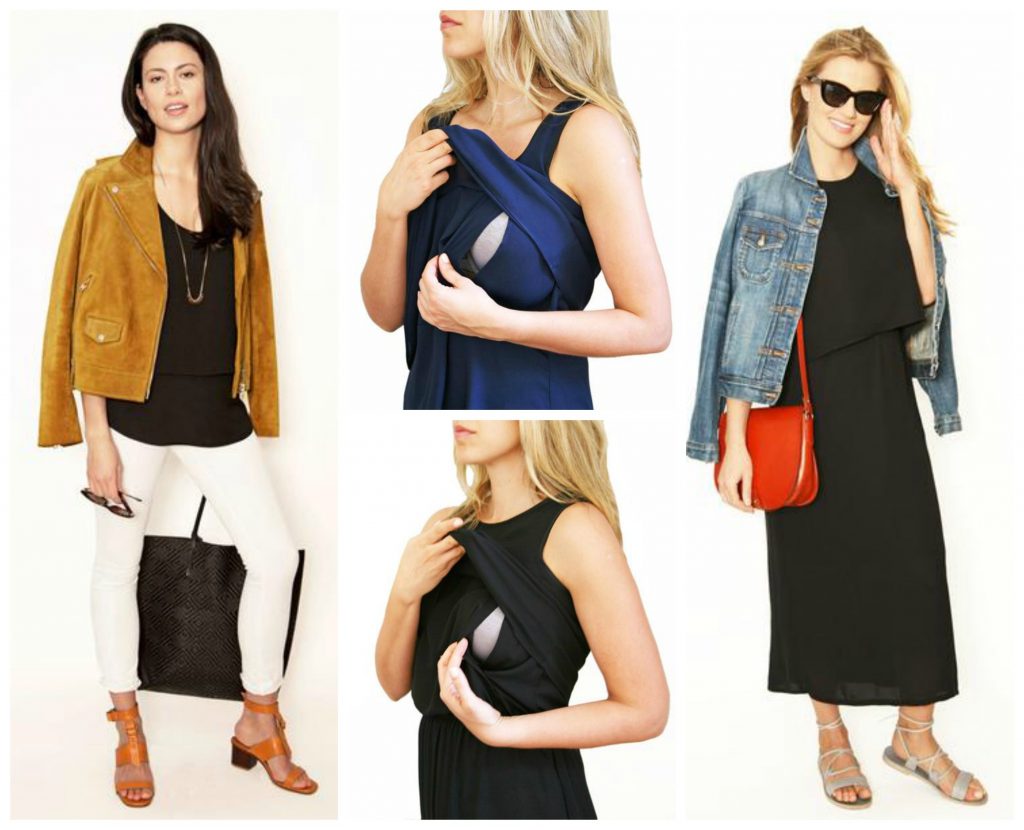 Maia Moda Nursing Friendly Clothing: Maia Moda is is effortless style for the modern nursing mother. There was no need to compromise on style when it comes to Maia Moda clothing, they are simply much more creative than that. Through their innovative designs and fabrics, they have produced a beautiful, classic line of clothing. Most people won't even know it's meant for nursing. All of their clothes are meant to be effortless; to be slipped on without any fuss. Maia Moda will be donating 20% of their sales to UNICEF (an affiliate of the World Alliance for Breastfeeding Action) during World Breastfeeding Week.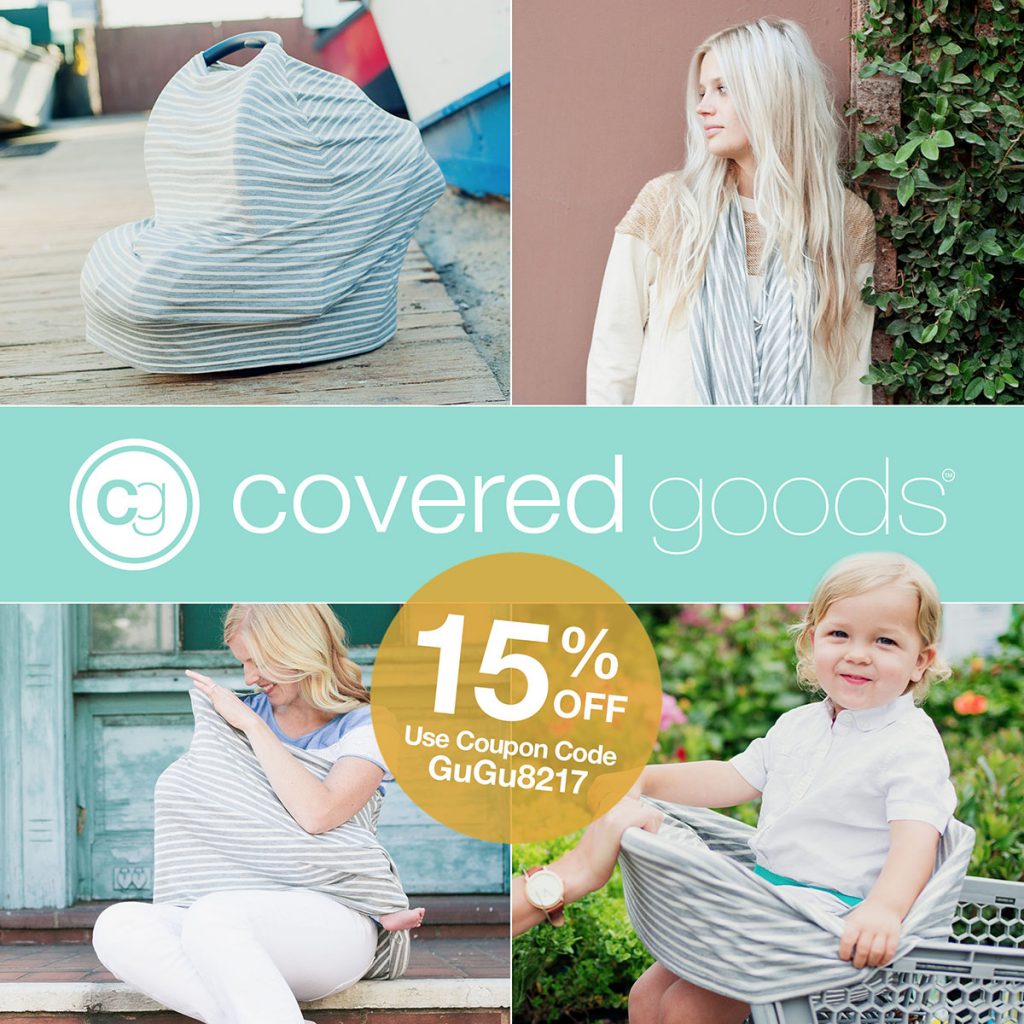 Covered Goods Original Four-in-One Nursing Cover: When it comes to breastfeeding style, you're also going to want a nursing cover with style! Covered Goods multi-use nursing covers give you all the benefits that the traditional covers do… and more! The nursing cover also functions as a car seat cover, scarf, and shopping cart cover. When breastfeeding, it provides true all over coverage in the front and back, is super soft, and takes seconds to put on and take off. It features a flexible neck that can be worn down under one arm and also allows you to peek in to make sure your little one has latched properly, and can be folded very small and in any fashion for storage. With Covered Goods™ you can truly nurse anytime, anywhere! 
Also seen: Must-Have: Covered Goods Nursing Cover; Minimalist Baby Registry; Two Moms Baby Registry; Registry Essentials: Multi-Use Baby Products
Bamboobies Nursing Pads: Bamboobies Nursing Pads are made of ultra-soft and soothing bamboo rayon velour, an absorbent inner layer of hemp and cotton with an outer milk-proof liner to help prevent embarrassing leaks! These nursing pads are super absorbent and eco-friendly. Bamboobies washable nursing pads come in two varieties. The ultra-thin, heart-shaped regular nursing pads are made for light leaking and are designed to be less visible through clothing. The round shaped overnight nursing pads are not only ultra-soft, but larger, thicker and super absorbent for heavy leaking and newborn nursing. If you're dressing up, whether for work or play, we're pretty sure you don't want to leak breast milk all over the place, so don't forget to leave home with your Bamboobies nursing pads!
Also seen: Nursing Essentials Roundup; Minimalist Baby Registry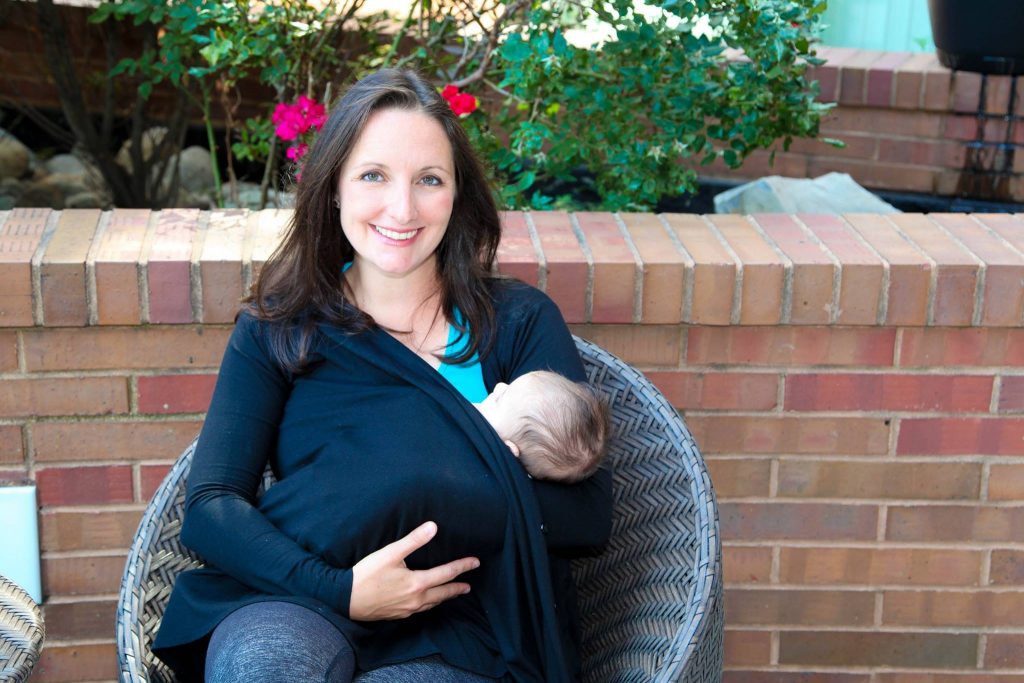 Goodbody Goodmommy Multitasking Cardigan: As a new mom, you're not always so sure what to wear on your postpartum body, but the Goodbody Goodmommy Multitasking Cardigan is your perfect piece of clothing – not only is it chic and soft on your skin, but covers you in all the right places and doubles as a nursing cover! The beauty of this cardigan lies in the simplicity of its multi-functional design. Remembering an extra, bulky nursing cover can be an inconvenience. Slip this ultra soft modal jersey cardigan over any outfit, and have a nursing cover with you at all times. With it's comfortable and very breathable fabric, and fitted arms, this cardigan covers everything you want or need it to, but still makes you feel put together and stylish. The cardigan is designed to be paired with everything from workout clothes to jeans or even a dress!
Also seen: Mom Style: goodbody goodmommy Multitasking Cardigan; Top 5 Must Have Essentials: Baby's First Airplane Flight; Gift Roundup for the Mama Who's Heading Back to Work
Thank you to Bamboobies, NuRoo, and Covered Goods for making this sponsored post possible.