January is a month of new beginnings, and when you're a new mama, there are oh so many new beginnings! As a new mom, it can often be difficult to find time to focus on yourself in the New Year, so we've partnered with our friends at Baby K'tan to show you how easy it is to find time for yourself when it comes to self care, even when you're the mom of a tiny baby. We're sharing our top tips with Baby K'tan today for making the most of your self-care in the New Year with #MyBKJourney – all the different ways Baby K'tan can help you find your zen in the New Year!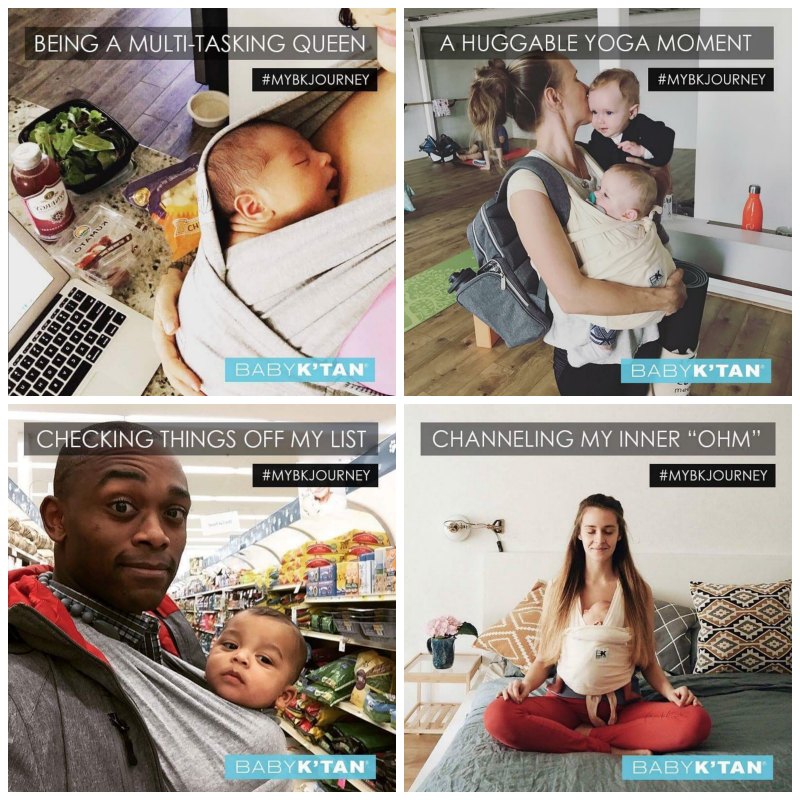 The Gugu Guru team are huge fans of Baby K'tan for many reasons; one of the main reasons is that it is super easy to use! If you're looking for the feel of a baby-wrap, without any hassle, Baby K'tan is your answer. Soft and stretchy, like your favorite t-shirt, the Baby K'tan carrier keeps baby close to you without hurting your back or shoulders. For many moms in those newborn hazy days, it can be overwhelming to learn to use a new carrier, but the Baby K'tan literally goes on like your favorite t-shirt!
Baby K'tan has 5 different versions – the Original, Breeze, Active, Organic and Print – all of them are machine washable, can be used from newborn to 35 pounds, and have five different positions for baby. Plus, the Baby K'tan Baby Carrier is approved as hip-healthy by the International Hip Dysplasia Institute. Baby is worn in the natural seated position, with knees bent and hips spread, promoting healthy development.
Work it Out, Mama!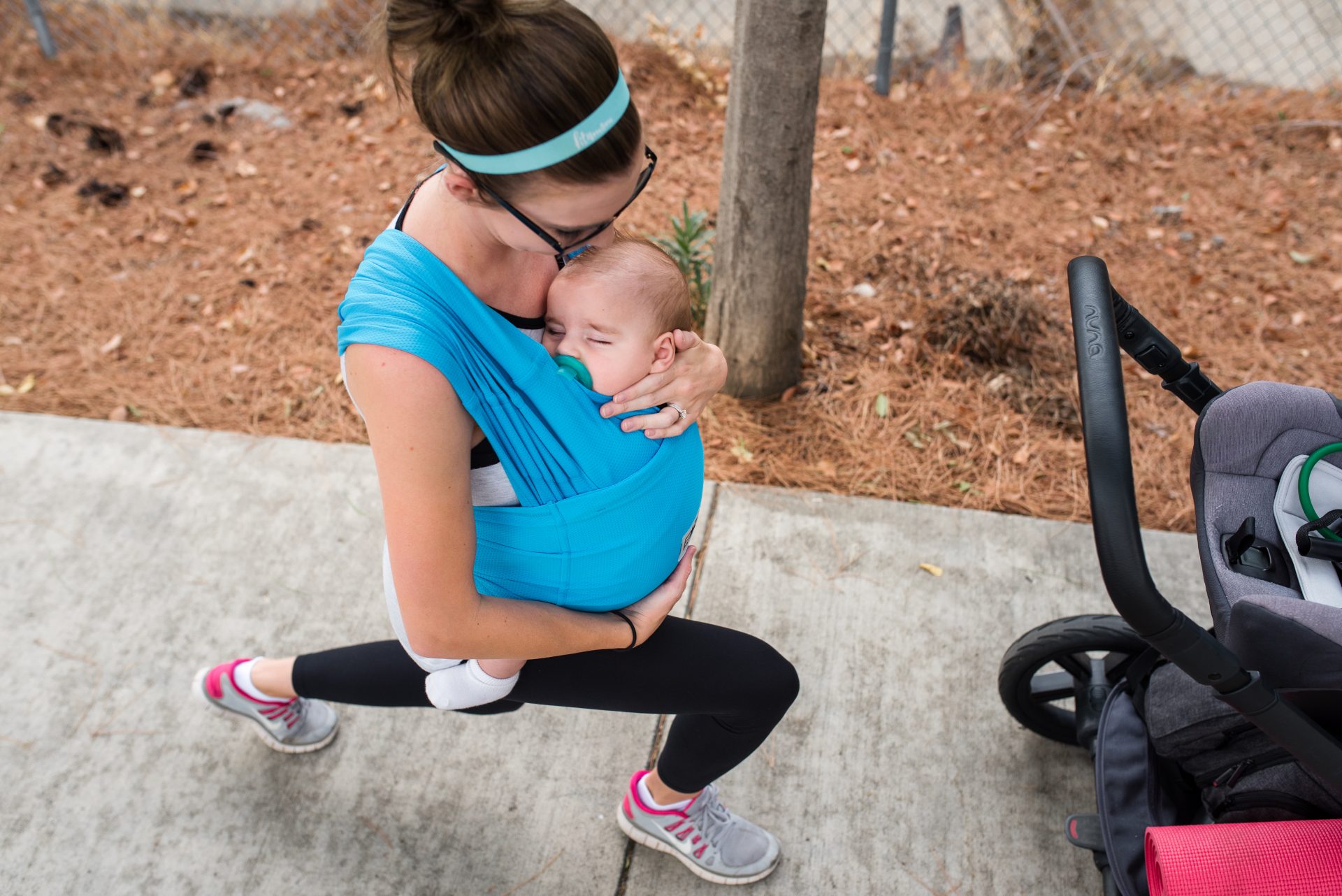 Part of the New Year, New You is taking time to move your body – whether it is hiking, walking, taking a stroll around the block, or even walking around the mall on a cold day. It is so important for new moms to have time to get their circulation moving, as exercise is known to lower stress levels and help a new mama find her center again. If you're looking to combine a mind-body experience as self-care, Baby K'tan parents love using their K'tan to do yoga while holding baby close. Yoga is a fantastic way to transition from pre-natal movement and meditation to taking time for yourself and working out with baby in tow.
We recommend: the Baby K'tan Active Wrap; The Baby K'tan ACTIVE Baby Carrier is made of a breathable hi-tech performance fabric that wicks away moisture and sweat, blocks over 90% of the sun's harmful UVA and UVB rays, is quick-dry, and provides a unique temperature control. This makes it super comfortable for both parent and baby to move, sweat, and take a little time on your #MyBKJourney.
Check out the Baby K'tan on the Ultimate Fitness Baby Registry and Must Haves for Mama Fitness and Wellness 
Multitasking Mama: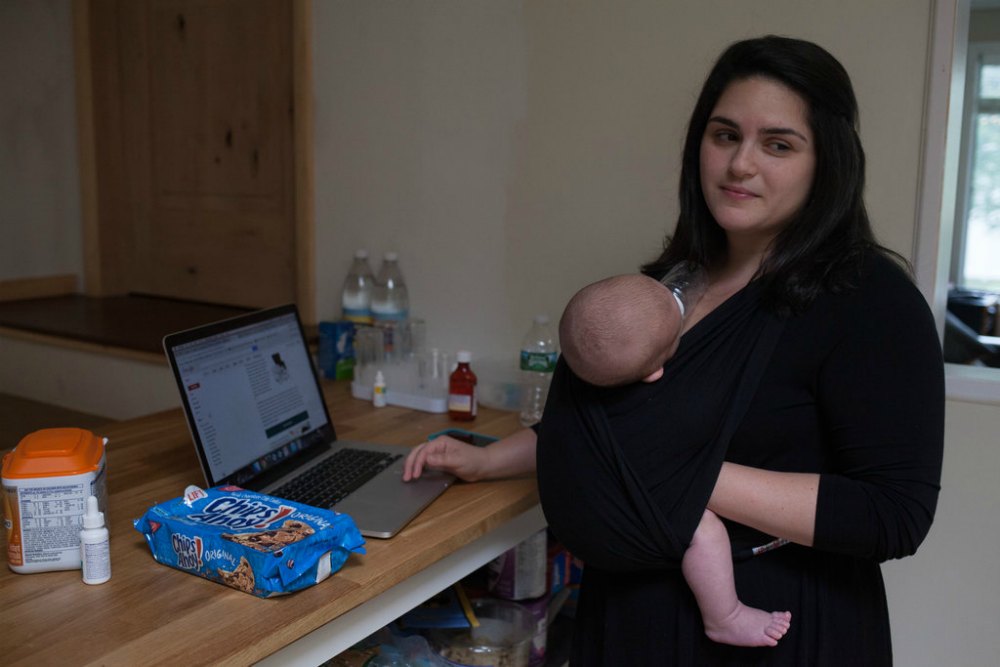 Maybe your goal for the New Year is to finally write that book, start that company, or begin that podcast? If you're on a #MyBKjourney to learn how to effectively and efficiently multitask, a Baby K'tan is a must have! Baby K'tan knows that even though you're a parent, you still have goals and dreams, and when it comes to a New You for the New Year, they're here to help you achieve all of your dreams. How can they help? Well, new babies want to be held all the time, and especially want to be close to your heartbeat…but, you have to do things like type, plan, draw, paint, and design – how can you do it all? By keeping baby close to your heart in your Baby K'tan! The Baby K'tan is a must have for working from home, as you can get all of your tasks done while baby sleeps comfortably on you.
We recommend: the Baby K'tan Original (pictured above); coming in 5 colors, this super comfortable and washable carrier is ideal for a work at home mom because you can comfortably wear all day long, wash and wear the next day, too! Plus, it's as lightweight as a t-shirt, so you can easily travel with it in your diaper bag.
Check out the Baby K'tan in our Comfort is King Must Haves and Baby's First Flight Must Haves
Take a Moment, Mama!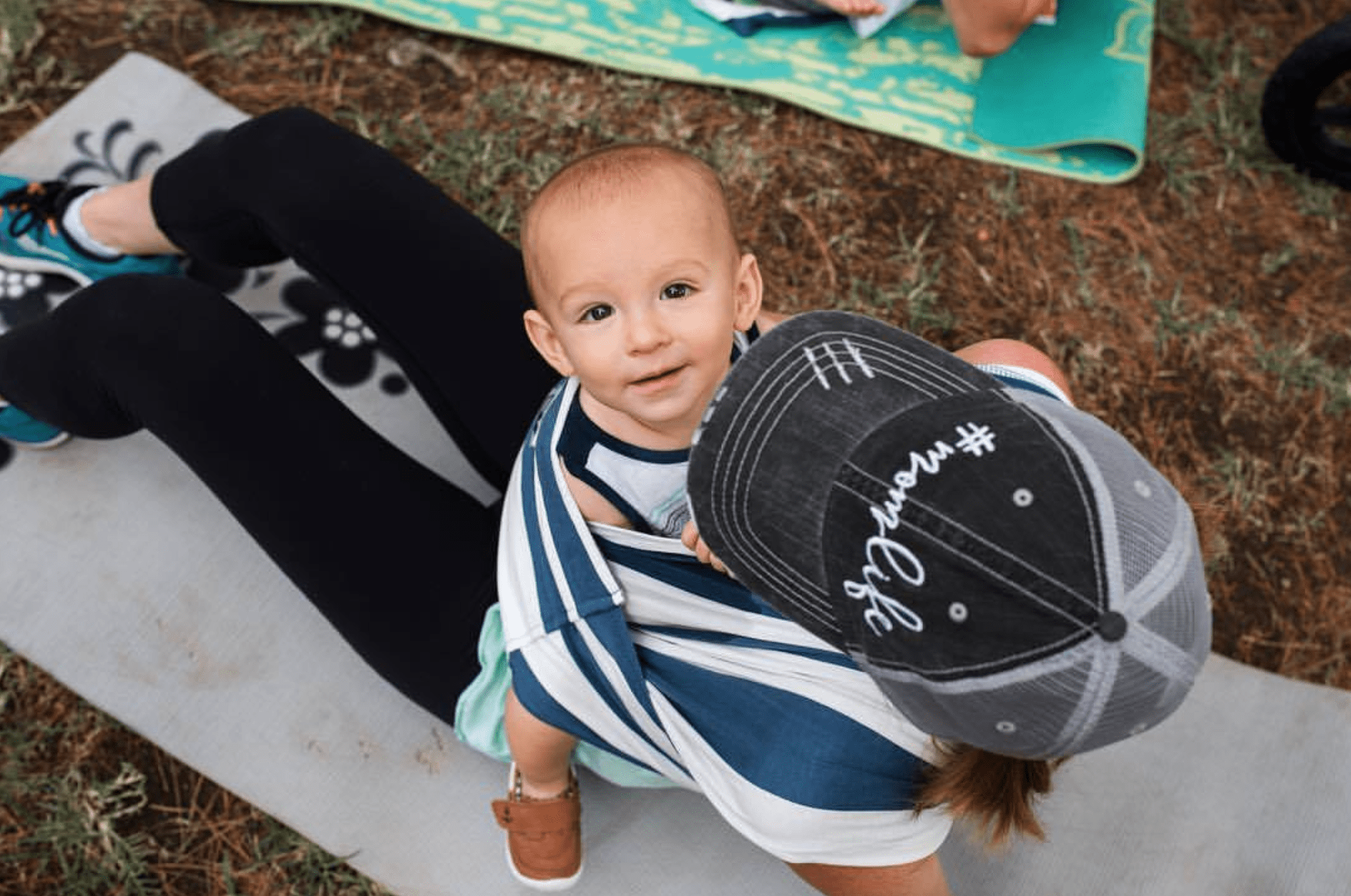 The most valuable gift you can give yourself is the gift of time and being present in the present; of course, this isn't easy with a new baby, but it can be done on your #MyBKJourney! Finding your moment of zen in the wild word of baby-life can be done when you and baby are both comfortable and relaxed – with the super soft and stretchy material of the Baby K'tan, you can happily wear baby while taking a few moments to breathe during the day. Part of the New Year, New You mindset is making sure you take time for yourself – whether you're meditating, doing yoga, focusing on your mandala, or simply reading your favorite book, you can (and will!) do it all with your little one in the Baby K'tan.
We recommend: Baby K'tan Print Wrap; why not babywear in style with the Baby K'tan Print Carrier? We love the different designs you can choose from; these gender-neutral designs are modern and fresh. PS. the nautical stripe carrier pictured above is on sale, too.
Want to join in on the #MyBKJourney? Enter below to win a Baby K'tan Active Baby Carrier! 
Thank you to Baby K'tan for making this sponsored post possible.